Bee Movie pushes DreamWorks earnings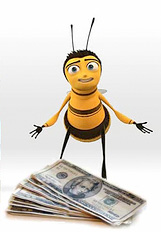 While 'Bee Movie' didn't manage to top its $150 million budget in the US theaters, it did manage to up the revenue for Dreamworks last quarter. The bee movie added $48.9 million to the total revenue of $156.6 million, compared to $93.7 million last year. Net income rose to $26.1 million, from $15.4 million last year.
The total for 'Bee Movie' now stands at $287 million at the box office, making it "barely profitable with no material impact on earnings going forward because of its high expense," chief executive Jeffrey Katzenberg said.
'Shrek the Third' added $48.3 million to the quarter's revenue with 19.8 DVDs shipped. And 'Kung Fu Panda,' set for June 6, is expected to drive this year's revenue, obviously.
On another note, Katzenberg was disappointed with the current amount of screens able to show 3-D movies in the US. Producing 'Monsters vs. Aliens' in 3-D added a $10-$15 million to the costs, which isn't expected to pay off now. "When you hear me talk about my disappointment, it is in the context of really trying to achieve the 5,000-plus screens installed by the time of our release," Katzenberg said. "If these guys don't get their act together very quickly in the next 30 days, they are not going to be able to achieve that goal."
With currently only 1,000 screens able to show 3-D films, I don't think anybody is expecting that to happen.