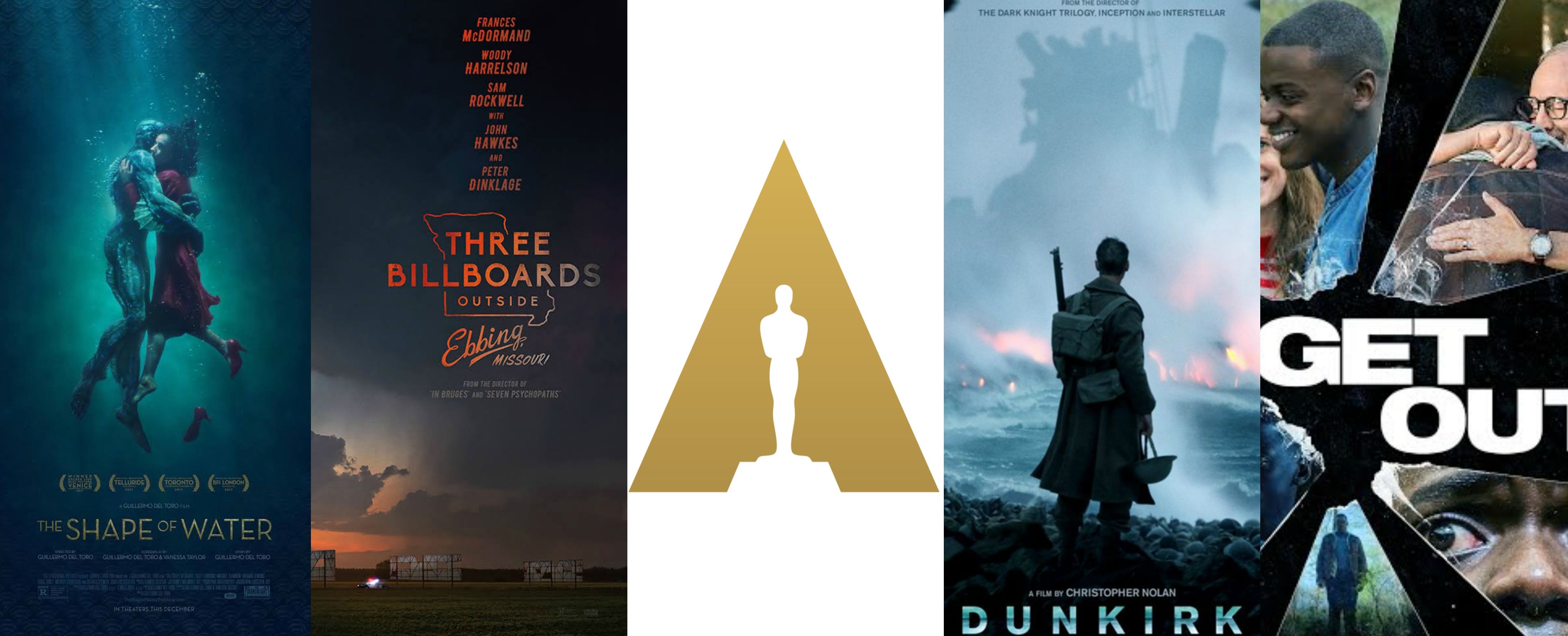 2018 Oscar nominations were announced Tuesday, signaling the culmination of what has been a rather predictable awards season. That is until now?
Tiffany Haddish and Andy Serkis announced this year's field of outstanding nominees across the Academy's twenty-four categories. To no surprise, Guillermo del Toro's The Shape of Water continues to push full steam ahead leading the way with 13 nominations, including for directing, writing, and supporting actor/actress categories. Christopher Nolan's Dunkirk (8) and Martin McDonagh's Three Billboards Outside Ebbing, Missouri (7) followed suit with a combined 15 nominations, in which both will compete along with The Shape of Water for Best Picture.
Thumbs up
But after all the nominations were announced, neither The Shape of Water, Dunkirk nor Three Billboards were really the talk of social media. Those accolades went to Get Out, Lady Bird and Rachel Morrison. I mean, who would have thought after 2016's #OscarsSoWhite debacle we would be thanking members of The Academy of Motion Picture Arts and Sciences (AMPAS) for acknowledging the works of Jordan Peele's Get Out, Greta Gerwig's Lady Bird, and Rachel Morrison's cinematography in Mudbound!? All three talents earned deserving nominations in major categories including "Best Director" for both Peele and Gerwig, and "Cinematography" for Morrison.
To put their milestones in perspective, Peele is the first African American filmmaker to receive nominations for "Best Picture," "Director" and "Original Screenplay" as well as the third filmmaker in the history of the Academy to receive trifecta nods for a directorial debut - joining Warren Beatty for Heaven Can Wait and James L. Brooks for Terms of Endearment. Not to be outdone by Peele's historic accomplishments is the wickedly talented Lady Bird helmer Greta Gerwig, who became just the fifth woman in the history of the Academy to be nominated for "Best Director," joining the embarrassingly small but elite group of female filmmakers including Lina Wertmüller (Seven Beauties), Jane Campion (The Piano), Sofia Coppola (Lost in Translation) and the lone female "Best Director," Kathryn Bigelow (The Hurt Locker). Like Peele, Gerwig also earned a nomination for "Best Original Screenplay" and Lady Bird earned a "Best Picture" nod (Gerwig did not produce, which is a differentiator between Peele's trifecta). Regardless, we feel pretty capital about Peele and Gerwig's nominations.
Joining in on Peele and Gerwig's mighty accomplishments is Mudbound's Director of Photography, Rachel Morrison, who became the first woman to be nominated for "Achievement in Cinematography." FIRST nomination and it only took 88 years! Morrison joins a respected class of talented DoP nominees including 14-time nominee Roger Deakins (Blade Runner 2049) and Hoyt van Hoytema (Dunkirk). Total bummer there can only be one winner among that trio. Still, are you not excited for Morrison's Black Panther!?!
Of course, what would be the Oscars without talk of a few surprises and legit snubs. Of the surprises, you could practically hear all of social media cheer when Daniel Kaluuya's name was announced as Leading Actor for Get Out. A few other notable but pleasant surprises include Lesley Manville's supporting work in Paul Thomas Anderson's Phantom Thread, and a - fan favorite - Adapted Screenplay nod for Scott Frank and James Mangold's noir western Logan! We still love ya Patrick Stewart.
Thumbs down
While I'm not a total believer in Oscar 'snubs' there were some notable omissions from talents deserving of such accolades including Holly Hunter's work in The Big Sick, Armie Hammer in Call Me By Your Name, Tom Hanks and Steven Spielberg for their respective work in The Post. And Martin McDonagh (Three Billboards) was surprisingly omitted from the crop of Best Director hopefuls (but thankfully we got Peele and Gerwig). Despite Globe, SAG, and DGA nods for James Franco, you could almost feel the weight of Franco's recent sexual misconduct allegations as Denzel Washington's name was announced for his Best Actor nomination in Roman J. Israel Esq. I mean, it is Denzel but how many AMPAS voters actually saw Israel? They must have forgotten about James McAvoy's work in SPLIT. Yeah, that came out in 2017 and it was among this year's "Best" performances - don't @ me.
Check out the complete list of Oscar Nominations below. The 90th annual Academy Awards will be hosted by Jimmy Kimmel and will take place at the Dolby Theatre in Hollywood, Los Angeles, California at 5:00 p.m. PST on March 4, 2018.
Best Picture
Call Me By Your Name
Darkest Hour
Dunkirk
Get Out
Lady Bird
Phantom Thread
The Post
The Shape of Water
Three Billboards Outside Ebbing, Missouri
Actor in a Leading Role
Timothée Chalamet, Call Me By Your Name
Daniel Day-Lewis, Phantom Thread
Daniel Kaluuya, Get Out
Gary Oldman, Darkest Hour
Denzel Washington, Roman J. Israel, Esq.
Actress in a Leading
Sally Hawkins, The Shape of Water
Frances McDormand, Three Billboards Outside Ebbing, Missouri
Margot Robbie, I, Tonya
Saoirse Ronan, Lady Bird
Meryl Streep, The Post
Actor in a Supporting Role
Willem Dafoe, The Florida Project
Woody Harrelson, Three Billboards Outside Ebbing, Missouri
Richard Jenkins, The Shape of Water
Christopher Plummer, All the Money in the World
Sam Rockwell, Three Billboards Outside Ebbing, Missouri
Actress in a Supporting Role
Mary J. Blige, Mudbound
Allison Janney, I, Tonya
Lesley Manville, Phantom Thread
Laurie Metcalf, Lady Bird
Octavia Spencer, The Shape of Water
Directing
Christopher Nolan, Dunkirk
Jordan Peele, Get Out
Greta Gerwig, Lady Bird
Paul Thomas Anderson, Phantom Thread
Guillermo del Toro, The Shape of Water
Animated Feature Film
The Boss Baby
The Breadwinner
Coco
Ferdinand
Loving Vincent
Cinematography
Blade Runner 2049 (Roger Deakins)
Darkest Hour (Bruno Delbonnel)
Dunkirk (Hoyte van Hoytema)
Mudbound (Rachel Morrison)
The Shape of Water (Dan Laustsen)
Costume Design
Beauty and the Beast
Darkest Hour
Phantom Thread
The Shape of Water
Victoria & Abdul
Documentary (Feature)
Abacus: Small Enough to Jail
Faces Places
Icarus
Last Men in Aleppo
Strong Island
Documentary (Short)
Edith + Eddie
Heaven is a Traffic Jam on the 405
Heroin(e)
Knife Skills
Traffic Stop
Film Editing
Baby Driver
Dunkirk
I, Tonya
The Shape of Water
Three Billboards Outside Ebbing, Missouri
Foreign Language Film
A Fantastic Woman
An Insult
LovelessOn Body and Soul
The Square
Makeup and Hairstyling
Darkest Hour
Victoria & Abdul
Wonder
Music (Original Score)
Dunkirk
Phantom Thread
The Shape of Water
Star Wars: The Last Jedi
Three Billboards Outside Ebbing, Missouri
Music (Original Song)
"Mighty River" — Mudbound
"Mystery of Love" — Call Me By Your Name
"Remember Me" — Coco
"Stand Up for Something" — Marshall
"This is Me" — The Greatest Showman
Production Design
Beauty and the Beast
Blade Runner 2049
Darkest Hour
Dunkirk
The Shape of Water
Short Film (Animated)
Dear Basketball
Garden Party
Lou
Negative Space
Revolting Rhymes
Short Film (Live Action)
DeKalb Elementary
The Eleven O'Clock
My Nephew Emmett
The Silent Child
Watu Wote / All of Us
Sound Editing
Baby Driver
Blade Runner 2049
Dunkirk
The Shape of Water
Star Wars: The Last Jedi
Sound Mixing
Baby Driver
Blade Runner 2049
Dunkirk
The Shape of Water
Star Wars: The Last Jedi
Visual Effects
Blade Runner 2049
Guardians of the Galaxy Vol. 2
Kong: Skull Island
Star Wars: The Last Jedi
War for the Planet of the Apes
Writing (Adapted Screenplay)
Call Me By Your Name
The Disaster Artist
Logan
Molly's Game
Mudbound
Writing (Original Screenplay)
The Big Sick
Get Out
Lady Bird
The Shape of Water
Three Billboards Outside Ebbing, Missouri
GregHarmon in Academy AwardsFollow
Greg Harmon | Managing Editor | Follow me @sweetharmony for Film & TV discussion | Ko-fi http://ko-fi.com/sweetharmony