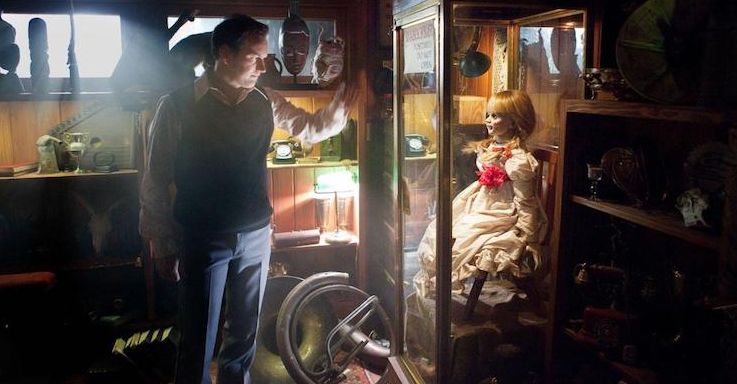 James Wan says 'Annabelle 3' will feel more like a 'Conjuring' film
by GregHarmon
When The Godfather says the third Annabelle film will feel more like a 'Conjuring' film, you better believe we're listening.
Ever since Patrick Wilson and Vera Farmiga were confirmed for the third film of The Conjuring spin-off series - Annabelle - I couldn't help but think, why not just call the dang thing "The Conjuring 3"?

In an interview with BloodyDisgusting, James Wan channeled inquiring minds when asked if Warner Bros. third installment would feel more like a Conjuring film knowing the plot revolves around the demonic doll's next possession: Ed and Lorraine Warren's daughter, played by McKenna Grace:

❝It finally comes to the Warren's home so by the very nature of it actually being in the home and the story takes place in the Warren's home, it feels more like a Conjuring film in that respect.❞

"Annabelle 3," which Wan revealed was previously titled "Night at the Museum with Annabelle," will pick up after 2014's spin-off entry Annabelle, which also served as a loose tie-in after the Warren's tucked away Annabelle into their Artifacts Room at the end of The Conjuring.

Series writer, Gary Dauberman makes his directorial debut with James Wan producing. Patrick Wilson and Vera Farmiga will reprise their roles as Ed and Lorraine Warren a/k/a America's cutest paranormal couple. Jumanji: Welcome to the Jungle's Madison Iseman also co-stars.
If you are team Conjuring, we can only hope Wan's comments are a sign of what's to come. Especially for a character who quite simply sounds wicked on paper, yet never realized its full potential in Warner Bros. forgettable spin-off installments, Annabelle and Annabelle: Creation.
Annabelle 3 is slated for release July 3, 2019!

GregHarmon in Annabelle 3Follow
Greg Harmon | Managing Editor | Follow me @sweetharmony for Film & TV discussion | Ko-fi http://ko-fi.com/sweetharmony