Jason Statham teases Day 1 production pic on the set of 'Hobbs and Shaw'
by GregHarmon
If you thought the Fast and Furious franchise was running on empty, think again.
With Universal's "Hobbs and Shaw" spinoff scheduled for theatrical release in just under ten months, it should come as no surprise that we finally have our first production pic courtesy of Brian Toretto's favorite babysitter, Jason Statham.
Statham posted a pic alongside director David Leitch. Admittedly, I almost didn't recognize Statham from the profile angle. It is also anyone's guess if Statham literally arrived on the set sporting that sweet McLaren or if he and Leitch were chatting in between takes and that McLaren, shaved head and dapper threads are all part of Deckard Shaw's new look? Either way, it sounds like Mr. Statham is ready to roll:

❝Day 1 on "Hobbs & Shaw" movie. Getting the instructions from an old pal and the Director of our film .@davidmleitch. Massive respect to you Dave for the incredible vision and scope you have planned for this movie. There are big things to come! The other big thing to come will be arriving imminently, that's if he can peel himself away from his stack of pancakes. My partner in crime on this one, the colossal and world wide loved and respected .@therock. Just warming things up for you brother! See you on British soil soon.❞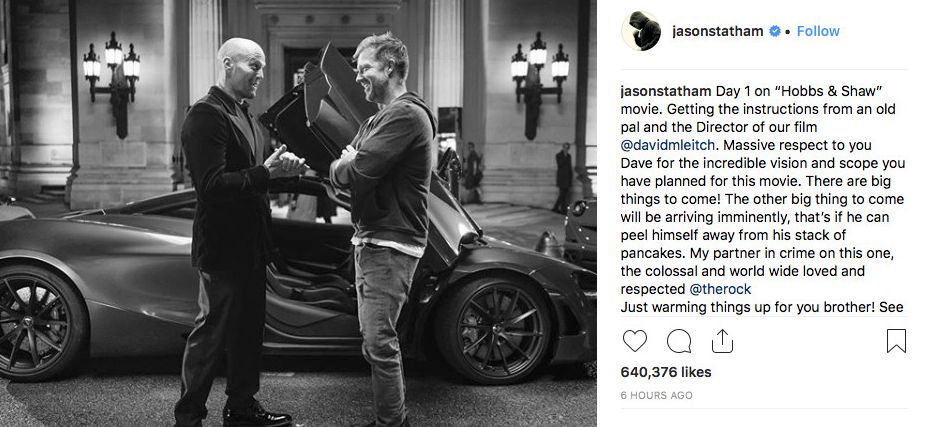 Missing from "Day 1's" lovefest is Statham's "partner in crime," Dwayne 'pancake eatin' Johnson , who is busy wrapping up production on Disney's Jungle Cruise. Of course, that didn't stop The Rock from posting the same pic telling fans "the man known as "HOBBS" will touch down in London in two weeks."
Universal's 'Fast and Furious' spin-off is written by longtime series writer Chris Morgan. Though an official plot hasn't been confirmed, it's likely "Hobbs and Shaw" will exist post-Fate of the Furious timelines following U.S. special agent Luke Hobbs (Johnson) and former British Military Operative, Deckard Shaw (Statham) in a global adventure opposite the film's baddie played by Idris Elba!
Mission: Impossible Fallout's Vanessa Kirby has also signed on to play an MI-5 agent and the sister to Statham's Deckard Shaw. Johnson's onscreen family have also been cast including his daughter, Samantha Hobbs (previously seen in Furious 7), mother Sofia, as well as his five brothers: Jonah, Cal, Tim, Matt and Alex. No word if Helen Mirren or Luke Evans are set to reprise their roles as Deckard's mother and brother as seen in FF6 and Fate of the Furious. But in the spirit of "family", it's a sure bet they will be.
With "Fast and Furious 9" set to begin production in April, it won't be hard for series fans to gear up for two consecutive years of franchise films starting with "Hobbs and Shaw" slated for release July 26, 2019 and "Fast and Furious 9" slated for April 10, 2020.

You ready for a heaping dose of Dwaytham!? This might bethe best installment since Fast Five!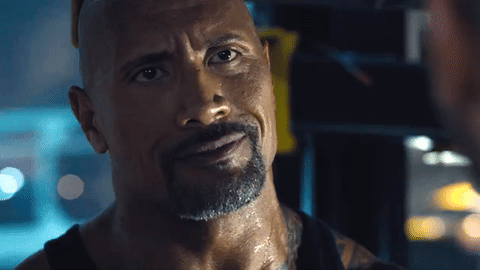 GregHarmon in Untitled Fast and Furious Spin-OffFollow
Greg Harmon | Managing Editor and Cultjer Contributor | Follow me @sweetharmony for Film & TV discussion