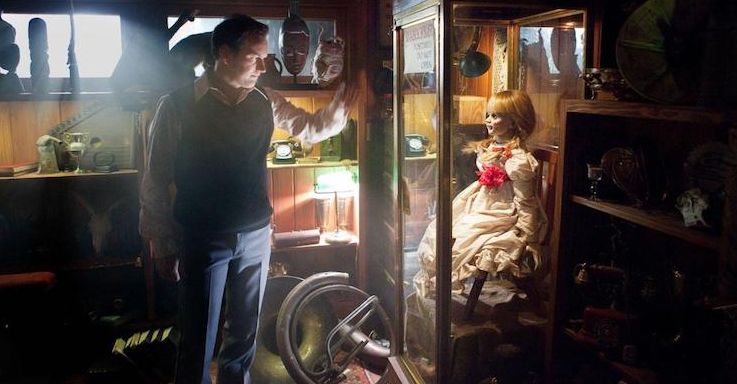 Patrick Wilson and Vera Farmiga will return for 'Annabelle 3'
by GregHarmon
Gary Dauberman's third Annabelle movie might be peak Conjurverse™️
Deadline confirms Patrick Wilson and Vera Farmiga will reprise their roles as America's cutest paranormal investigators in the sixth title of "The Conjuring universe" and third film of The Conjuring spin-off series, Annabelle.
Sources confirm Wilson and Farmiga will return as Ed and Lorraine Warren but in a supporting capacity alongside the film's star and the Warren's onscreen daughter Judy, played by McKenna Grace.
While it's been five years to be exact since we last saw Ed and Lorraine first encounter the creepy demonic porcelain doll in 2013's The Conjuring, Annabelle 3 will attempt to fill in the blanks between The Conjuring and The Conjuring 2 timelines. Picking up in 1970, shortly after the Warren's took on the case and brought the evil doll back to their home.
If you prescribe to the 'big bang' theory (no, not that CBS sitcom), then in cinematic terms, it should come as no surprise when I say James Wan's The Conjuring is the heart and soul behind Warner Bros. billion dollar 'universe'. In less than a five year period, Wan's 'Conjurverse' has spawned a five films, including a Conjuring sequel, two Annabelle films, and the most recent Nun spin-off. And that's not including plans for The Crooked Man spin-off and The Conjuring 3.
But if we're talking cinematic payoffs within a respected universe, then perhaps there's no greater satisfaction than seeing Ed and Lorraine Warren once again come face to face for a final dance with Annabelle!

Series writer Gary Dauberman will be making his directorial debut with James Wan producing. Jumanji: Welcome to the Jungle's Madison Iseman also stars.
Annabelle 3 is slated for release July 3, 2019!

GregHarmon in Annabelle 3Follow
Greg Harmon | Managing Editor | Follow me @sweetharmony for Film & TV discussion | Ko-fi http://ko-fi.com/sweetharmony