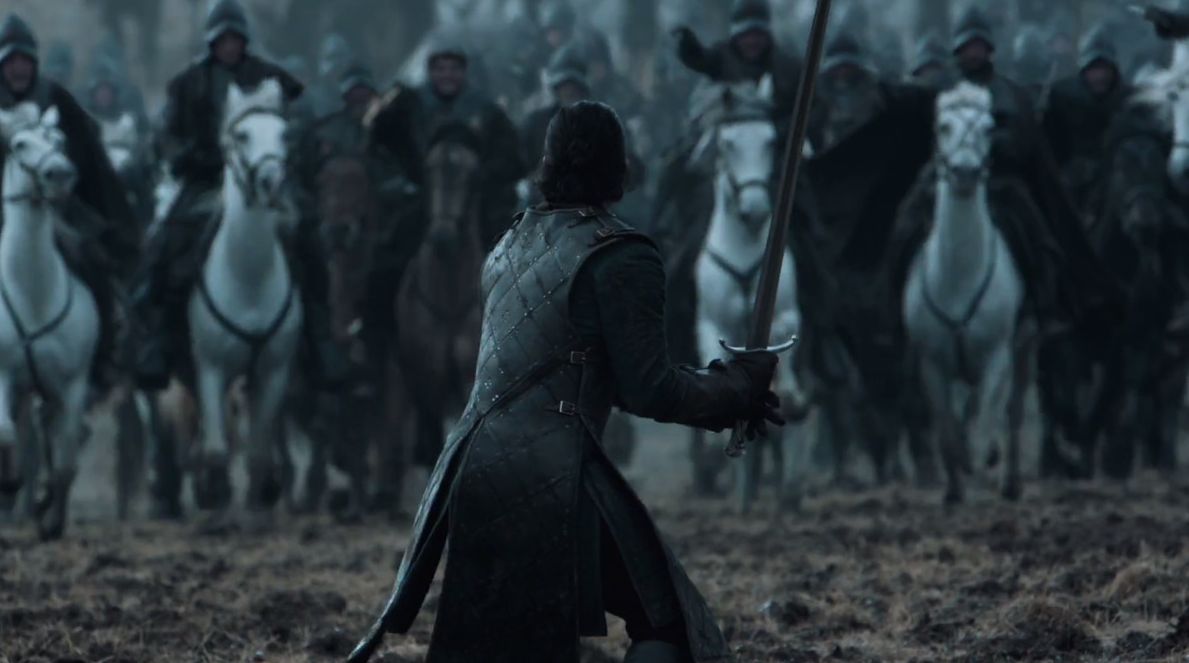 Longest Battle Shoot In 'Game of Thrones' History Just Wrapped
by GregHarmon
In the world of Game of Thrones fandom, NOTHING goes unnoticed on the inter-webs.
Including recent news about a season 8 battle that is likely to outdo - in magnitude - the 'big ones,' including Hardhome, Blackwater, Battle of the Bastards, and The Spoils of War!
The folks at Watchers on the Wall confirmed by way of longtime Game of Thrones assistant director Jonathan Quinlan, that the crew just wrapped a battle shoot for the series eighth and final season after "55 straight nights"! That's over two months! 11 weeks! and 79,000 minutes for production on one battle!
Quinlan posted a thank you message written to production crew captioned: "55 consecutive nights. 11 weeks. 3 locations. You'll never again see anything like it."
Indeed Quinlan was right, we never saw it again, because his original Instagram post was deleted several hours after going live. But the goods were delivered via Watcher's screenshot.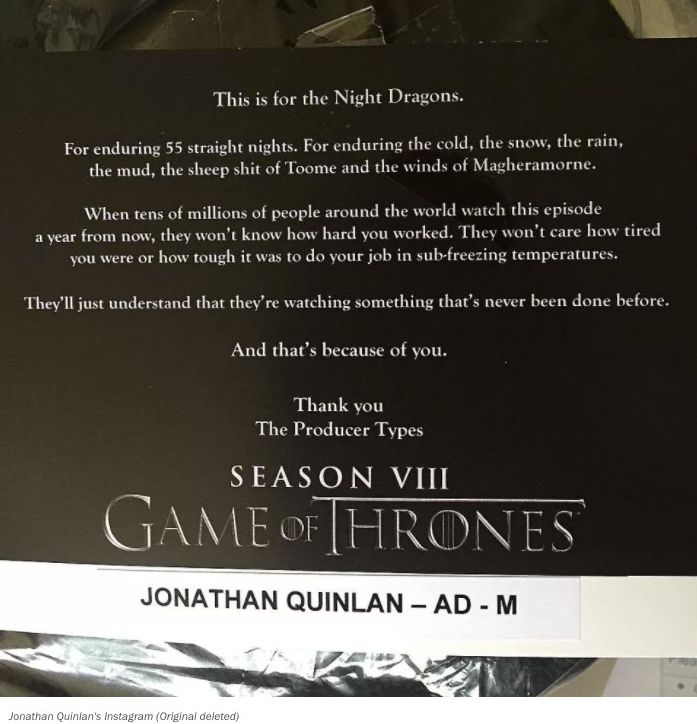 Quinlan's post reveals some interesting nuggets including:
● Production duration for said battle took "55 straight nights" (which exceeds Battle of the Bastard's 25 day shoot and the Loot Train's 18 day shoot). However we can't confirm where this battle will take place among the six episode run. I'm thinking episode 3 or 4.
● Possible season release - (April?) which specifically references "tens of millions of people around world will watch this episode a year from now"
● Locations for the most elaborate and possibly ambitious battle sequence took place in several Northern Ireland locations including Toome, Winterfell's set in Moneyglass, and the multi-purpose Magheramorne green screen set.
Though the director for the 55 day mega battle was not confirmed, we can take our best guesses from any one of the three directors confirmed for the eighth season - David Benioff & D.B. Weiss, David Nutter, or Miguel Sapochnik.
I'll say this, even if said 55 day shoot equates to the biggest, baddest and/or most elaborate battle sequence in series history (my guess is it will), nothing will compare to the shock and horror of this puppy...
See you in 365+ days Game of Throners. Stay tuned for more news.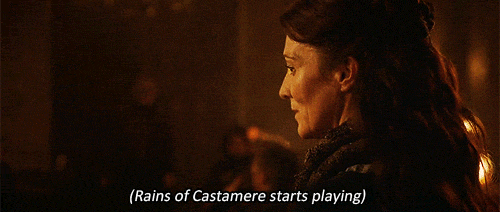 GregHarmon in Game of ThronesFollow
Greg Harmon | Managing Editor and Cultjer Contributor | Follow me @sweetharmony for Film & TV discussion