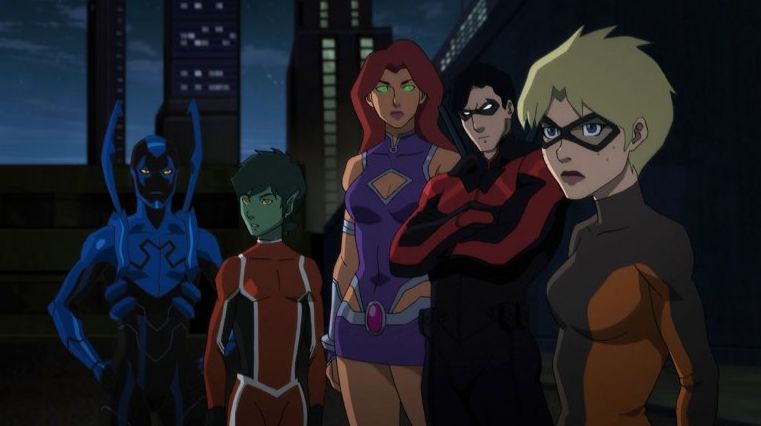 'Teen Titans: The Judas Contract' Blu-Ray Details and Release Date
by HaydnSpurrell
Warner Bros. Animation and DC Entertainment are bringing one of the most iconic Teen Titans storylines ever to the animated small screen, with Teen Titans: The Judas Contract set to arrive on home entertainment on April 18, 2017.
The film will be available on Blu-Ray Deluxe Giftset, Blu-Ray Combo Pack, and DVD from April 18. It will also be available on Digital HD with UltraViolet. The Deluxe Edition will come with an exclusive figurine of Blue Beetle in a numbered, limited edition gift set. April 4 marks the film's debut on Digital HD.
The releases include the following bonus features:
· Sneak Peek – Batman and Harley Quinn: Sneak peek at the next DC Universe Original Movie, featuring the talented creators and voice cast.
· Featurette – Titanic Minds: Wolfman and Perez: This revealing documentary explores a creative partnership that has lasted decades as Marv Wolfman and George Pérez come together to discuss their careers and one of the most famous runs in Teen Titan history, The Judas Contract.
· Featurette – Villains United—Deathstroke: When the super-soldier Deathstroke appears, the forces of good will be in the fight of their lives. This short featurette reveals the origin and unique abilities of this villain.
· Additional Sneak Peeks
· From the DC Comics Vault – Two Bonus Cartoons (Blu-ray™ Deluxe Giftset and Blu-ray™ Combo Pack only)
"'Teen Titans: The Judas Contract' pays homage to one of the truly legendary story arcs in DC's Teen Titan series, one that fans have been requesting for years, so we are excited to release a film that should surpass their expectations," said Mary Ellen Thomas, Warner Bros. Home Entertainment Vice President, Family & Animation Marketing. "We are thrilled to deliver this complex and exhilarating story that tests the bonds between all members of the Teen Titans to both longstanding and new fans of all generations."
Source: http://www.comingsoon.net/movies/news/815201-teen-titans-the-judas-contr...
HaydnSpurrell in Teen Titans: The Judas ContractFollow
Writer for Cultjer. Justifying my love of film.