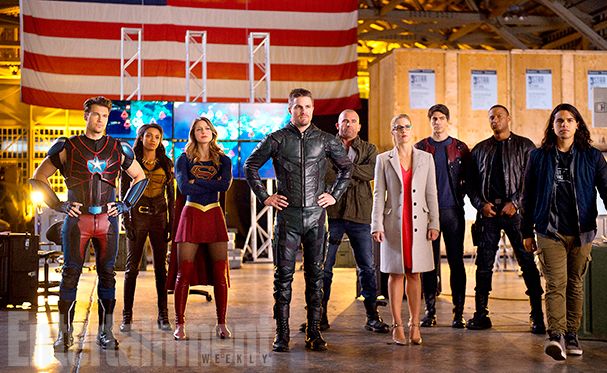 The CW is becoming very fond of its crossovers within its DC TV universe, and while Invasion! may have left some fans cheated, the next one is already in progress. Producers are working at laying out the logistics for next season for a four-show crossover that lives up to its name.
Next year, we're hoping to do a true four-way crossover," executive producer Andrew Kreisberg revealed. "The great thing about our dear friends at The CW and Mark Pedowitz picking the shows up as early as they did, [it] has allowed us to start building the schedules for next season."
"One of the big things we learned from two years ago, which made the crossovers this year slightly easier, was building in shutdown days, where shows just want dark," said Kreisberg. "The single hardest factor in doing the crossovers is actors' availability because the shows keep going on. We've got four shows and you're basically juggling four shows' worth of schedules.
"The thing that we didn't really plan on — again because we weren't aware that we were going to switch Supergirl from CBS to The CW and it was really going to be part of it — that was the one show that actually didn't have built-in shutdown days, so all the other ones did," he continued.
"Because the show starts on Supergirl, Melissa [Benoist] ended up being heavily in The Flash and then in Arrow. So Supergirl was the show we needed to shut down the most and it was the one we didn't have any opportunity to. Now that we've gotten the early pickup and we've started designing the seasons, we're building in those dark days — and actually more dark days on Supergirl than the other shows — to make it a little easier."
So work is being done, and that's the most fans can hope for at this early stage.
Source: http://www.tv.com/news/a-true-four-show-crossover-may-be-coming-to-the-c...
HaydnSpurrell in Legends of TomorrowFollow
Managing Editor for Cultjer. Justifying my love of film.