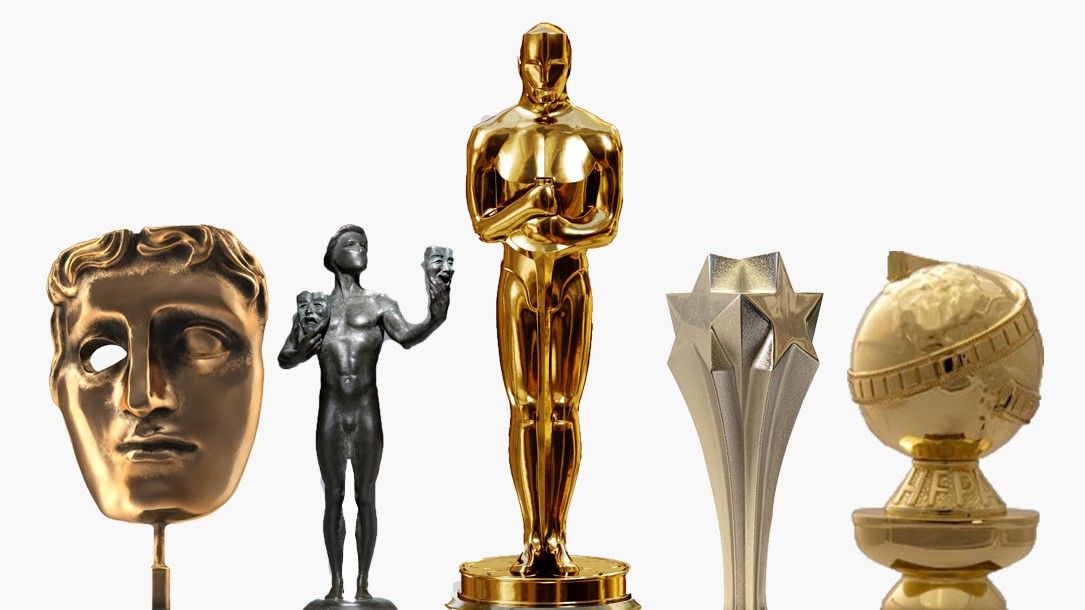 A 2022 Awards Season Status Update

LightsCameraJackson Critic Here's What We've Learned So Far This Awards Season:
1) Raucous Golden Globes Loses Credibility. After being told by NBC that the network would not broadcast the Golden Globes this year, the Hollywood Foreign Press Association decided to take all their energy out on the Critics Choice Association. The HFPA forced the CCA into a months-long battle over when and where their ceremonies would take place, as well as when they would announce their nominees.
In the end, the Omicron variant of COVID threw a monkey wrench into both groups' plans. They both announced nominations on Dec. 13, with plans to hold their ceremonies on Jan. 9. But on Dec. 22, Critics Choice decided to delay its live, three-hour, CW & TBS telecast to later this winter. (UPDATE: It's now set for Sunday March 13th.) The Golden Globes went ahead with announcing its winners on Jan. 9 via social media and with no star-power, to less than glowing reviews.
The Golden Globes were desperate to be first this awards season. They first became jealous of the power of Critics Choice on January 10, 2013, when Ben Affleck won the CCA for Best Director on the same day he was Oscar snubbed in the category. The Globes wasn't for three more days. Affleck won again, but it didn't have the same impact. Since then, the Globes has held its show before Critics Choice ever year except in the 2016-2017 awards season (when CCA decided to go early in December).
2) The Races Are Wide-Open. Even with the Globes announcing winners and Critics Choice and SAG announcing nominees, none of this year's awards season categories feature "locks" quite yet. Best Actor seems to be a showdown between Will Smith and Andrew Garfield, with Denzel Washington and Benedict Cumberbatch as wild cards. Best Actress was thought to be Kristen Stewart's to lose, but with her and "Licorice Pizza"'s Alana Haim missing from the SAG ballot, could Nicole Kidman become a runaway this season — or maybe Olivia Colman?
Maybe the Supporting Actor Oscar winner is… Ben Affleck… or Kodi Smit-McPhee or a brief Bradley Cooper from "Licorice". Or maybe it's Jared Leto (again). Clearly he and his team think so. I truly believe "Morbius" moving from Jan. 28 (during Oscar nomination voting weekend) to April 1 (the Friday after the Oscars) was intentional in order to try to win another gold statue. And Supporting Actress has several possible outcomes, including Kirsten Dunst and one of two "West Side Story" ladies — Ariana DeBose and Rita Moreno.
Animated Feature is up for grabs ("Encanto" vs. "Flee" vs. "The Mitchells vs. the Machines"), and the Best Picture and Best Director may not match. Jane Campion ("The Power of the Dog") could score Director, while Picture may be a victory for "Belfast", "West Side" or (my current gut feeling) "King Richard".
3) It's Going To Be A Long Awards Season… Again. The Oscars isn't until March 27th (as of now). It's not as long as last year (when the show was on April 25th). But still. And box office isn't playing too much of a factor this time… unless "Spider-Man: No Way Home" shows-up in the Oscars Best Picture category, which will have 10 guaranteed nominees.
Only a few true awards contenders are making a little noise in theaters right now. Others were either already released or are on streaming services. MGM is holding a general theatrical release for "Cyrano" until late January / early February, but with Peter Dinklage not on the SAG Best Actor list, an Oscar nomination is not guaranteed, and it may be too little too late.
The BAFTA nominations are on Feb. 3. The Oscar nominations will be Feb. 8. Then it's a full month and a half until the Academy Awards show, which aims to bring back a host, skew younger (Pete Davidson as master of ceremonies?) and hopefully deliver more than last year's all-time low 10.4 million viewers.