'A Bad Moms Christmas' Review

LightsCameraJackson Critic Last summer's "Bad Moms" was a surprise box office hit, complete with some clever dialogue, a couple of memorable cameos (Wanda Sykes and Martha Stewart), and a terrific, showcase performance from Mila Kunis.
STX quickly greenlit a "Bad Moms" sequel, but also ordered a "Bad Dads" spinoff…which they just as quickly cancelled. The studio probably realized they gotta rake-in the "Bad Moms" money while the brand is hot. Thus, just over a year later, we have "A Bad Moms Christmas".
And because this is out at the beginning of November, I now have holiday carols are stuck in my head much sooner than they should be.
The "Bad Moms" core trio (Kunis, Kristen Bell and Kathryn Hahn) are forced to deal with their own "Bad Moms", who are all pretty cartoonish. Kunis' Amy doesn't get along with her extremely uptight, no-nonsense mother (played by Christine Baranski). The mom of Bell's Kiki (played by Cheryl Hines) adores her daughter but is way too attached. And as for Hahn's Carla – well, her mom is bad…to the bone. Susan Sarandon plays Isis (yep… as she says… just like the terrorist group). She's a former rock-n-roll roadie who only shows-up when she needs money from Carla.
"A Bad Moms Christmas" is set during the week leading-up to Christmas, and as much as the three younger "Moms" complain about having to do so much to get their families ready for the big day, they sure have enough free time on their hands to go to bars, hang out at the mall food court and participate in an adults-only gingerbread house competition.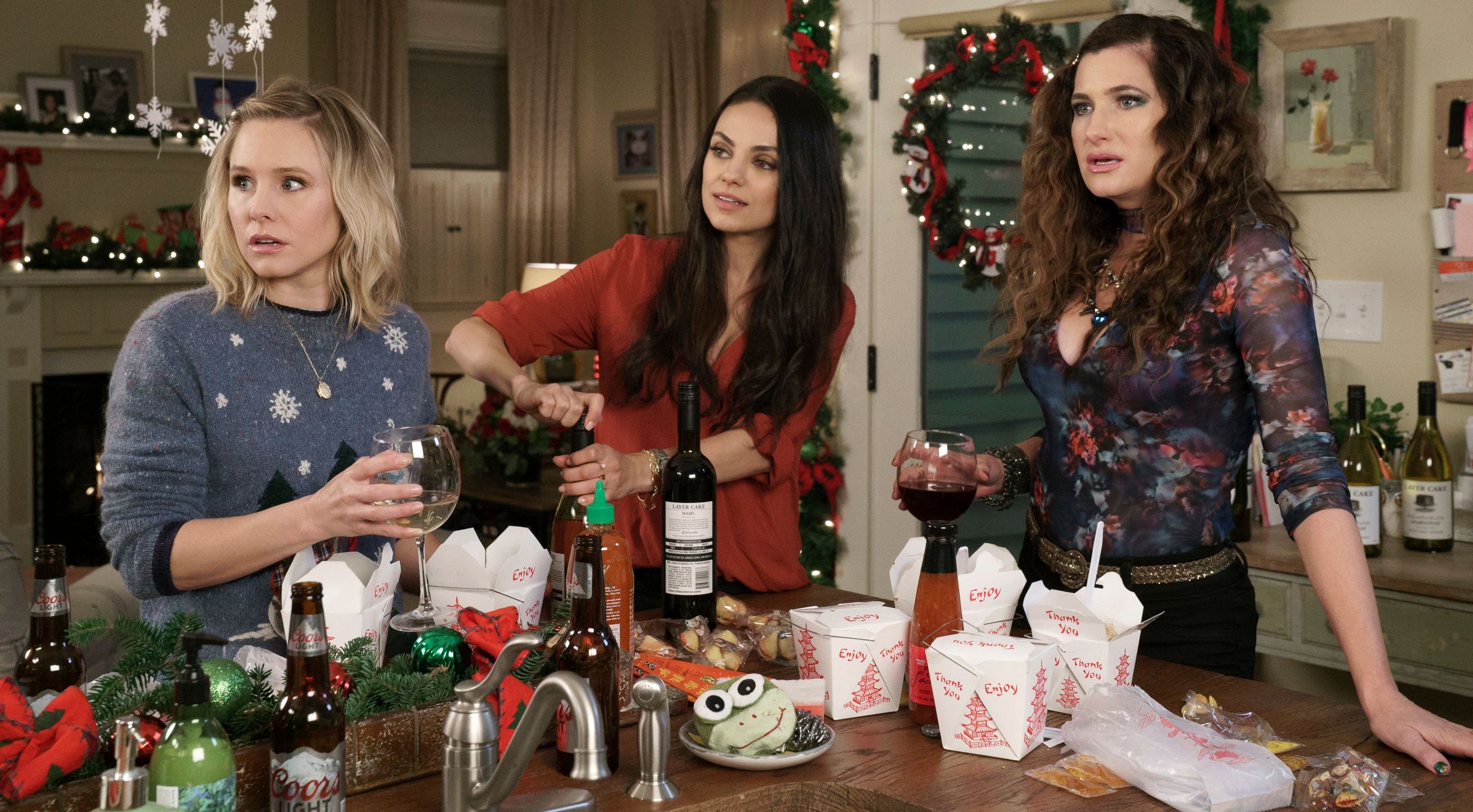 Like the first "Bad Moms", this sequel features some genuinely funny lines here and there, though the count is down from the original. The smart jokes are mostly hidden under large piles of snow in the form of sex references and over-the-top, raunchy humor, which is amped-up this time (a typical sequel strategy). Justin Hartley ("This is Us") is involved in a lot of the naughty parts of the narrative. He joins the cast as a firefighter and seasonal Santa stripper.
Returning directors Jon Lucas and Scott Moore were smart to bring back some familiar faces from the original. Jill Kargman, who represents the "Bad Mom" of the TV world on Bravo's "Odd Mom Out", also shows-up in a scene. And there's plenty of obvious product placement : SkyZone gets a lot of attention (both good and bad), and Hahn even does the "Every Kiss Begins with Kay" jingle.
Heartfelt speeches dominate in the final act, when the wackiness predictably settles down just in time for Christmas Day. Overall, "A Bad Moms Christmas" is sporadic holiday fun, but if your shopping budget is going to be tight this season, my advice is to save your money.