'A Star Is Born' Review

LightsCameraJackson Critic The Discovered Superstar. It's a tale as old as time. And when it comes to the latest version of "A Star Is Born", it's re-told beautifully.
For years Clint Eastwood was rumored to be directing this incarnation. But he ended-up choosing other projects. This paved the way for his "American Sniper" leading man, Bradley Cooper, to get behind the camera for the first time. Cooper also stars in this fourth on-screen "A Star is Born" as Jackson Maine (one of the best movie character names of the year). Maine is a country/rock superstar (think scruff Kenny Chesney). Cooper opens the film with Maine in concert at a packed, outdoor venue. The energy is so intense and infectious you feel like you've got a front row seat.
Along with talent, we quickly learn that Maine has a problem with alcohol. Looking for a drink following his gig, he stumbles upon a random bar where waitress and aspiring singer Ally is performing. Lady Gaga's first leading film role, as Ally, is perfect match. Her rendition of Edith Piaf's 'La Vie En Rose' is a knockout. Maine is instantly smitten. And the fuse is lit on what will be a volatile relationship between the older, experienced star and the young, naive wannabe.
"A Star Is Born" has the classic three-act structure. The first act ends with a bang, as the Gaga and Cooper characters blow away a live concert audience (and movie theater audiences) with "Shallow". The YouTube video of the song goes viral, setting Ally on track for stardom. "Shallow" is the showcase song in "A Star Is Born", but there are more than a dozen original numbers that either Gaga or Cooper (or both) wrote and perform throughout the film. This is certainly one of the must-own movie soundtracks of 2018.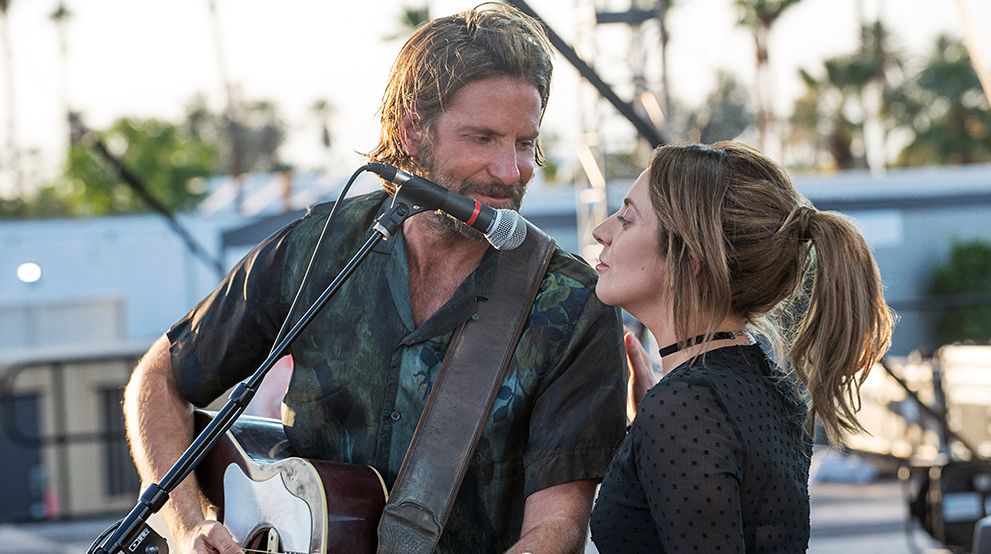 Cooper and Gaga are this year's Ryan Gosling & Emma Stone when it comes to being a front and center, dynamic movie musical duo. They get equal amounts of screen time and are solid Best Actor and Actress contenders. The screenplay, which Cooper co-wrote with Eric Roth and Will Fetters, is based on the core elements of both the 1954 and '76 versions of "A Star is Born". The parallel stories of Jackson and Ally are heartfelt and heartbreaking; triumphant and tragic. The narrative brilliantly weaves them in and out of each other's lives, intersecting at the most poignant moments. The script delicately balances both the lighter and serious elements of relationships and the music industry. And it packs-in a number of surprises – including a brilliantly edited finale.
The supporting cast is also strong. Andrew Dice Clay plays Ally's father, a limo driver who's had a lifelong dream of being a famous singer. Sam Elliott follows-up his incredible work in last year's little-seen "The Hero" with a highly emotional supporting performance as Maine's manager. And Dave Chappelle makes a rare (though brief) film appearance as one of Maine's old friends.
"A Star Is Born" envelops you. It undeniably holds your interest, as Cooper compels you to sit back and go along for the rise.
While, on screen, we witness the birth and growth of a musical phenomenon, we are also watching the emergence of both a talented filmmaker and compelling actress. Cooper's impressive debut puts him on the list of Hollywood's hot directors. And it will be interesting to see where Gaga's acting career goes from here. Her options will be limitless. It'll be interesting to see if/when she chooses a non-music driven role.
For now, "A Star Is Born" is one of the cinematic shining lights of the year, and it tops the charts when it comes to overall impact. A head's up to the rest of the movies in 2018: you've got some stiff competition.