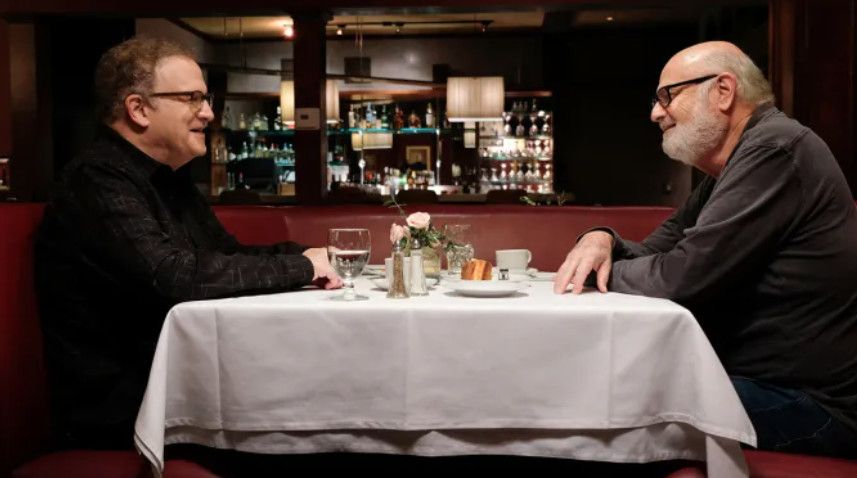 'Albert Brooks: Defending My Life' Review

LightsCameraJackson Critic "Finding Nemo" was the second movie I ever saw in a theater. I watched "Broadcast News" a long time ago and went to see "The Simpsons Movie" on opening night. So I've been familiar with Albert Brooks for a long time. But his new documentary "Albert Brooks: Defending My Life" (premiering Saturday at 8pm on HBO and streaming on Max) has opened my eyes to much more of the Academy Award nominated actor and comedian's entire career.
Rob Reiner, Brooks' longtime friend, directs the doc — a breezy 88-minute showcase of Brooks' appearances on talk shows and highlights of his directorial features. Brooks and Reiner sit across from each other in a restaurant booth. Reiner tees-up topics and Brooks delivers with revealing, memorable, shocking stories about showbiz, his personal life and how the two intersect.
Details on his real name, his high school days, his father's death, what his mother thought of his career and the origins of "Saturday Night Live" are fascinating. You also learn how Brooks and Steven Spielberg have been friends for a half century. And there are plenty of "Tonight Show Starring Johnny Carson" clips (Brooks was on it about 30 times).
His style of comedy was filled with clever, meta concepts and wild executions. A little shocking at the start, it all kind of grew on me as the doc was continuing on. Brooks was one of the first to tackle the meld of 'reality' and 'celebrity' with 1979's "Real Life" — a film he says was saved thanks to the critics (whom Paramount initially wanted to ignore). There are more juicy stories about making his other movies: "Modern Romance", "Lost in America", "Defending Your Life", "Mother", "The Muse" and "Looking for Comedy in the Muslim World".
Brooks and Reiner chatting and reminiscing is the heart and biggest success point of this doc. Brooks is making his pal, and us, laugh and understand even more about the complexities of Hollywood and getting something made. We're also treated to brief insights from Spielberg, "News" director James L. Brooks, "Muse" leading lady Sharon Stone and Albert's wife and children (including how his son ran out of the theater after the opening scene of "Nemo").
But there are many other A-listers who make 10 to 30 second appearances, from David Letterman to Conan O'Brien, Ben Stiller to Tiffany Haddish, Sarah Silverman to Wanda Sykes, Alana Haim to Neil deGrasse Tyson, and Larry David to Brian Williams, who pretty much all say the same thing: "He inspired me. He influenced me." They have little more to offer.
Their presence was probably to add to the runtime (and a marketing play to get more people to watch), but not really necessary. Everything else is more than good enough to make for a compelling doc that sees Brooks defending his life in real, entertaining ways.