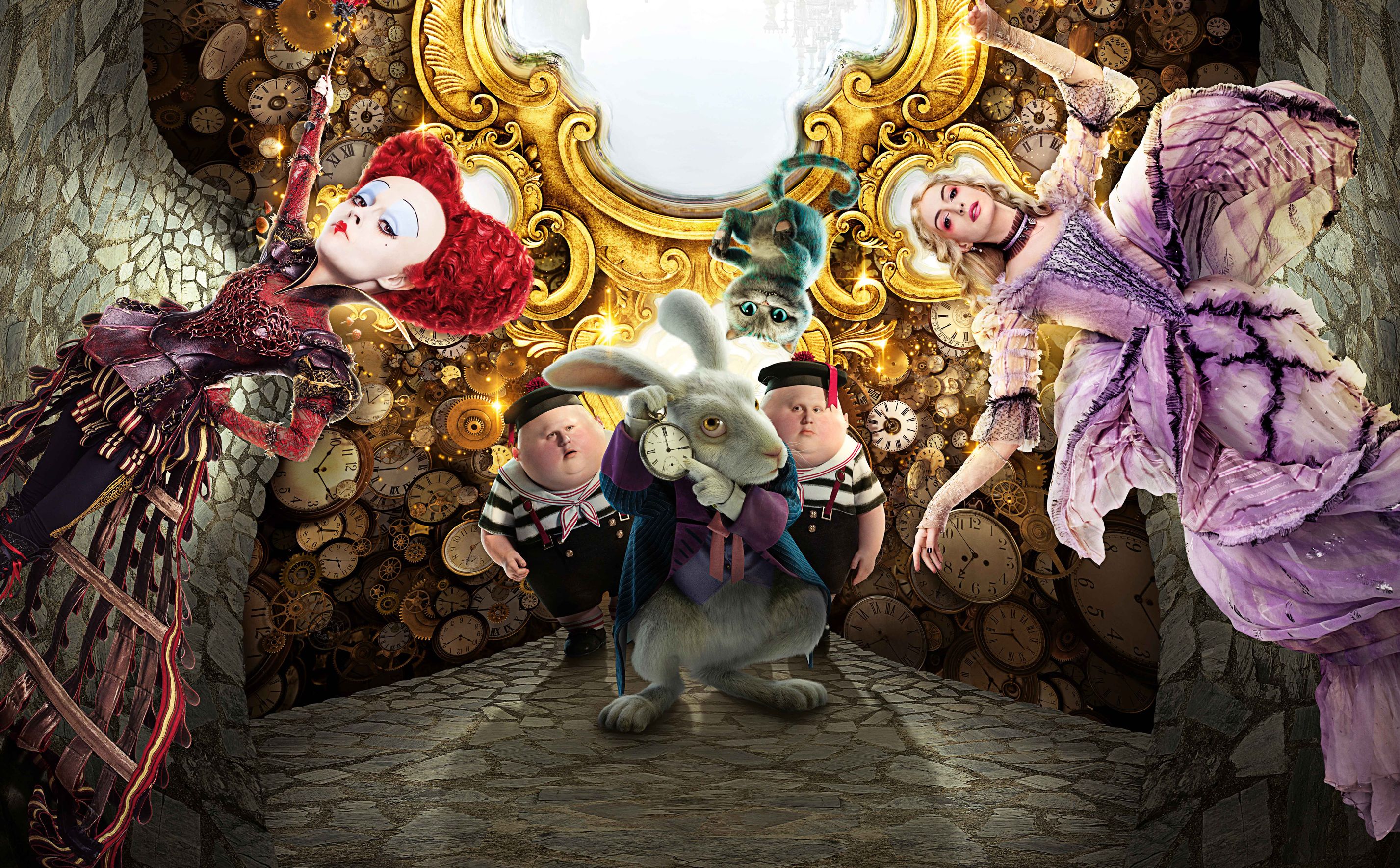 "Alice Through the Looking Glass" Review

LightsCameraJackson Critic Six long years ago, Tim Burton took us down the rabbit hole for his live-action version of Disney's 1951 animated adventure "Alice in Wonderland". It was the second highest-grossing movie of the year ($1 Billion+ worldwide), though not because of the quality of the film (many critics, including myself, thought it was extremely dull). "Alice" benefited heavily from being the first major 3D release after "Avatar". "Alice Through the Looking Glass" is based on Lewis Carroll's follow-up novel. But, as always, liberties are taken from page to screen, as this cinematic sequel is set more than three years after "Wonderland", not six months, as in Carroll's written work.
It's 1875 and Alice (Mia Wasikowska) has just returned home after sailing around the world on an exploration expedition aboard her late father's ship. Complications arise when her financiers (led by a spurned suitor) threaten to take her mother's home away unless Alice signs-away the rights to the vessel, which would end her career as a ship captain. Stressed and unhappy, Alice is visited by an old friend, the blue butterfly Absolem (voiced by the late Alan Rickman), who invites her to walk into a mysterious mirror and soon she's back in Underland.
Alice immediately learns that The Mad Hatter (Johnny Depp reprising his Golden Globe nominated role from the original) is not well, mourning his family members supposedly perished in a fire. But the Hatter has found reason to believe that's not true and they're still alive. He asks Alice to go on a quest to find his parents and siblings, and it's a race against time and Time - both the actual minutes and seconds and the person who controls it, named Time (Sacha Baron Cohen).
"Alice Through the Looking Glass" has the overall look and feel of a direct-to-TV, Disney Channel special more than a major theatrical release. This comes across in the over-the-top performances, James Bobin's direction (Burton is only a producer this time), dominated by in-your-face close-ups, and in the time travel scenes that are so engulfed in CGI and green screen it's impossible to take them seriously. The story is presented as complex, but when broken-down is rather basic, and like its predecessor, the script is stiff, stale and blatantly unfunny.
Also returning is Helena Bonham Carter as the evil Red Queen. She teams-up with Time to seek revenge on her sister, The White Queen (Anne Hathaway), for a childhood event that's revealed to have begun their longtime rivalry. Bonham Carter doesn't provide the comic relief that is intended and Hathaway doesn't get much to do at all. Colleen Atwood, who earned an Oscar for the first "Alice", crafted the costumes once again, and they're just as big and bold this time around. Expect honors for her come Awards Season.
But the only parts of "Alice Through the Looking Glass" that truly works are the themes and messages, which are handled well and nicely presented, even for the younger members of the audience to understand: consequences from not telling the truth, family requires loyalty, friendship relies on trust, and thoughts on time and learning from the past and using those lessons to improve one's present and future are all well-meaning and effective, though certainly not groundbreaking by any means. This film is slightly more tolerable than the original, but still far from the entertainment experience it should be considering the material and a $170 million budget. No need to make a "very important date" to see it.