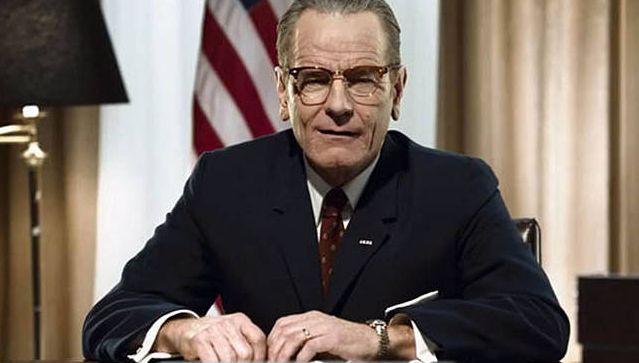 "All the Way" Review

LightsCameraJackson Critic Two years ago, Emmy-winning "Breaking Bad" star (and "Trumbo" Oscar Nominee) Bryan Cranston took to The Great White Way to portray President Lyndon B. Johnson in "All the Way". The play earned him a Tony Award, and less than two weeks after his win, HBO announced Cranston would reprise his role for the network's movie adaptation.
Filmmaker Jay Roach is quite accustomed to the world of politics, as he also directed "Recount", the nailbiting "Game Change" and the solid Will Ferrell/Zach Galifianakis comedy "The Campaign", as well as Cranston in "Trumbo". He doesn't do much to elevate "All the Way" from having a stage-play-like feel, outside of a quirky scene involving Johnson's car that was also a boat (maybe LBJ was inspired by Sean Connery's 007).
Nonetheless, much like the play itself, the strength of "All the Way" comes from Cranston's performance. He commands the screen as Johnson, delivering monologues filled with bitter anger and frustration, off-color wisecracks (saying that with the Civil Rights Act of 1964, "I'm going to out-Lincoln Lincoln!"), and loads of gravitas. Up-close, Johnson is not an ideal Commander in Chief. He calls himself an "accidental President" and is flawed in almost every sense. Wife Lady Bird (played by Melissa Leo) believes it's because he puts too much pressure on himself. But just as much to blame are the many people who put pressure on him, especially those who Johnson believes can, and will, turn on him in a moment of weakness.
Anthony Mackie is solid as Dr. Martin Luther King, Jr. in a rather limited role. Frank Langella has some toe-to-toe, showdown moments with Cranston as longtime friend Senator Richard Russell, who opposed Johnson's campaign to pass an equal rights amendment. Stephen Root, as J. Edgar Hoover, and Bradley Whitford, as Hubert Humphrey, each have showcase scenes with Cranston, but none can steal the spotlight from him.
"All the Way" is a bit long at 2 hours and 15 minutes. There are some sections that drag, with the momentum picking-up in the final half hour when the focus shifts to Johnson's '64 Election campaign. And, I do declare, that this film depicts the most telephone conversations by a President in the history of political movies.
Cranston will very likely ride this performance "All the Way" to the Emmy stage. But the film, as a whole, doesn't quite have the bite and pace to keep it consistently engaging.