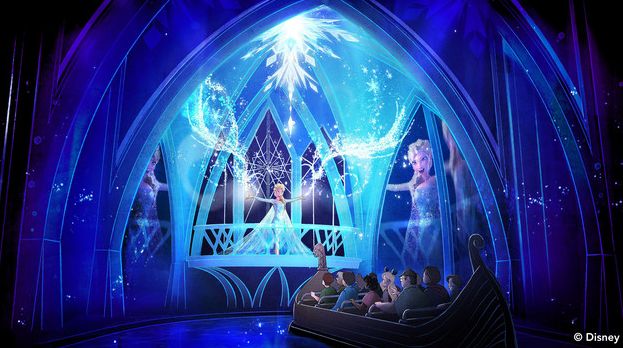 Attraction Based Off of 'Frozen' Opens At Walt Disney World

ZachPerilstein Disney Reporter *Insert random Frozen cliche* like "First time in forever" or "Let it go" of the old.
Tuesday June 21st was the grand opening of the boat ride called Frozen Ever After. If you thought "Frozen Fever" had cooled down…. You were wrong, way wrong. An hour after the highly anticipated attraction opened, the wait time surged to 300 minutes. That is a five hour wait, now isn't that crazy?
The attraction seemed worth the wait. The attraction boasted several breakthrough audio animatronics. The boat ride was criticized when it was first announced. Fans were disappointed that Frozen was invading Epcot, a park based off of future and world cultures, and it would ruin the theme of Epcot. Since the opening of the attraction it seems like the reviews have changed and that the people that got a chance to ride it were beyond impressed.
The attraction itself takes guests on a journey through the kingdom of Arendelle during a "Summer Snow Day" celebration. The celebration is suppose to be a day where Queen Elsa embraces her unique ice powers during the Summer. If you want to spoil the ride for yourself click here (https://www.youtube.com/watch?feature=player_embedded&v=m72hUu6eObE)
If you don't want it spoiled for you then don't click above!
What do you think of Walt Disney World's newest ride? Let me know Tweet me@TripleZ_87
Posted in Walt Disney Pictures,