"Baby Driver" Review

LightsCameraJackson Critic Every year there are one or two movies that get unreasonably over-hyped prior to their wide release. And so not only do these films have to be good, they also must live-up to the great expectations. The first of these movies for 2017 is "Baby Driver".
Director Edgar Wright's "Scott Pilgrim vs. the World" fit into this category back in 2010, and I thought it was one of the worst movies of that year. "Baby Driver" is a step-up for Wright (whose other films include the Simon Pegg/Nick Frost cult-favorite "Cornetto" trilogy). This time he goes more mainstream, staying, pretty much, in the reality lane.
"Baby Driver" is the ultimate music enhancement movie. From start to finish, there isn't a minute of this film that doesn't feature a song either sound up full or playing prominently in the background. "Guardians of the Galaxy" had a soundtrack that helped elevate certain characters and situations, while the song selection in "Guardians Vol. 2" felt forced when mixed with the uneven story. Because Wright directly incorporates the songs used in "Baby Driver" into the actual narrative, they're not distracting, nor do they disrupt the very basic storyline.
Baby (played by Ansel Elgort from "The Fault in Our Stars") is a nice, twenty-something kid, who also happens to be the getaway driver for Atlanta crime boss Doc (Kevin Spacey). Baby was involved in a car accident when he was a boy, in which his parents died and he was left him, as Doc puts it, "a hum in the drum". In order to drown-out the constant noise is his head, Baby always has his earbuds in and plugged into one of his many iPods.
Baby meets diner waitress Debora ("Cinderella"'s Lily James), and the two instantly connect. She'd like to quit her job and just get away. Once Baby is free from his obligation to drive for Doc he'd love to join her, but that's easier said than done.The weakest elements of "Baby Driver" involve the attempts at comedy - from Spacey's snarky, overly-scripted dialogue to the banter of some of his henchmen, including Buddy (Jon Hamm) and Bats (Jamie Foxx). Fortunately the humor takes a backseat by the second half, when "Baby Driver" gets into a more dramatic rhythm.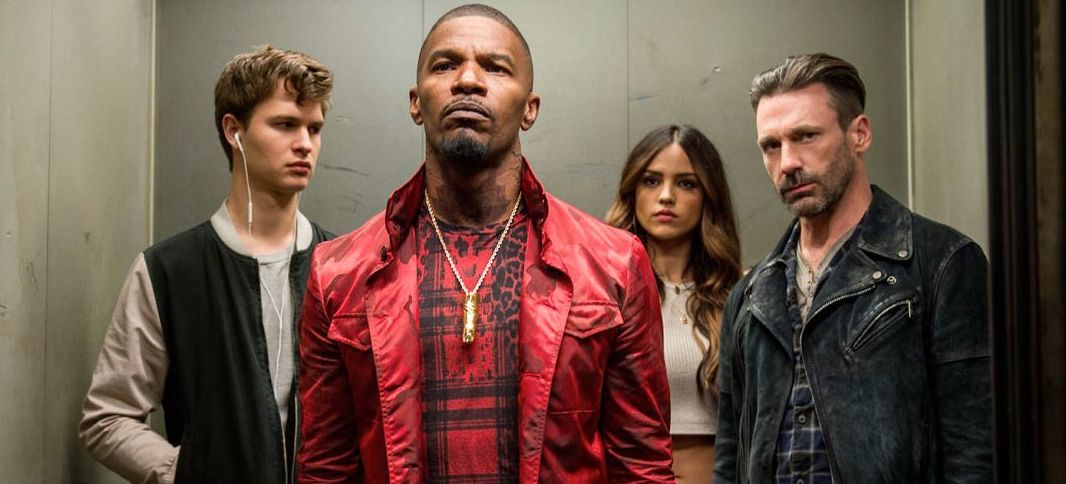 As I've written about in past reviews, everybody who attempts to make their mark in the "hip, ultra-violent, crime comedy" genre is trying to create the next "Pulp Fiction". Someday everyone in Hollywood will realize that it's never going to happen. Heck, if Tarantino himself hasn't been able to do it after all these years, Edgar Wright has no chance.
Of course, wild car chases are one of "Baby Driver"'s main features. Though they aren't as extreme or entertaining as those in "The Fast and the Furious" films, they are impressively choreographed. You can't exactly apply any logic to them - or practically anything in this entire movie for that matter. And that's OK. In order to enjoy "Baby Driver" for what it is: action/fantasy/escapism, it's best to leave your common sense parked at the curb.
While "Baby Driver" is highly stylized, Wright deserves credit for an execution that doesn't give-off the arrogant tone we often get in this type of film - the "look at us, we're really cool and eccentric" vibe. Elgort and James are terrific together, and Wright takes them in smart directions (including some unique "dream" sequences). And the soundtrack is terrific, though, at times the selections are a bit literal.
Is "Baby Driver" the most innovative and exciting action film in recent years? No. Does it really live-up to all the hype? Not quite. But Wright does get enough right to make it worth the ride.