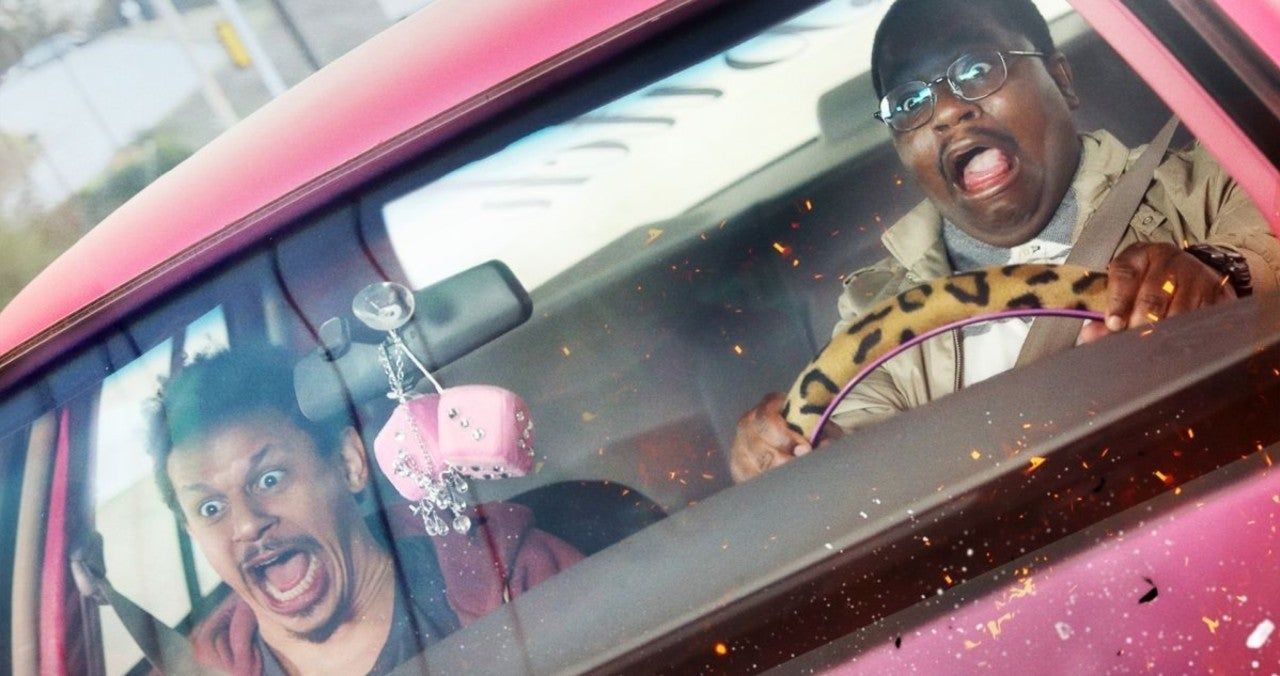 'Bad Trip' Review

LightsCameraJackson Critic I'll be honest: I did NOT think "Bad Trip" was going to be the funniest movie of 2021, so far. Hidden camera/prank comedies (such as "Impractical Jokers: The Movie" and "Jackass Presents: Bad Grandpa") are always very hit and miss.
However, "Bad Trip", which combines pranks and outrageous 'filmed on camera' moments with a legitimate narrative story, is (for the most part) a major success.
Eric Andre has become a TV star thanks to his Adult Swim parody series, "The Eric Andre Show". He proves in "Bad Trip" that he can also be a likable, big screen lead. Andre teams-up with Lil Rel Howery and Tiffany Haddish in this jam-packed, consistently entertaining action buddy film.
Andre plays Chris — Howrey is his best bud, Bud. After Chris randomly reunites with his high school crush at the Orlando, Florida smoothie shop where he works, he convinces Bud that they need to travel to New York City (where she works) so he can try to start-up a relationship with her. The pals borrow Chris's older sister Trina's pink "Bad Bitch" car. Trina (Haddish) is in jail, so she isn't using it.
But guess what? Trina breaks out of jail… and she's mad as hell. She steals a cop car and goes after Eric and Bud. It's a classic 'road trip' set-up, with a major twist.
Chris and Bud make numerous stops (a bar, restaurant, gas station, zoo) along the way, engaging with regular people who have no idea the two men are actors and that they, themselves, are in a movie. The situations range from silly to outrageous to dangerous. Most are hilarious. Oh — and there's a full-blown  musical number in a mall, too. You'll be constantly asking yourself, "How in the world did they pull that off?"
Director Kitao Sakurai gets a lot of the credit, along with cast and crew. Keeping track of all the hidden cameras alone had to be a challenge. And you assume most of the pranks had to be done multiple times to get the often priceless reactions from the unsuspecting bystanders. A few of the bits go too far in the tasteless department, but not as many as I expected.
"Bad Trip" was shot in 2019. And, yes, Andre and Howery don't exactly have household faces. But it's  surprising that Haddish wasn't recognized by everybody she interacts with. Especially since she uses her regular voice. And none of the actors use disguises.
You might think "Bad Trip" is just another narrative/prank movie, but it shoots right to the top of the list (think "Borat", except "Bar Trip" is not political or annoying — and it works). And keep watching through the credits for some great behind the scenes reveals.