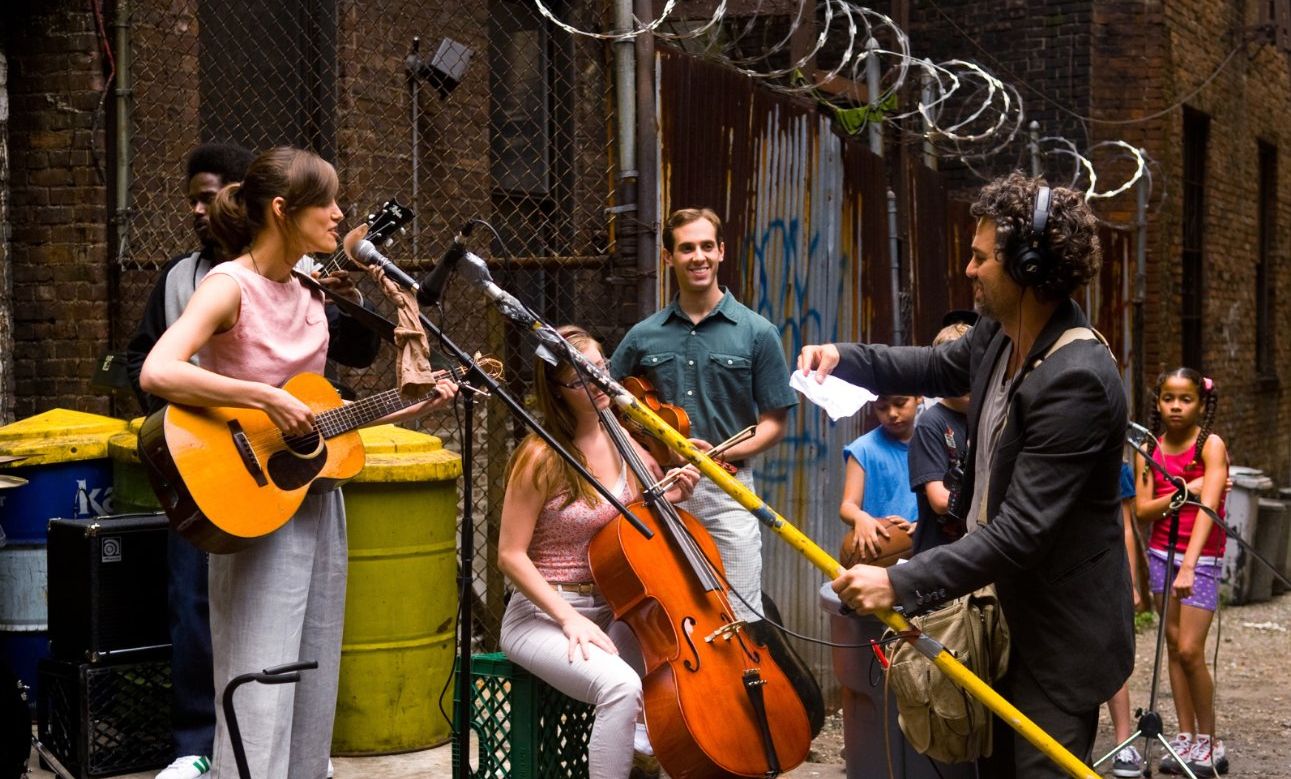 Begin Again (2013) Review

FourStarFilmFan Unfortunately John Carney's Begin Again loses the unassuming charm of his earlier musical effort Once, with higher production values, bigger names, and a more crafted sound. However, it still rides easily on the charisma of its big name stars Keira Knightley and Mark Ruffalo.
They are two individuals who have their lives wrecked and this crazy, fractured mess of a city becomes the perfect backdrop for two equally broken lives.
The film opens with differing perspectives on one point in time at a bar in New York. Dan Mulligan used to be a big recorder label exec maybe 10 or 15 years ago, but now his partner has pushed him out, because he hasn't acquired any new clients in ages. He's all washed-up and his family life isn't much better. He's estranged from his wife (Catherine Keener) and hardly sees his teenage daughter (Hailee Steinfeld). Given the situation he heads to the bar to drown his sorrows after an awful day in and out of the office.
Meanwhile Gretta James (Keira Knightley) arrived at that same nightclub by very different circumstances. She is the girlfriend of up and coming pop singer Dave Kohl (Adam Levine), but she has a penchant for songwriting on the side. It's nothing major and yet she certainly has a passion for it. However, with increasing busyness and the fame going to his head, Kohl and Gretta have a falling out. The first place she can turn is her old friend (James Corden) and he invites her to a night of music which she reluctantly agrees to.
That's how she ends up in front of the microphone reluctantly playing one of personal tunes for the mildly interested audience. And yet once man is very interested. Dan is almost pulled out of his stupor by the songs beauty and he immediately goes over to sign her. She thinks it's a joke or at least she's not interested about fame. She independent and she wants to keep her work her own.
But he's eventually able to cajole her into a unique musical endeavor. They won't record her songs in your typical studio, but instead all of New York will be theirs for the using. Thus, the joy of music brings a rag tag group of musicians and aficionados together to make something special and ultimately beautiful.
Gretta is able to straighten things out with her boyfriend content with where she leaves them. As for Dave, he gets back with his wife and there is a new found connection forming with his daughter thanks in part to his new friend's undue influence. In some sense, this film has a Lost in Translation type friendship. Two very different people in two very different life stages, but they have one important connection. In this case music, and it could be made into something romantic, but it doesn't force its characters into that.
I'm a bit doubtful that they had splitters back when Ruffalo was first with his wife, but, then again, what do I know? No matter, it makes for a fun jaunt through New York listening to the tunes of Frank Sinatra, StevieWonder, and Casablanca. If you are a lover of music, Begin Again is a thoroughly enjoyable film. It begs the question, what do you do the music for? What's at the heart of it? Is is about the money, the fame, or the pure joy that comes with creating and sharing your craft with those who you hold most dear?