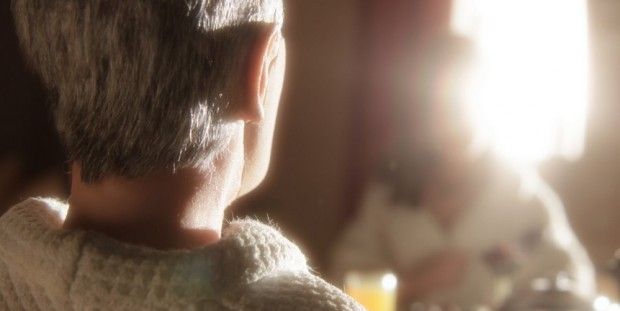 Behind the Curtain on Production for 'Anomalisa'

HaydnSpurrell The stop motion, puppet-lead film is both familiar and very different, with a style and appearance unfamiliar to many of us. But according to early reviews, there's plenty of meaning to make us forget that they aren't actually real people on the screen.
With outstanding reviews appearing since its recent release, the two directors for the film sat down to speak with Variety to discuss working at a miniature level to bring their stop motion world to life.
Co-director Duke Johnson said of the production design (by John Joyce and Huy Vu) that "every single thing you see on screen was fabricated. There's a challenge in that, but also a freedom, because you get to create an entire world.
"Even the pictures hanging on the walls in Michael's house, they're all original paintings and shrunken down."
Co-director Charlie Kaufman said "Michael spends a lot of time alone in his room doing mundane things... as an audience, you get fascinated with the choices made, and the craftmanship that goes into it. I've always loved everything to do with sets and artifice, even life-sized."
"The costumes have to be animate-able," Kaufman said, moving on to costume design (Susan Donym). "They're not just little costumes, which is hard enough. But they've all got wires that allow them to be posed in different position, so it looks like the fabric is fluttering when the characters move, for example."
"And buttons. They don't make buttons that small. They sculpt and bake and shape and paint them," Johnson said. When discussing lighting, "we told Joe to approach it like a live-action film... typically [with stop motion] you pout the lights up or you bounce them and it gets more broad lighting.,, so a lot of times they were making lights. They shrunk everything down."
Shot in two years when these projects usually take five, Anomalisa is certainly stirring movie-lovers who may just find their curiosity peaked with this unique tale. The film has an initial December 30 release date in the US, before wide release in January.
Source: Variety