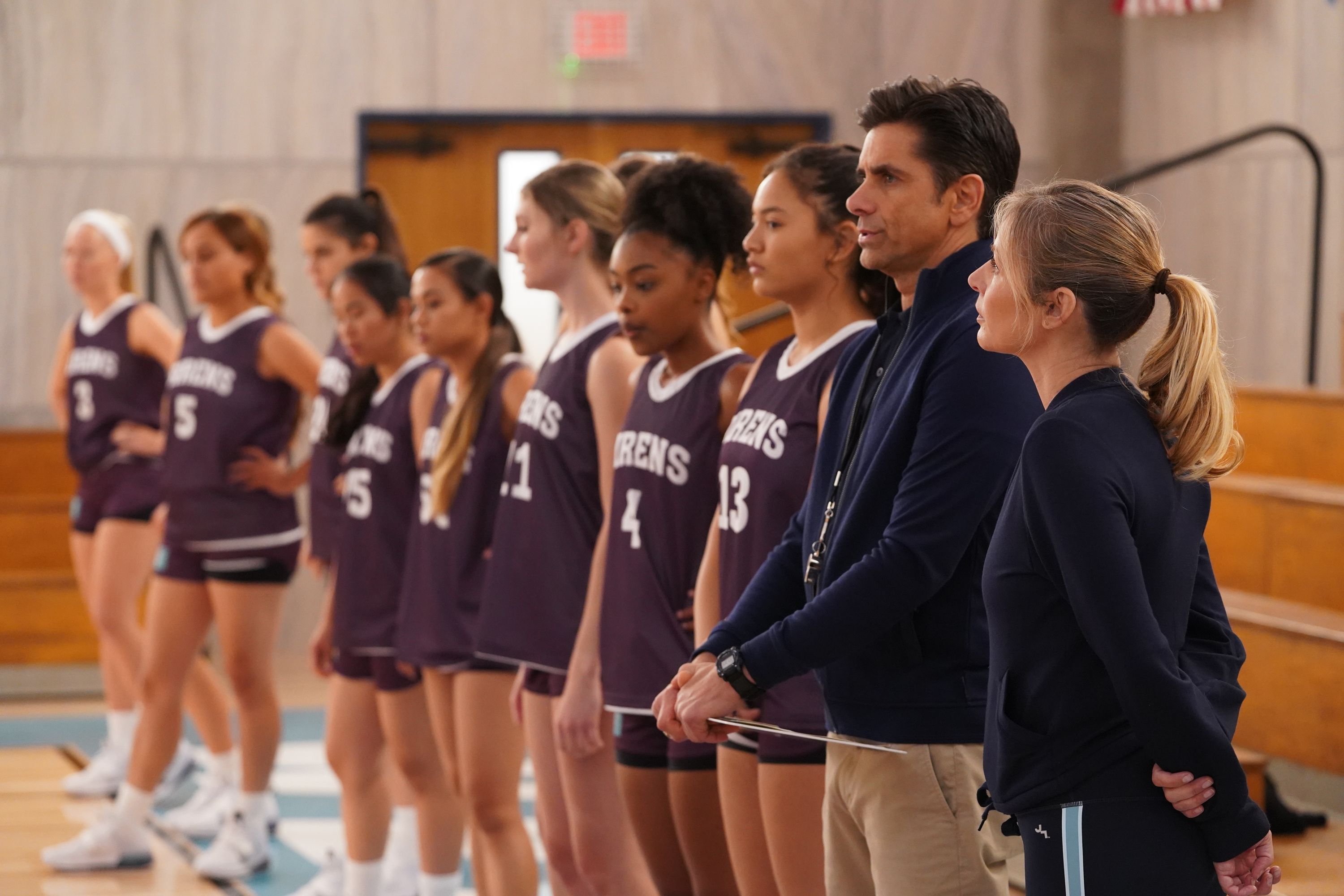 'Big Shot' Review

LightsCameraJackson Critic John Stamos is best known for his iconic role as Uncle Jesse on "Full House". I grew-up watching reruns of the classic sitcom, something I told Stamos when I met him in 2016. He earned a Daytime Emmy nomination in 1983 for his work on soap opera "General Hospital" and was also Primetime Emmy nominated as a producer on miniseries "The Beach Boys: An American Family" (2000) and "Fuller House" (2018).
Now, Stamos deserves a "shot" at his first-ever Primetime Emmy acting nomination for his performance as Marvyn Korn on the new sports dramedy series "Big Shot". Two of the show's creators are David E. Kelley and Brad Garrett. The "Everybody Loves Raymond" actor pitched Kelley the original idea of the series.
Korn is the Wisconsin Men's basketball coach. He's won several NCAA titles and is one of the most celebrated coaches in the sports world… until he throws a chair at a ref during a game. In real-life, you might face jail time. But in TV Land, Korn dodges that and instead gets re-assigned.
He begins coaching at an all-girls private high school near San Diego. It's yet another "fish out of water" coach story as he deals with plenty of personalities in a new location. You've got the teen girl players, assistant coach Holly (played by Jessalyn Gilsig), the school's principal (Yvette Nicole Brown), and the owner of the gym, who also happens to be the overprotective dad of the star player.
"Big Shot" feels like a modern, Disney spin on "The White Shadow", with some "Ted Lasso" vibes as well, especially as we learn about Korn's broken marriage. Teen daughter Emma is at home in Wisconsin (though she's probably going to change locales pretty soon). "The White Shadow" was a heavy drama. "Ted Lasso" is (mostly) a clever comedy, though there's some drama in there as well. "Big Shot" leans more on the dramatic side (especially in the third episode, though there are a few funny moments as well, including a reference to "Dunkirk" that Film Twitter will love).
The storylines are mostly cliches – though they may not feel so 'been there/done that' for the teen girls who will watch "Big Shot" on Disney+. But even with the recycled material, there's one reason why I want to keep watching "Big Shot" – and why you should too: John Stamos.
He's absolutely fantastic as Marvyn Korn, who's officially one of my favorite current TV characters. He's old-fashioned, plays by his own rules and is a complete wild card with depth and truth packed-in. You're never quite sure how he will react to something or how he'll maneuver every shift and surprise that comes his way. It's always interesting to watch how he handles every situation (many of them delicate), and the results never disappoint.
The first episode is like a clash of the times. Korn is surprised when one of the players cries after he tells her to lose five pounds. He has a conversation with another player in her car to help her get through a difficult day. And he's initially thrown off-guard at the idea of a romance among two of the teammates. "Big Shot" isn't afraid to dive into old school vs. new school approaches of coaching and the athletics environment.
The end of Ep. 1 features a basketball game climax that doesn't need slow-motion, but you should be able to get past that. Some of the minor details in and around the school and in the coaching world (like Korn living in hotels) are spot-on. And it's great watching Stamos drive up and down the coast in a Tesla. His scenes with Sophia Mitri Schloss, who plays daughter Emma, are also highlights. Emma's a well-written character (very much her father's daughter, as multiple characters say).
Season 1 of "Big Shot" will have 10 episodes. A new one debuts every Friday from April 16th through the middle of June. I look forward to checking out the remaining seven eps. and hope you give it a shot, if only to watch John Stamos give the kind of unique, slam dunk performance that will define his non-"Full House" career.