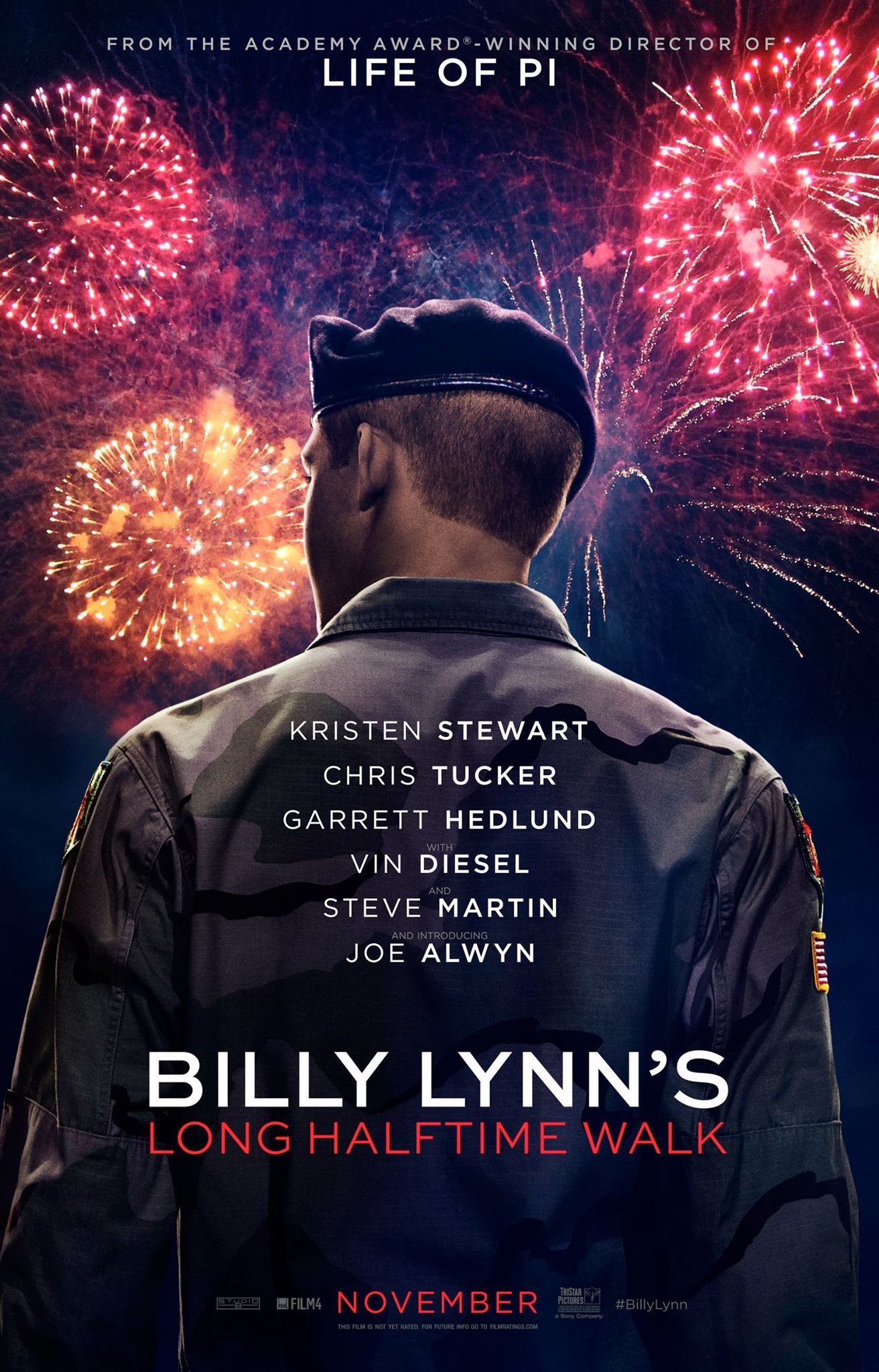 "Billy Lynn's Long Halftime Walk" Review

LightsCameraJackson Critic Clint Eastwood's "American Sniper" and Kathryn Bigelow's double-header of "The Hurt Locker" and "Zero Dark Thirty" all all examined the effects of the brutality, intensity and devastation of war on the modern American soldier (and Mel Gibson also did it masterfully in the recent "Hacksaw Ridge"). In "Billy Lynn's Long Halftime Walk", two-time Oscar-winning Best Director Ang Lee, tries to do the same thing, but his effort - a combination of combat, sports and Hollywood deal-making - is a complete dud.
Based on a 2012 novel, "Billy Lynn" puts fictional characters into a true-life situation. Newcomer Joe Alwyn plays Lynn, a member of Team Bravo, which has just completed their first tour of duty in Iraq in 2004. Lynn is deemed a hero for brave actions on the battlefield that were caught on video and broadcast throughout the country. He and the surviving members of his troop are being honored at the traditional Thanksgiving Day pro football game in Dallas, TX.
Lynn is a Texas native, so during this trip he gets to return home to see his family, including sister Kathryn (played by Kristen Stewart), who is against the war in Iraq and afraid for her brother. There are also plenty of times when Billy flashes back to that fateful day in battle. But the majority of "Billy Lynn" is spent at the game, with the numerous pre- and halftime events the soldiers are forced to do as part of the celebration. Most of this is pure Hollywood cornball, from the dialogue between the soldiers, to their interaction with fans, to the way-overblown halftime show. Hardly anything feels authentic.
Want some examples?: Lynn instantly hooks-up with a Dallas Football Cheerleader behind a press conference curtain before the game. Yeah, that happens all the time at NFL games. And the soldiers get jumped - not once, not twice, but THREE TIMES by members of the stadium crew. These are heroes, being honored by the team, and they're constantly getting beaten-up by roadies. I know this is Texas, but come on!
Dallas team owner, Norm Oglesby, is a very cartoonish version of the Cowboys' Jerry Jones. Steve Martin, who hasn't had a live-action role in five years, does his best with the material, but Lee's obsession with extreme close-ups (more on that later) prevent Martin's "showcase" scenes from being tolerable.
And then there's Chris Tucker (in his first film since 2012's "Silver Linings Playbook"), as an LA publicist who spends the entire day on his phone trying to sell the movie rights to the Bravo story. At one point, he tells the team that Hillary Swank is on board to play Lynn in the film. This is an instant nominee for Most Ridiculous Subplot of the Year. Not only is it awkward to watch scenes in which characters discuss this movie project, but it has no relevance to the overall point of the movie.
No NFL, Dallas Cowboys or other team logos are used in the movie. The league was smart enough to stay as far away from this project as possible. However, a few current NFL players, including Richard Sherman and JJ Watt, are featured as players in one particularly contrived locker room scene. Of course, they're not playing themselves, since it's 2004, which begs the question - why bother using them? Also, country singer Kellie Pickler performs the National Anthem, but Pickler was an unknown until her run on "American Idol", which was in '05.
The film does get one element concerning the game right: Destiny's Child did perform at the Cowboys-Bears 2004 Thanksgiving Halftime Show, singing the two songs used in the movie: "Lose My Breath" and "Soldier", accompanied by soldiers, marching bands, cheerleaders and pyrotechnics. However, Beyonce & Co. don't appear in "Billy Lynn". Body doubles are used - and we only see the singers from the back - making it obvious that it isn't Destiny's Child.
As for the actual war scenes, they're shockingly tame - in line with the rest of this movie. Again, after what we've seen in recent films, what Lee presents is like a high school play about the Iraq War. He shot "Billy Lynn" at 120 frames per second, using groundbreaking imaging technology. I could see the difference right from the start and it took a half-hour or so to adjust to seeing the depths of detail in the numerous close-ups of faces, in particular of Vin Diesel and Garrett Hedlund (who play Lynn's Sergeants).
There are three or four quality, minute-long dramatic moments - particularly Lynn's responses to questions at the pre-game press conference and his scenes with Kathryn. Overall, what Lee attempts here isn't ordinary, but his content and execution is, resulting in a long walk that's talky, preachy, and ultimately unnecessary.