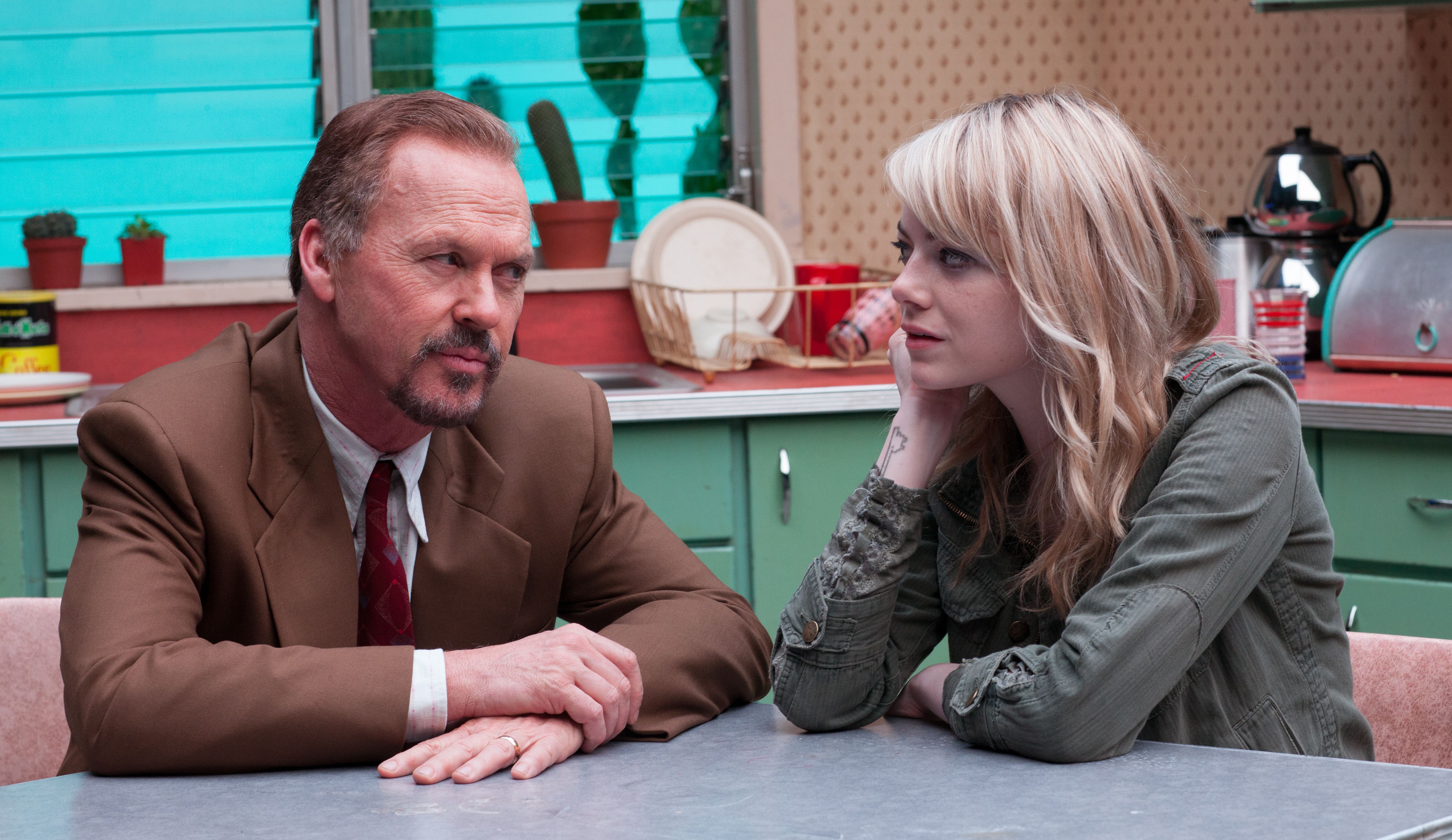 Birdman Review

PodestriansFilmcast In this ranty satire of the stage and the screen, Michael Keaton is washed-up former blockbuster sensation Riggan Thomson - pursuing a comeback with a Broadway play. However, he's being tormented (in Batman-voice) by his former 80's character, Birdman, who embodies his craving for past glories.
The main impact of the Birdman trailer was that shorthand it brought with it. The former A-lister… making a comeback with a worthy project… Michael Keaton! I get it! It works on so many levels.
That meta-knowledge brought the intrigue, but it truly was a gimmick. The parallels between Batman and Birdman end there because Keaton exercised great command over his career, and quite wilfully withdrew from his superhero profile. There is also a reflection of director Alejandro González Iñárritu himself here. Once the next big thing after Amores Perros and kudos for 21 Grams and Babel, he has largely dropped off the radar, and probably has little time for the expectation put on him in those years. To this end, Birdman tackles the need for audiences and commenters to label artists and to place restrictions or undue presumption on their choices.
Despite the blending of reality and delusion, other themes rise to the top just fine, ever present and regularly voiced (usually in long, pretentious tirades that actually work great for these characters). We get to explore the intangibility of success and the pursuit of unanimous adoration and relevance at the expense of the things that really matter (by those inside and out of the performing arts). It also spends some time destroying the Hollywood incentive as vacuous, and then considers whether the theatre world is much different.
What isn't a gimmick though is its highly-experimental single-take shooting style. In case you haven't heard about it yet, it's shot and edited to appear like an editless take from a single camera for the majority of the film (with a few clever techniques for jumping in time). Necessitating great precision and forward thinking, you don't see this done a lot – especially since it would usually be dismissed as indulgent. But in Birdman it works because it at once embodies the merry waltz of live theatre and the steadily rising chaos inside Riggan's self-obsessed and delusional mind.
Choreographing the logistical challenges is master-of-the-long-take, DOP Emmanuel Lubezki. Before Gravity, he pulled off that startling four-minute car-ambush sequence from Children of Men, and pushes the envelope even further here. However, the artistry behind the camera, while constantly and consistently apparent and impressive, is never distracting. The immediacy it brings to each scene can only be compared to… well, the theatre… and the energy in all the performances presumably owes something to this difficult but effective style.
That's why this is a film for the big screen. It's designed to wash over you and carry you away. The relentless pace and wild performances are completely absorbing, especially the interplay between Riggan and Edward Norton's artiste Mike Shiner – titanic clashes of ego and insecurity preserved by steadicam vérité.
Given the logistic challenges, all the actors' performances should feel laboured. But they don't. Especially not Emma Stone as Riggan's vitriolic daughter, Sam. Zach Galifianakis, Naomi Watts and Andrea Riseborough also bring key moments of humour, drama and pathos
On the negatory side, there's some redundancy to the bloated ending, and a funny bit of lesbianism proves itself ultimately gratuitous. But maybe like the characters in Birdman, we should learn not to take things so seriously.
Find more of our content at www.podestrians.net.
We produce a weekly filmcast. Subscribe on iTunes at: https://itunes.apple.com/gb/podcast/podestrians-podcast/id920231768?mt=2