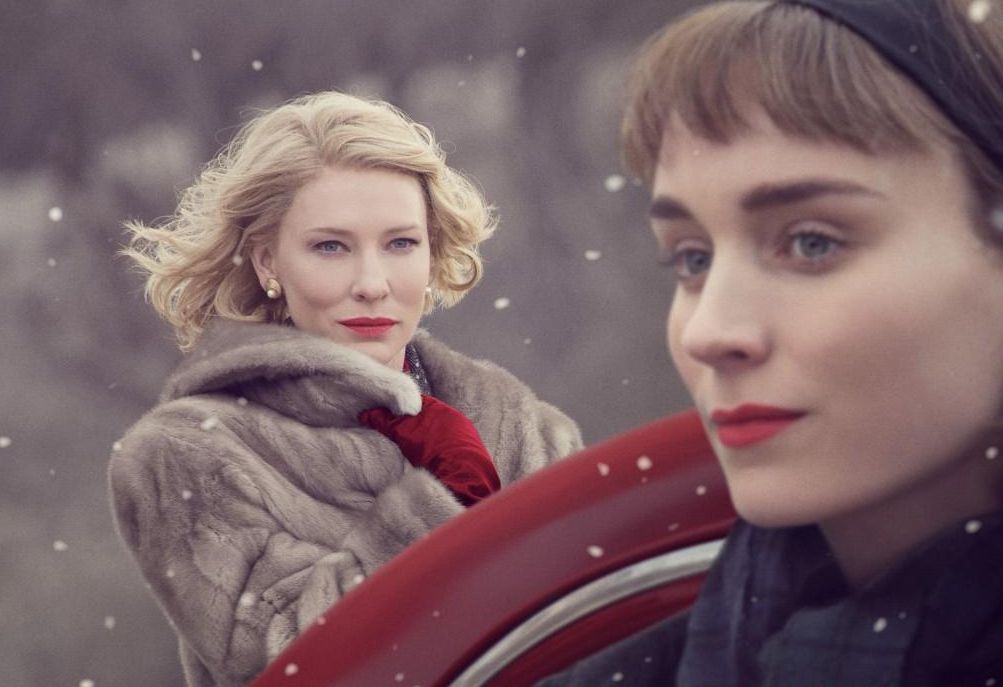 Carol and the Thrill of Falling in Love

MadelynCarey I read Patricia Highsmith's novel The Price of Salt (later published as Carol) last summer. Though I enjoyed it enough, I didn't understand why— aside from its social and historical significance, which is no small feat— people held it in such high regard. But a year has passed, I'm older, and I've finally gotten around to watching Carol, Todd Haynes' film adaptation of Highsmith's novel.
I regret that it took an interpretation other than the original text to open my eyes to such a lovely story, but something must have happened in the translation from text to film that made me fall in love with it. Because, truly, Carol is a very visual film, heavily reliant on its quiet photography to express the longing the film almost bursts with.
This is quite appropriate considering that our protagonist, Therese Belivet (a captivating Rooney Mara) is an aspiring photographer. We follow her as she begins a job at a department store, where she meets the entrancing Carol Aird (Cate Blanchett, in the role she was born for). Carol is buying a train-set for her daughter, Therese helps her with the order, and very soon young Therese realizes she is in love with Carol. What follows is a stunning love affair, one that must be hushed, reluctant to come out of hiding, full of painful yearning. In the middle of a messy divorce and custody battle, Carol takes much of the affair on the road, as a brief getaway, with Therese by her side. Even on the road there's a quietness, but there's a sort of excitement in this kind of clandestine love, especially before Carol and Therese explicitly make their feelings known to each other.
Yes, Haynes perfectly bottles the startling potential energy which precedes a romance. Anyone who has ever been in love knows this feeling, and here it's uncanny, it's scintillating. We see this love and its buildup through Therese's photographic perspective. Carol was shot with super 16 mm film, which gives the film a dreamy warmth. It also captures the perceptiveness one gains when they're in the presence of someone they love very much—when Carol and Therese go out for the first time, the camera brilliantly lets go of its reins and focuses on Carol's lips, the rush of a car moving, Carol's hands. It's a sort of blur that expresses love's excitement and beauty in both the minutely detailed and abstractly conceptual, simultaneously. I adored it. There's a lot Therese and Carol have to figure out: will Carol gain custody of her daughter? Will Carol's husband use Therese against her? And what about Therese and her correspondence with the men in her life— can that simply blow over? These are deftly executed driving points in the plot, but the thing that stuck with me most about this movie is love, love, love, in its excitement, its danger, and, ultimately, its uniquely human bliss.