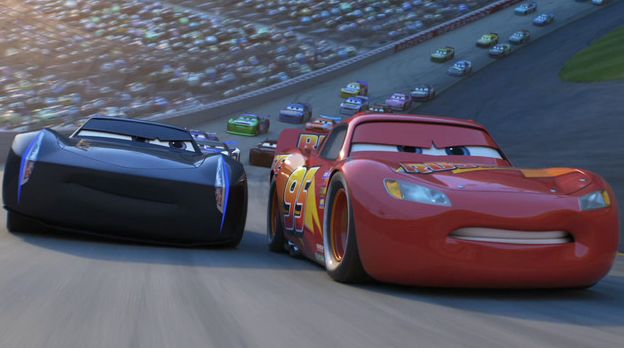 'Cars 3' Embraces The Comeback Story

ZachPerilstein Disney Reporter Cultjer's Disney Reporter reviews the third installment to the Cars franchise.
SPOILERS AHEAD!
The original Cars made us fall in love with hotshot Lightning McQueen and the hilarious Mater. Cars 3 tried to recapture that magic but it didn't feel the same. Was it that the soundtrack wasn't as memorable? Was it the lack of Mater's screen time? Maybe Pixar didn't like his role in Cars 2? Mater felt absent for most of the film. He's Lightning McQueen's best friend yet he felt more like a forgotten character.
Besides the lack of Mater. The rest of the film was solid. I think people don't appreciate how truly magnificent Pixar is. Maybe it's because we are spoiled in the digital age but Pixar continues to do brilliant work. The amount of details in each scene is astounding. The animation was once again beautiful.
Story
Now I really enjoyed the story of Cars 3. The tone was very similar to Rocky. Which made the ending worse (I'll get to that). The training scenes with Cruz Ramirez and Lightning were very humorous. They were doing old fashion training instead of the high tech training that was being praised within the film. The story of Lightning McQueen getting older and trying to be forced into retirement works well. It's similar to a star athlete falling from grace. Lightning wanted to go out on his own terms. So his motivation to race again becomes stronger. The flashback elements with Doc Hudson really worked. So as a viewer you are hyped watching this film. Seeing will Lightning McQueen beat the arrogant antagonist in Jackson Storm? That's why the final race is so depressing. Lightning subbing Cruz in just because he knows she is younger and better was dumb. It's like if Rocky in the film Rocky Balboa told his son to hop in the ring and fight Mason Dixon just because he was younger and fresher. It doesn't make sense. I wanted to see my hero win. It's okay for the sidekick to win but this felt rushed. Although the ending blossomed a new strong character for Pixar it disrespected Lightning's true comeback story. The story has it's ups and downs but in the end it was still enjoyable to watch.
Characters
Lightning McQueen is older and more appreciative of his surroundings. He loves his sponsor Rust-eze. McQueen's character still shows a classic ignorant side when training with Cruz Ramirez. Lightning McQueen still has a loving relationship with his girlfriend Sally Carrera. Do Cars get married in Pixar's Cars universe? If so Lightning needs to get married. McQueen still maintains his friendship with Mater (despite his lack of scenes). Lightning finally figures out what he has to do to train. He goes and finds Doc's old crew chief Smokey. Smokey and other legendary cars give Lightning valuable advice. This help him in his comeback training. Smokey provides the wise, older voice.
Cruz Ramirez provides Pixar with a future in the Cars universe. She is a dynamic and strong character. She ends up becoming the main racer at the end. I'm sure Pixar is considering doing a Cars 4 with Cruz Ramirez as the main character. Plus McQueen didn't officially shut the door on racing. Ramirez is a lot more fun loving and goofier than Lightning McQueen.
Jackson Storm was the perfect villain. He was serious and he made fun of his fellow racers. I really wanted to see him get beat by Lightning. Main reason is because young Jackson Storm reminded me of young, arrogant Lightning McQueen. Jackson Storm's car paint looked like something out of Walt Disney World's Test Track at Epcot.
Direction
Brian Fee did a great job at directing. He had to step into some big shoes. Disney's Chief Creative Officer Jon Lasseter directed the first two Cars films. Fee was previously a storyboard artist at Pixar. I expect him to get more shots at directing as Pixar ushers in a new age of creative talent. Fee was a storyboard artist on both Cars and Cars 2. His other Pixar credits include Wall-E and Ratatouille. Bob Peterson (co-director of Up) penned the script alongside Mike Rich and Kiel Murray. The dialogue was phenomenal in the film. The humor was great and Pixar did slide in some classic "adult" jokes.
Music
The film did lack a powerful soundtrack. The original Cars had fantastic songs from Rascal Flatts and Sheryl Crow. The third didn't have any memorable songs. I joked on Twitter awhile back that Pixar should've used "Hurt" by Johnny Cash in the trailers or even use Aerosmith's "Dream On." Both songs would've hyped the film up. While staying true to the story at hand. Randy Newman still did a great job composing the score for the film.
Cast
Owen Wilson did his usual excellent job with voicing Lightning McQueen. Larry the Cable Guy was underutilized. Like I've been stating this whole review.
I love the cast of the minor characters. Like Tony Shalhoub who voices Luigi, Guido Quaroni who voices Guido, and Lloyd Sherr as Fillmore, everyone's favorite Volskwagen bus.
Pixar Short 'Lou'
Pixar does it again with Lou. It's a heartwarming and a visually stunning short. Major props to Dave Mullins on writing and directing the short Lou.
Final Thoughts
Lightning McQueen didn't die so that's a positive. Cruz Ramirez is the new face of the Cars franchise. I want a Fillmore spinoff. I want more Mater if that isn't obvious enough.
Doc Hudson presence was felt in Cars 3. Cruz Ramirez inspired the statistical analyst Natalie Certain at the end of Cars 3. Natalie Certain was voiced by Kerry Washington. Maybe her character returns for the fourth installment? The film parallels Rocky III and IV. Lightning and Cruz running on the beach is similar to Rocky and Apollo running on the beach in III. The special high tech training centers are similar to Ivan Drago's in Rocky IV. Lightning trying to find a new trainer after Doc's passing is similar to Rocky finding Mickey's replacement in Rocky III. At least Cars 3 doesn't draw in comparison to Rocky V...
Cars 3 is a thrilling comeback story. That also inspires a new generation of Cars.
Follow @TripleZ_87 on Twitter.