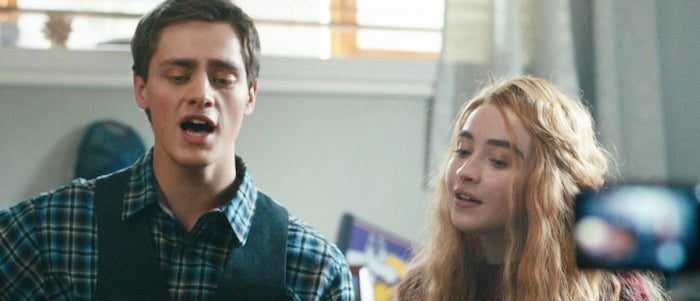 'Clouds' Movie Review

LightsCameraJackson Critic Director Justin Baldoni follows-up his 2019 drama "Five Feet Apart", about teens with cystic fibrosis falling in love, with a somewhat similar story. The major difference is his latest, "Clouds" is directly based a true story — the life of Zach Sobiech, a Minnesota high school senior with terminal cancer.
Fin Argus plays Zach and it's a strong, breakthrough performance. Disney Channel vet Sabrina Carpenter is Sammy, Zach's classmate and best friend. The two have known each other their entire lives. And are both heavy into music. But their friendship is getting a bit more complicated… and not just because of Zach's illness. Argus and Carpenter's scenes together often go in directions you don't expect.
Neve Campbell and Tom Everett Scott take-on the Mom and Dad roles. Each gets "solid supporting actor" moments. Lil Rel Howrey's casting as Zach's English teacher is inspired. He quotes quotes and cracks  jokes. But what Howrey does best is not try to make the role bigger than its intended to be.
If you're not aware of the Zach Sobiech story and/or don't remember hearing the title song "Clouds" in early 2013, I won't go any deeper into its significance. The second half of the film sees Zach, Sammy and others become involved in a series of remarkable events. Some really did happen. Others are dramatized and over-exaggerated. Unfortunately, those scenes detract from an otherwise satisfying screenplay.
There have been plenty of recent YA/teen films involving adolescents and death. Of that group "Clouds" may be heaviest emotionally. Baldoni pours the sadness on thick. If you know a family (especially of a young person) affected by cancer, you may not be able to get through this movie without a tissue box handy. Baldoni could have showed a just little more restraint, while staying true to the story. Still, this is a far more powerful and accomplished effort than "Five Feet Apart".
"Clouds" would've been a tough sell if released in theaters. Warner Bros. made the wise move to pass the distribution rights to Disney+. It will get plenty of eyes on it – most of them watery as the end credits roll.