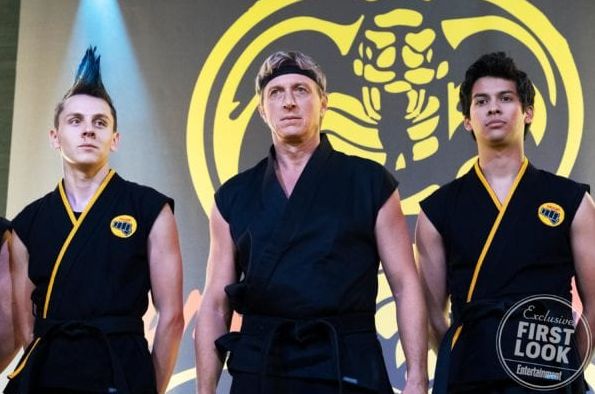 'Cobra Kai' Leaves YouTube, Netflix and Hulu are Favorites to Land the Show

ZachPerilstein Disney Reporter The Google-owned YouTube will abandon its hit series Cobra Kai.
The third season of Cobra Kai will be on a new streaming platform. That's right YouTube's biggest scripted hit will be on a new service. The Karate Kid sequel series is attracting interest from leading streaming players like Netflix and Hulu.
Sony TV is the producing studio for the popular show that star Ralph Macchio and William Zabka in their iconic roles of Daniel LaRusso and Johnny Lawrence. Whoever wins the Cobra Kai sweepstakes whether that be Netflix or Hulu will have non-exclusive rights to Seasons 1 and 2 of the series along with YouTube. The streamers would have exclusive rights to Season 3 and future seasons.
The future of Cobra Kai was always wondered when YouTube struggled to find its footing in the streaming wars. YouTube shifted from trying to be an SVOD service to AVOD. YouTube was supposedly game to air the third season of the series but they wouldn't air any future seasons. This is what lead Sony TV to shop the series around.
Due to COVID-19 pandemic and streaming services needing content. Getting an already finished season three of Cobra Kai seems like a home run move. Netflix seems loaded up on content but them adding Cobra Kai would just be an example of the rich getting richer. Hulu winning the Cobra Kai sweepstakes would benefit the service and show that the service isn't going to just be adult-skewing FX series.
Cobra Kai was a big hit for YouTube but nailing scripted series and running an SVOD or even AVOD service in the streaming wars is hard. YouTube is going back to what it's good at. Cobra Kai getting a streaming home it deserves is great news.
Netflix or Hulu gaining a show with a built-in audience during this time will be huge.
Follow @Cultjer for the latest on TV/Film news.