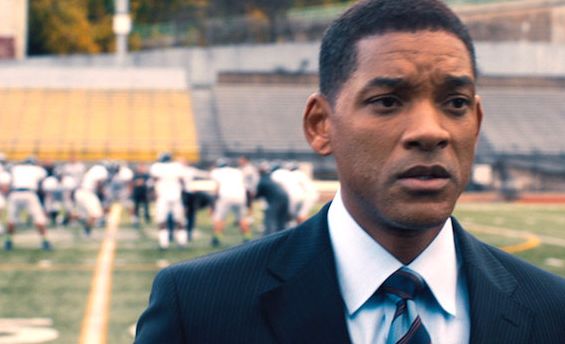 "Concussion" Review

LightsCameraJackson Critic I "Tell the Truth!" about this look at the man who exposed the NFL brain damage cover-up , which comes-up a little short of its goal.
In the scene that Will Smith will be most remembered for from this biopic/drama, his Dr. Bennet Omalu (a Pathologist from Africa who comes to America and becomes a crusader in the area of traumatic head injuries in football) repeatedly asks a reluctant colleague to "Tell the Truth!" Well, that's exactly what I will do regarding this movie, starting with Smith, who delivers an outstanding performance that puts him at the top of the standings of Best Actor contenders.
Based on the GQ article that first exposed the issue of former NFL players literally losing their minds, and their lives, due to brain damage suffered from playing football their entire lives, "Concussion" begins in Pittsburgh in 2002, with Omalu working in a local hospital. He's a quirky doctor with unique methods of conducting autopsies (he actually talks to the dead bodies, asking for their help to get the answers he needs). He's also highly skilled and extremely dedicated, with numerous degrees in various areas of medicine. But determining how people die is his passion.
When former Steelers great Mike Webster is found dead at age of 50, after years of erratic behavior that led him to becoming homeless and living in a pick-up truck, Omalu gets the case. He can't come-up with a clear answer for the cause of death and decides to investigate further. Omalu knows nothing about professional football but, with results from extensive tests, along with watching video clips of NFL games, he comes to the conclusion that years of head-to-head collisions while playing the game caused Webster to suffer severe, unrepairable brain trauma. Omalu names this discovery CTE (Chronic Traumatic Encephalopathy).
Of course, once officials of the National Football League learn of Dr. Omalu's findings they are not pleased. And when more and more players begin to suffer symptoms of CTE, and start committing suicide, people begin to pay more attention to Omalu's conclusion - that football is to blame for these deaths. He's then targeted by the NFL - one of the most popular, powerful and profitable corporations in the country which, as colleague Cyril Wecht (played by Albert Brooks) tells him, "owns a day of the week - the same day the Church used to own."
The most interesting parts of "Concussion" are Omalu's battles with the NFL. It shouldn't come as a surprise that ads for the movie likely won't air during games throughout the rest of the season, because the League should be embarrassed by how they are depicted in a number of scenes in the film. Luke Wilson plays current commissioner Roger Goodell. It's actually a very small role, but the commissioner and, and the league is general, is shown as having very little interest in the well-being of their former and current players, which, many will point out, is factual.
The players and stories in "Concussion" are real, and this film, overall, has a very authentic feel. Where writer/director Peter Landesman fumbles a bit is in making Omalu's "head-to-head" battle with the NFL only about half of the story. "Concussion" also spends a lot of time as a character study of Omalu, including his relationship with future wife, Prema, a nurse who has also emigrated from Africa (played by "Belle"'s Gugu Mbatha-Raw). Diehard football fans looking for two hours of the concussion battle will be disappointed, and everyone will be let-down by a fairly tame final half-hour, which somewhat negates much of the hard-hitting content from earlier in the film.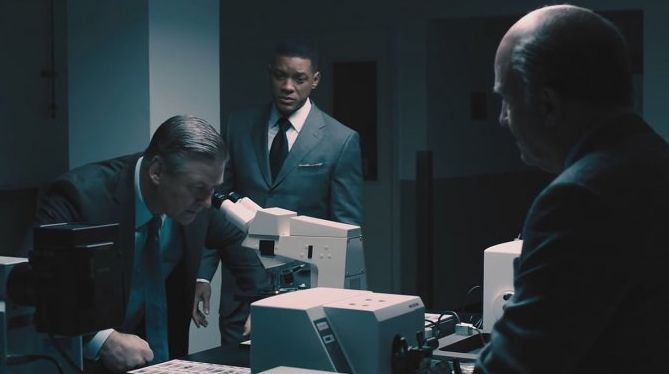 The good news: Smith scores big in every scene, perfectly portraying an outsider who simply wants to do good, going-up against an opponent that he doesn't understand. Brooks is also terrific, and Alec Baldwin is quite strong as Omalu's partner in this fight, former Steelers team doctor Julian Bailes (who, as I write this, has now taken a public position against Omalu's stance that kids shouldn't be allowed to play football until they're no longer kids: 18-years-old). Bailes is the most conflicted character in "Concussion". He loves the beauty of football, but must admit that the science is right. Baldwin's best scenes are when Bailes talks about sending players back on the field, even after they'd been knocked unconscious, because winning games and championships was all that mattered.
Could "Concussion" have gone even deeper and further on this hot topic and cut-back on the relationship elements? Absolutely. But you have to keep in mind that this is a Hollywood production, not a documentary, and that movies that are just about sports, in general, don't win big at the box office. However, there's definitely still enough meat on this very timely and controversial subject to hold your attention and leave a lasting impression.