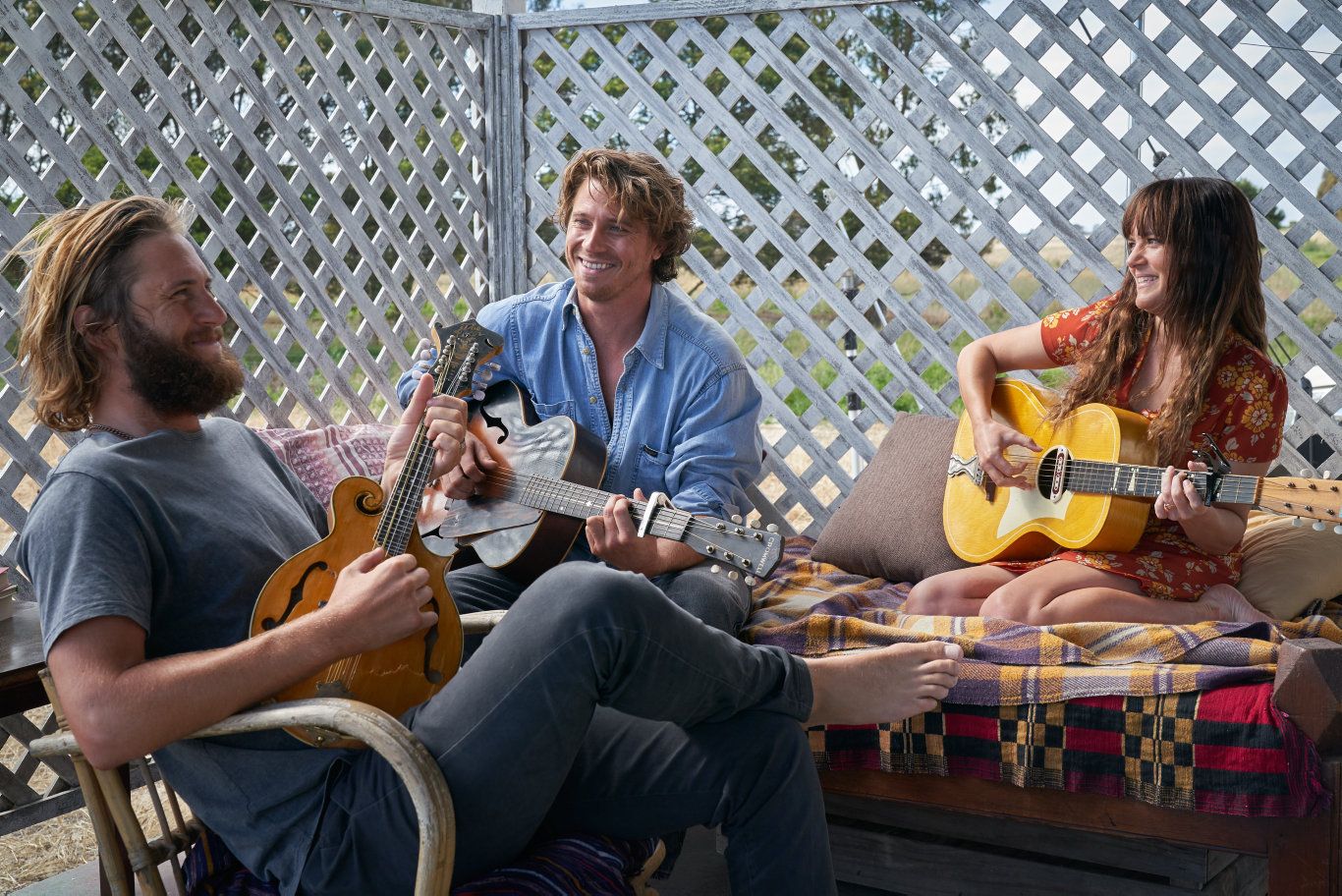 'Dirt Music' Review

LightsCameraJackson Critic For some, capturing the meat and heart & soul of a novel in film form can be a challenge. Writer Jack Thorne pulled it off (with Stephen Chbosky and Steve Conrad) for 2017's "Wonder". They took the best, most meaningful and effective parts of that 300-page book and incorporated them into a 113-minute movie.
However, Thorne (solo this time) wasn't nearly as successful with the script for the new film adaptation of the 2001 Aussie outback romance novel "Dirt Music". That nearly 500-page epic has been chopped-up and significantly simplified for the screen. And it shows. 
"Dirt Music" presents a familiar love triangle: Georgie (Kelly Macdonald) is unhappily dating widower and father of two Jim (David Wenham). He's the big shot fisherman of Australia's west coast. In fact, Jim "runs the town" so much that it's best never to cross him. 
Georgie finds escapism in gritty hunk Lu Fox (Garrett Hedlund). He was once part of a successful local band with his brother and sister-in-law. But they, along with Lu's niece (who he loved dearly) were killed in a car accident.
These two lost souls quickly connect emotionally and physically — having sex at a hotel before they even learn each other's names. It's one of the many "fantasy romance novel" elements that survive the translation. But there's too little between events to explain the motivations of the characters to make what happens believable. 
In fact, only a couple of aspects of "Dirt Music" truly work. There's a consistent uneasiness amongst the principal characters. Again, were not sure why, but it does provide an edgy vibe. And Director Gregor Jordan nicely captures the vast natural scope of western Australia, including its surrounding islands. The novel explored the political and social conflicts between city and rural life on the continent. The movie only barely touches on this issue. 
As a whole, "Dirt Music" is clouded by convenience and a lack of inspiration. Every character has baggage (including Lu's dog, who doesn't even have a name). The screenplay is too reliant on timing and "big revelations", especially when it turns into "Gone Guy". The always engaging Macdonald struggles with her one-note role. Only Wenham is given the opportunity to provide some depth.
And the movie's title no longer applies. "Dirt Music" is a native, alternative blend of country and rock with an edge. Hedland does sing a little (we previously heard his vocal talents in 2010's "Country Strong"). But music isn't one of the film's top five themes.
If any of the elements and concepts of this story sound appealing, and you're looking for some Summer escapism — find the book and start reading.