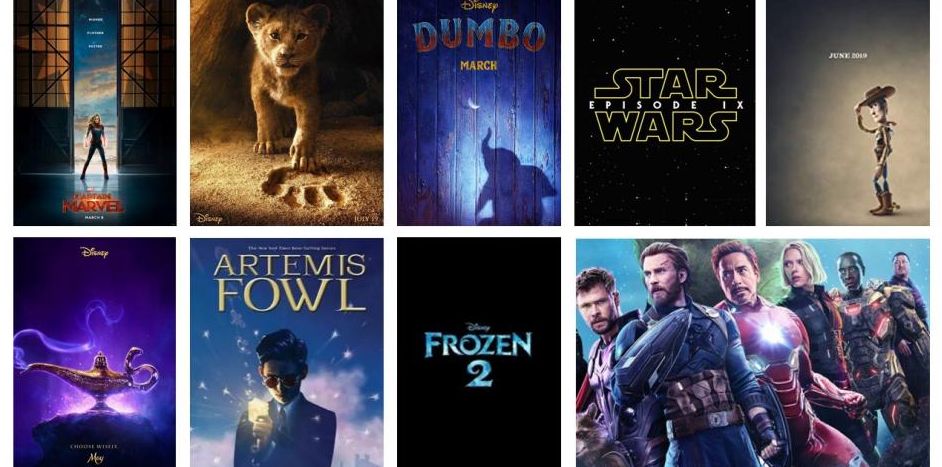 Disney 2019 Box Office Predictions

ZachPerilstein Disney Reporter Disney is poised for another record-breaking year. What films will succeed? What films will falter in Disney's epic slate?
Each prediction will feature a worldwide total and a opening weekend total.
Captain Marvel
This is a tricky prediction. It's a Marvel property, and Marvel films usually do excellent numbers at the box office. Not to mention this film should lead into Avengers: Endgame and explain where Carol Danvers has been all these years. The film is set in the nineties. Also, Captain Marvel has a huge advantage that other MCU films didn't get to have. Captain Marvel is basically essential viewing before Avengers: Endgame.
Captain Marvel comes out in March. The toughest competition it will face during that month is Disney's own Dumbo and Jordan Peele's Us.
Prediction: $800 million. With a $115 million opening weekend.
Dumbo
Dumbo is a retelling of the classic animated film. This time coming from Tim Burton. The film will have to face off against Us and Captain Marvel depending on how those two films are doing. A week after Dumbo is released. DC releases Shazam and that could have a effect on Dumbo's overall box office. Still I'm giving Dumbo the benefit of the doubt. It's a beloved film and having the adorable character in CGI plus the influence of Tim Burton could make this a crowd pleaser.
Prediction: $525 million. With a $55 million opening weekend.
Avengers: Endgame
This film is one of the most anticipated superhero films of all time. It will easily destroy the box office. It could run into some unexpected competition but I fully expect it to dominate.
Prediction: $2.2 billion. With a $250 million opening weekend.
Aladdin
People are really underestimating how popular Aladdin is. Even without Robin Williams iconic voice it still should do well at the box office. The film will have some competition later on most notably the Elton John biopic Rocketman. I'm still expecting a very strong outing for the reimagining of this Disney classic.
Prediction: $590 million. With a $75 million opening weekend.
Toy Story 4
The fourth installment in the franchise that forever changed animation. Toy Story 4 should dominate at the box office until Spider-Man: Far From Home arrives in July. A billion dollar haul would make sense for a nostalgic franchise like Toy Story.
Prediction: $1.2 billion. With a $150 million opening weekend.
The Lion King
The Lion King almost made a billion back in 1994. It will certainly cross that mark now. This version will have the music of the first film blended with the new age CGI that was used in Jon Favreau's The Jungle Book. The Lion King looks to have light competition I think studios took the hint on this one.
Prediction: $1.1 billion. With a $180 million opening weekend.
Artemis Fowl
This film is a wildcard but it is safe to assume it will lose to Hobbs & Shaw and Angry Birds 2. Disney hasn't had a good track record of book adaptions. Just look at A Wrinkle in Time from last year. Disney had to keep A Wrinkle in Time out forever just to have it cross $100 million domestic.
My prediction may end up being too kind.
Prediction: $140 million. With a $35 million opening weekend.
Frozen 2
Another Disney mega franchise makes its big screen return. It will dominate at the box office considering its only threat was Wonder Woman 1984. Frozen is still a massive franchise and it will have a good showing at the box office. As fans have been anticipating this sequel.
Prediction: $1.25 billion. With a $155 million opening weekend.
Star Wars: Episode IX
Well this is supposedly it for the Skywalker saga. I'm expecting a big box office turnout for the final appearance of Carrie Fisher in a Star Wars film. JJ Abrams is back at the helm and it is sure looking like it's going to be a epic conclusion. Once again this film is Star Wars and I don't think anything is going to stop it especially this year.
Prediction: $2.0 billion. With a $245 million in opening weekend.
Disney is looking at a record-shattering year.
Also, just by this slate you could totally tell that this was the year Bob Iger wanted to drop the mic and retire. The slate is filled with nostalgia and new entries in the Star Wars and Marvel universe. Other studios should be scared of Disney's slate in 2019. Wonder Woman 1984 was moved to 2020 because of this slate.
It will be fun to look at this article in comparison to my 2019 Disney Box Office Breakdown article to see if I got anything right!