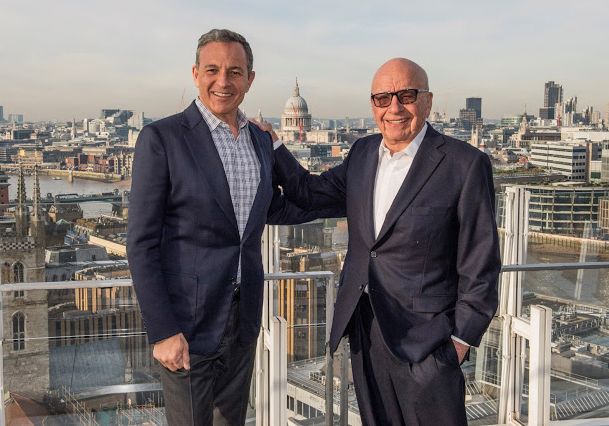 Disney-Fox Deal Escalates, Looking at Mid-2019 Completion

ZachPerilstein Disney Reporter In December, Disney and Twenty-First Century Fox sent shock waves through the entertainment world.
According to 21st Century Fox President Peter Rice, he stated the acquisition of his company should be done by Spring/Summer 2019. The massive $52.4 billion deal will take some time to be reviewed. Since this historical announcement more news has surfaced about another Fox suitor.

Comcast.

Yes, Disney was always the front runner but they purchased the assets of 21st Century Fox at a way cheaper price. Comcast's bid was 16% higher according to a recent SEC filing. Meaning Comcast's bid was worth over $60 billion to acquire the assets of 21st Century Fox. Disney's all stock offer came in at $29.54 per share, where Comcast's bid came in at $34.41 per share. This bringing the revelation that the highest bidder sometimes doesn't win. Did Rupert Murdoch not trust Comcast CEO Brian L. Roberts? Did Murdoch feel more comfortable with Bob Iger to protect his legacy? With Murdoch getting out of the chaotic media landscape it is appalling his company didn't want the larger bid.

Although the two reasons why Fox went with Disney does make sense. Comcast couldn't agree on a breakup fee. Disney agreed to pay Fox a $2.5 billion breakup fee if the deal fell through. There is still a good possibility that the deal may not be completed. Fox wanted to protect themselves especially if the deal is blocked. Fox always wanted to sell their assets to Disney according to recent reports. "A better strategic fit and presents fewer regulatory hurdles." According to Fox.
Disney has successfully integrated notable intellectual property in the past. There is still rumors swirling that Comcast may try to up their bid. Remember back in 2004, in the later year of the Michael Eisner era. Comcast made a hostile takeover bid ironically worth $54 billion for Disney. So Comcast has always tried to meddle into the business of the Mouse House.

Disney will acquire the 20th Century Fox Television Studio, 20th Century Fox movie studio, and FX networks. The remaining assets, Fox Broadcasting Company, Fox Sports, and Fox News will create a new company. (Probably will still be called Fox, unless The Walt Disney Company does the unthinkable and changes its iconic brand to the corporate name of Disney-Fox Corp). Disney also will continue Fox Searchlight, the studio which had an impressive awards season run. Along with this deal Disney touted gaining the franchises of Avatar, X-Men, Fantastic Four, and Deadpool. Those were the first four mentioned in the initial press release. They also mentioned This Is Us and The Simpsons.

Also Disney now has controlling interest in Hulu. Comcast also owns 30% of Hulu. Could Comcast be eyeing Hulu as a potential reason for upgrading their bid? Was Comcast planning on making Hulu its Netflix killer? Disney is already outlining a strategy for their own direct-to-consumer service. Starting with their investment in BAMTech they have now created ESPN+, a direct-to-consumer service that will showcase different sporting events, and has it's own impressive library. ESPN+ is currently $4.99 a month, significantly cheaper than the normal $10.99 a month. Disney CEO Bob Iger has already gone on record saying the new Disney service will be cheaper than Netflix. The theme of this Disney-Fox deal with Comcast interference is that everyone wants properties to beat Netflix. Only time will tell to see who will be the company to bring them the biggest fight.

The Disney-Fox deal might of had even bigger implications. Disney CEO Bob Iger was seriously thinking about running for President of the United States. Until the deal came along he decided to stay on at Disney until 2021. One of his closest friends, Oprah Winfrey urged Iger to run for president. This deal obviously canned any plans for a 2020 campaign. His wife, Willow Bay wasn't thrilled about the idea of him running for president especially in such a repugnant political landscape.

With the completion of Disney-Fox deal in Mid-2019. This means Disney won't be able to plan X-Men and Avengers crossovers, John Krasinski-Emily Blunt led Fantastic Four, or the introduction of Ryan Reynold's Deadpool into the Marvel Cinematic Universe. But after the completion the planning for all of those may start. Disney is on a quest to beat Netflix. It will be interesting to see if Comcast continues to try to meddle within the Disney-Fox deal. Maybe Comcast could take some of the "throw-in" assets Disney got in the deal.
Follow @TripleZ_87 on Twitter for more commentary.