'Eighth Grade' Review

LightsCameraJackson Critic Comedian/singer-songwriter Bo Burnham has written and directed his first feature film. It's not what you'd expect. "Eighth Grade" is a sophisticated, sentimental and surprisingly serious coming-of-age story that focusses on the final week of eighth grade for a quiet, socially awkward 13-year old.
Elsie Fisher (the voice of Agnes in the first two "Despicable Me" movies) gives a commanding, breakthrough performance as Kayla. This is a challenging role. Fisher is in every scene and Burnham asks us to fully invest in this character. While this is a modern take on the 'school transition' theme, it will be impossible for audiences of all ages not to identify with her struggles.
There have been a lot movies about students making the step from high school to college or college into the "real world". Here we get the middle school to high school transition. Burnham sets "Eighth Grade" in the modern, digital world. Today, problems faced by early teens are similar to those their parents dealt with late in high school or in college. And there are more of them.
"Eighth Grade" has a completely authentic feel, not only because the universal issues are handled so well, but because of the heavy presence of social media in Kayla's life. She's addicted to her phone, following the posts and suggestions of online influencers.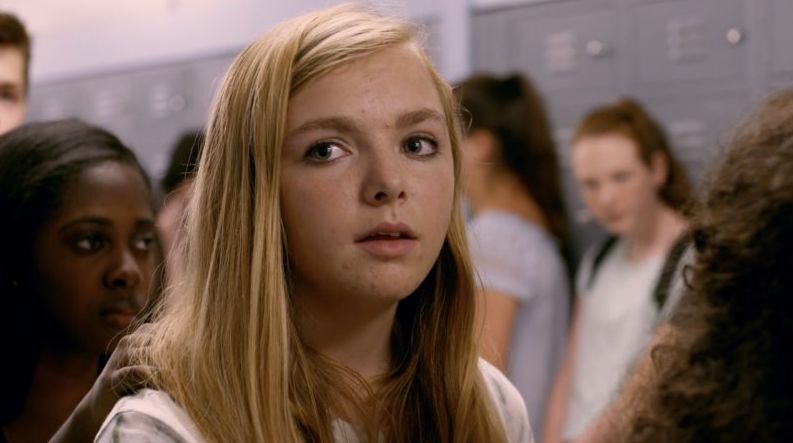 Kayla also makes her own YouTube videos. She gives-out advice on such topics as how to make friends and having confidence. But, sadly, these are things she knows nothing about. Her videos get very few views, which only adds to her emotional pain. And, yet, she continues making them. Burnham cleverly uses these videos as guides throughout the film. We're able to compare and contrast Kayla's advice with how she actually behaves in key situations. We can't help but hope that, eventually, she'll start taking some of her own advice.
Fisher (who was 14 when the film was shot) is a revelation. She's able to carry this movie, making us feel what Kayla is going through – both at school and at home – from beginning to end. Often her eyes tell truths that she can't convey with words. Equally impressive is the work of veteran character actor Josh Hamilton as Kayla's single father. Normally dads in "coming of age" films are written as either goofballs or complete jerks. Here we get a concerned, flawed but above all loving father, who Hamilton presents with delicacy and humanity. This is clearly one of the best portrayals of a dad in a movie I've seen in a long time. If A24 launches a Best Supporting Actor campaign for Hamilton (and it should), expect to see several clips from an unforgettable campfire scene.
This may seem odd to say considering the filmmaker is a popular stand-up comedian, but the weakest moments in "Eighth Grade" are when the humor is forced. There are a few setups that are far too predictable, going for the obvious laugh.
However, the vast majority of "Eighth Grade" succeeds without fault – in style and execution. Considering Burnham is a rookie at all of this, it's important to point out that, technically, the film is both well shot and edited (traditionally, that's not always the case). There's also an appropriate contemporary soundtrack.
Much of the second half revolves around Kayla's new relationship with her high school "shadow". Being not too far removed from my high school years, I admire the accuracy of the dialogue and interaction between this 18-year old and the younger Kayla.
Does "Eighth Grade" have anything new to say about adolescent angst? Not really – but it doesn't need to. This is a "slice of life" update on a classic theme. However, what makes it timely is what makes it special – the idea that in this social media age, when devices are supposed to make it easier to connect and share, it's just as tough, if not tougher, for most kids to connect and be social. Everybody still has to get through the awkward years primarily on their own. If you can't relate to that, and to Kayla, then you've never been 13-years old.
This goes to the head of the class as one of the very best films of 2018.
"Eighth Grade" opens in Limited Release on July 13th.