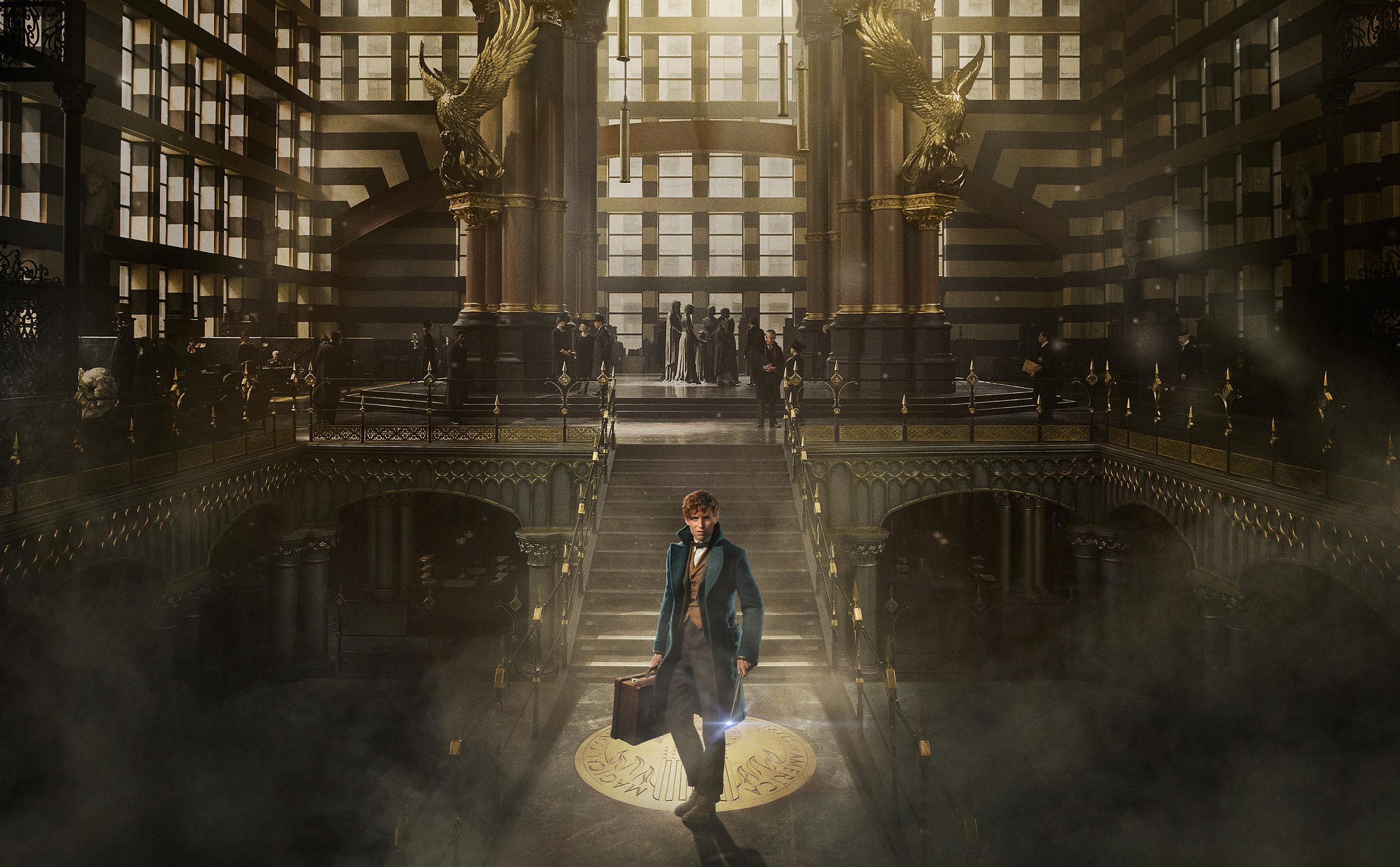 Fantastic Beasts and Where to Find Them (2016) Review

HaydnSpurrell We open with a very familiar soundtrack, though it doesn't last long. It's there just to remind us where we are, and where we're going back to. But this isn't reminiscent of the last franchise, if we discount the magic and the name-dropping. This is fresh and new, but with enough magic to conjure just enough nostalgia to keep things sailing smoothly.

Seeing a new part of the Wizarding World, specifically journeying to New York and seeing a different side of the map, is fascinating. There's a lot of fun to be had from witnessing New York's version of the Ministry of Magic. We're thrown straight in with a cast of adult characters, who know all the tricks from the start. Immediately, it's a different experience. But the tone is more akin to the earlier Harry Potter films, intriguingly, with plenty of humour and light-hearted fun. The narrative itself, or at least part of it, is relatively small scale. It makes for a nice change, but it doesn't always feel like that.
With due respect, Fantastic Beasts and Where to Find Them certainly feels like J.K. Rowling's first screenplay. And it feels like there are two films here. One is a standalone piece, a simple tale about a man who journeys to another country with a suitcase of magical creatures, and those creatures inevitably escape. Thus, Newt Scamander must go on a hunt to find them before they cause some more-than-minor issues regarding the secrecy of the Wizarding world. Eddie Redmayne is, as always, a joy in the main role, and gives it his all (not that he ever gives any less). His Newt is a little bit shy and awkward, but mostly, he's an introverted lover of animals and would prefer and evening with them rather than amongst other humans.
Running alongside that basic premise is a bigger, overarching plot that feels largely shoehorned in, as if it came as an afterthought, and results in a film with a lackluster antagonist waving his wand in what feels like an overplayed finale. The introduction of who will prove to be the five-film series' primary antagonist takes place in the first scene of the film, in a rather startling and abrupt cold opening, before being entirely forgotten about apart from the occasional namedrop. Gellert Grindelwald's presence is entirely absent from the rest of the film, so his relevance to the plot feels shaky at best. The subplot involving Ezra Miller as Credence and Colin Farrell as the Auror Graves is mostly muddled, an occasional and jarring detour away from Newt's own, more engaging plight.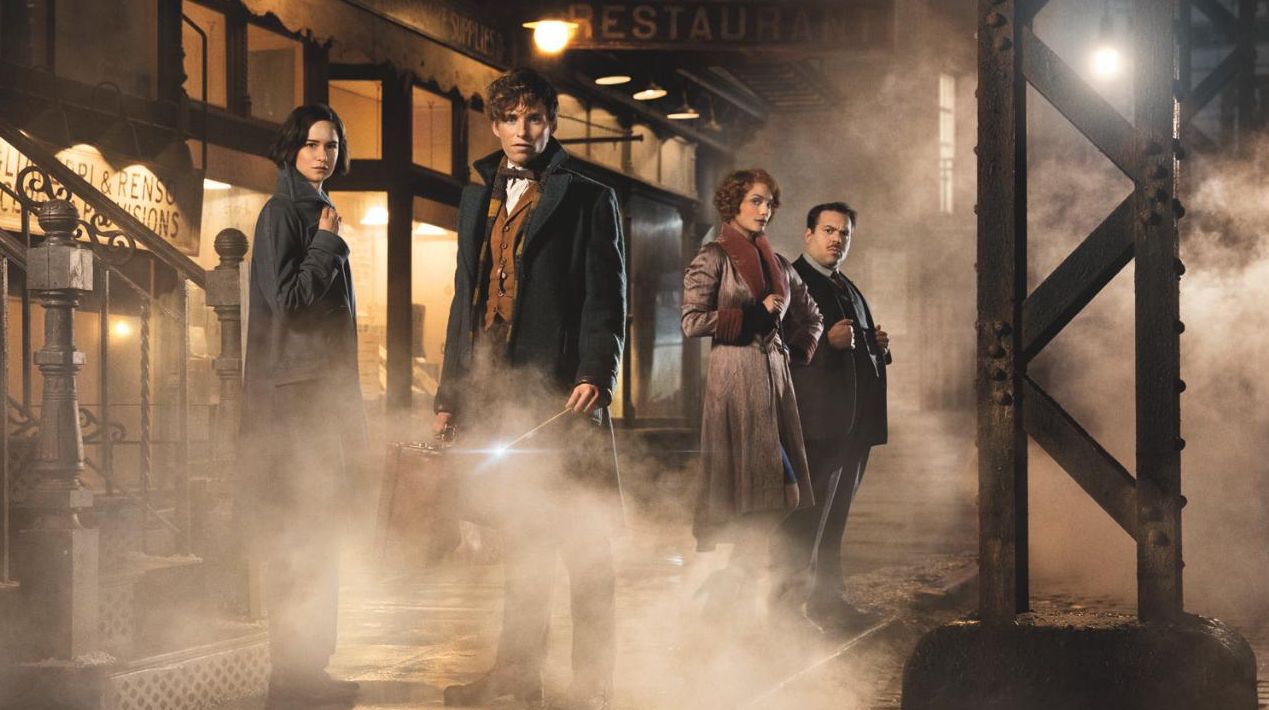 The way the core cast comes together in the early part of the film is dynamic and a ton of fun. Newt meets Jacob Kowalski, a No-Maj (American for Muggle) who gets dragged into Newt's misdemeanors. While Newt is making a mess of things, a witch named Tina watches from a distance, and throws herself in the mix for purely personal reasons before becoming a fully-fledged member of Newt's ragtag troupe. Dan Fogler and Katherine Waterston play the two characters, respectively, and they're a pleasure to watch. Jacob could very easily have been a purely comedic character, but Fogler's performance makes him an integral part of the film, both our eyes into the world of witches and wizards and also a sympathetic character with his own needs and desires. Waterston's Tina is a wonderful addition to the series, a character that is stern but instantly likable. Through her, we meet her sister, Queenie (Fine Frenzy), who is bubbly and infectiously warm.
The disconnect within the narrative makes this an odd kick-starter for a long franchise. It does the bare minimum in laying out the path for the next film, and is arguably a failure if not for the first and closing scenes. The story feels not quite big enough, but it tries very hard to be on too few occasions. Given Grindelwald's literal and spiritual absence for 95 percent of the film, there isn't really an antagonist going against Newt for us to fear (and Graves never actually feels like a villain until very late). But there's so much going on, anyway. The thread involving the Salem barely factors into anything by the end, regarding its actual mission, and the U.S. Wizarding government seems pretty useless going by what we've seen here.
But we have to return to the good, and there is plenty of it. The creatures themselves, particular a few standouts, are great, as is Newt's relationship with them. The magical action sequences are bold, and an apparition-chase toward the end is fun but unfortunately brief. Every scene in which the four leads collaborate works exceedingly well, and the humour is, for the most part, spot on. There are some wonderful new settings to dive into, and the film overall certainly lives up to its name. It manages to deepen the mythology and the overall universe that Rowling has crafted, and offers fans a film that eclipses this year's Cursed Child, rekindling the magic that has been missing since Deathly Hallows Part 2 came out (only five years ago, though it feels longer).
With an overlong conclusion, Fantastic Beasts and Where to Find Them comes very close to ending on a whimper. All in all, though, it's a disjointed but still enjoyable return to a magical place in many hearts. It doesn't feel big enough or bold enough to spawn four sequels, nor does it feel like it's earned them. But there's a ton of fun to be had here, with a tremendous cast and a fresh new take on the world as envisioned by J.K. Rowling. The latest spell in the long-running franchise will linger over the hearts of fans young and old for some time.