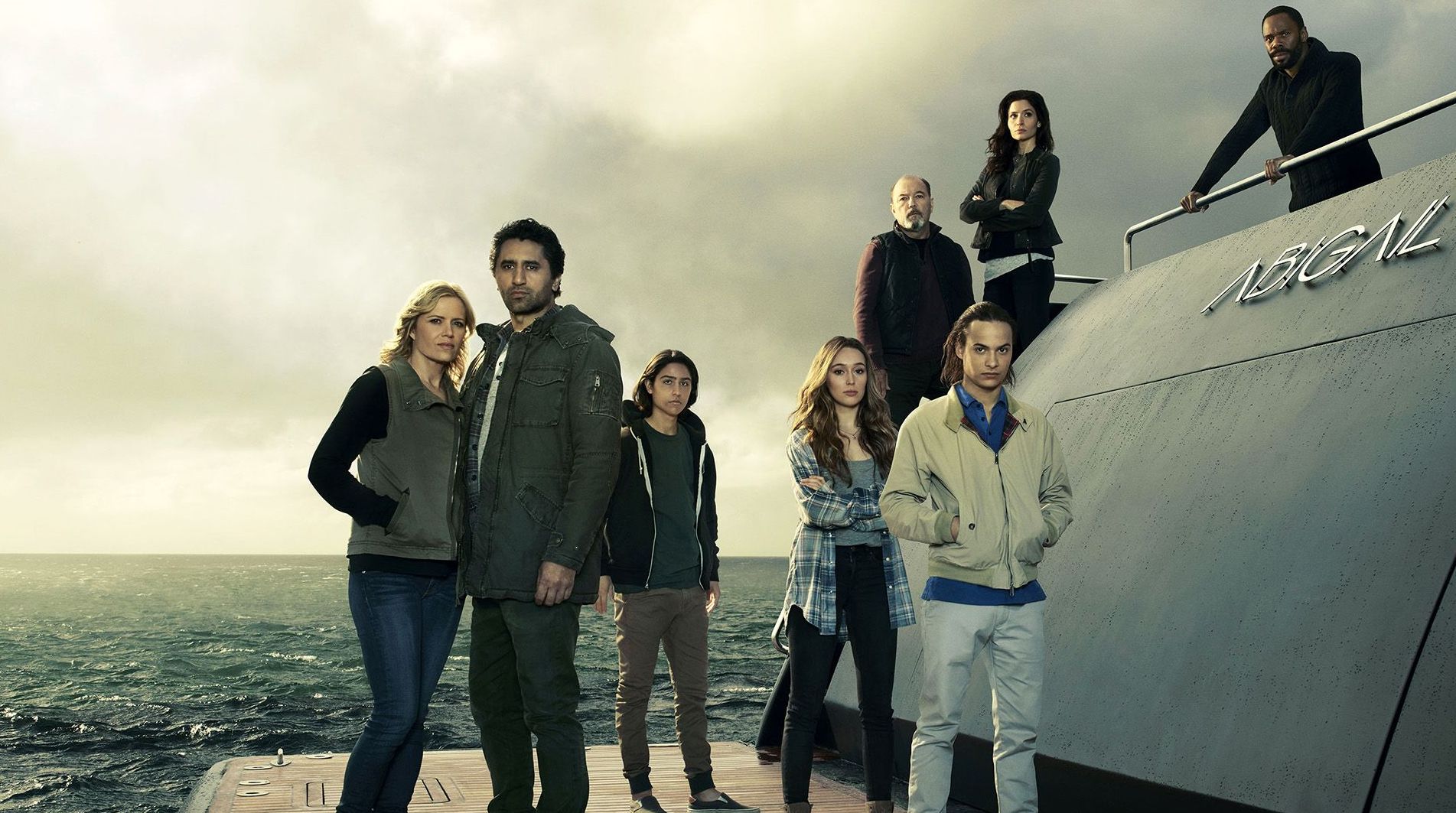 Fear the Walking Dead Season 2 Premiere Review

HaydnSpurrell A surreal, artistic quality drives the most memorable sequences in the season 2 premiere of Fear the Walking Dead, and the remainder of the episode deals with the fallout from last year's finale. The show is hellbent on maintaining a slow-burn vibe created in its first lot of episodes, but we see more walkers here than we've seen in any Fear installment yet, barring of course last year's closer.
We meet back with Travis (Cliff Kurtis), Madison (Kim Dickens) and the remainder of the unconventional group as they take to the seas amid the firestorm that is the military exercising operation Cobalt, teased in the back half of season 1. This sequence was thrilling, if only for its aesthetic, throwing us back into the whirlwind world of The Walking Dead, but the action was directed rather poorly. Ultimately, it made for a pretty difficult-to-follow re-introduction.
From there, Fear trades its fire-red night-time for beautiful blue skies and a glistening ocean as the group takes off on Strand's (Colman Domingo) yacht Abigail. And while season 1 closed thrillingly enough, the whole season left us with character's that were less than memorable to say the least. Or so I thought. It might well be that the premiere here does a better service of its characters than last year's helping. As I mentioned, we meet back with characters who are all dealing with the aftermath of civilisation's fall in their own way. Nick (Frank Dillane) is trying to come to terms with his place in the new world, while Alicia (Alycia Debnam-Carey) is attempting to connect to something outside of her own bubble as her future and her past vanish into uncertainty and nothingness.
But while Alicia's role is to inadvertently introduce a threat that's set to sail its way into the big picture in the next few episodes, Chris (Lorenzo James Henrie) spends a large chunk of time reeling from the sudden loss of his mother, a loss he never got closure for and is now posthumously trying to come to terms with it. Ruben Blades feels short-changed in his role as the seasoned and weary Daniel Salazar, himself coming off of the loss of his wife. But he gets a small moment with Chris that suggests the two can find common ground, one of various strange little dynamics forming in the wake of each character's experiences with one another.
A story like this is never short on questions of morality, and the best ones are simple. The best ones ask us to ponder just what course of action we'd take ourselves. When the group pass a decently sized number of stranded strangers clinging to life at sea, we quickly see the numerous different personalities mixing on the boat, as voices are raised for and against stopping to help the doomed people. Strand himself is far harder to connect with, but he ultimately plays god, and a cruel one at that, making it adamantly clear whose vessel they're all guests on. Despite that, seeing Madison and Travis' different opinions yet again a cause for debate makes for an interesting addition to the relationship. Despite not always seeing eye to eye, its rather refreshing to see a duo committed to one another, and it'd be a shame to see that reach some sort of cliche stalemate which splits them, and ultimately the group, down the middle.
Going right alongside that opening getaway scene is a later one in which Nick and Chris go swimming, a rather bizarre and 'artsy' sequence which feels both new and unique. The music is perfectly fitting, creating perfect harmony in these rare scenes of unorthodox peace, feeling as though things are always right on the cusp of chaos. Because ultimately, they are. Nick is somewhere between stupid and heroic, but not at all in a traditional sense. All in all, I want to see more of him. There's plenty of potential for the character, but it feels like we've only really scratched the surface. While he and Strand's relationship is curious, it isn't exactly opening any doors.
While the question of why life on the ocean is so rarely contemplated by the survivors of the countless apocalypses we now gorge on, I had plenty of doubt that this perhaps wasn't the crew I wanted to see take to the high-seas. I feel proven wrong, and despite early days the premiere is a promising launching pad for a show that's certainly succeeding in distancing itself from its parent. The episode feels both committed and yet held at bay enough that the show has far from shown its full hand. It's a commendable effort to create something feeling fresh and new in the genre, and Fear the Walking Dead now feels like the series that can maintain it. Hopefully, that's not a short-lived faith in a show that was as hot as it was cold in its opening season.