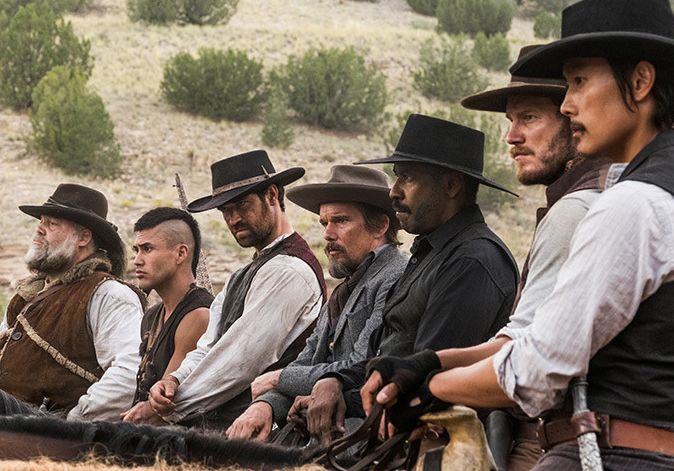 First Look At Antoine Fuqua's Western Classic Remake 'The Magnificent Seven'.

NadiaA71 When it comes to classic westerns, John Sturges' The Magnificent Seven (1960) is arguably one of the most memorable one from that era. Inspired by Akira Kurosawa's Seven Samurai, The Magnificent Seven, with a cast which includes Yul Bryner, Steve McQueen, Charles Bronson and James Coburn, tells the story of a group of gunmen hired to protect a small village from attacks by bandits. The film was followed by a few sequels and a TV series in 1998.
And now there is a new remake of this classic. Helmed by Antoine Fuqua (Training Day, Equalizer) it boasts an ensemble no less stellar than the original with Denzel Wahington, Chris Pratt and Ethan Hawke in the lead. It was presented in last week's CinemaCon and the first photos have been released (via USA Today) showing Washington and Pratt and the rest of the seven looking all business.
"These guys are gunslingers, and when they walk into the room, you notice them" Fuqua told USA Today. "These are people you want to be with, or you want to protect you'

This version of The Magnificent Seven is scripted by John Lee Hancock (A Perfect World) and Nic Pizzolatto (True Detective). Vincent D'Onofrio (Dare Devil), Manuel Garcia-Rulfo, Martin Sensmeier and Byung-hun Lee are also cast.
Filming has wrapped and The Magnificent Seven is expected to hit the theatres on September 23, 2016.
src; EW, MovieWeb