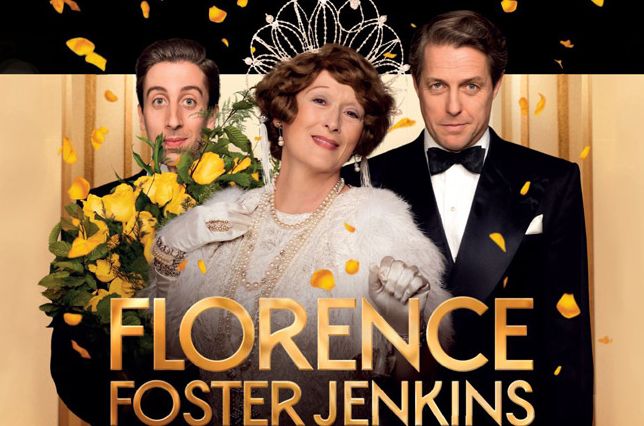 "Florence Foster Jenkins" Review

LightsCameraJackson Critic She's sung Abba, Sondheim and Springsteen. Now, The Greatest Actress Alive, three-time Oscar winner Meryl Streep, tackles Opera as Florence Foster Jenkins. In the history books, Jenkins is defined as "The World's Worst Singer". But even though that was a headline used to sell papers in the 40s, and a slogan that will be used to sell tickets to this movie, Streep and director Stephen Frears ("The Queen", "Philomena") prove she was much more than that…or at least they try to.
Jenkins's real life story was not a comedy, and yet, "Florence Foster Jenkins" attempts to be one - with Streep giving her most campy performance of the past decade. Set in 1944 in NYC (though the film was shot entirely in the UK), it begins with Florence and her husband, St. Clair Bayfield (played by Hugh Grant), performing theatrical skits at the Verdi Club, which Florence founded a quarter century earlier. Streep makes a grand entrance - floating down from the top of the theater as "The Angel of Inspiration". At the end of the evening, she tells the audience that "Music has always been - and is - my life."
But Florence thinks it's time to return to singing on the stage (and without St. Clair, a longtime actor, delivering an opening monologue). They soon look for a new piano accompanist for Florence's daily vocal exercises with one of the city's top coaches and find their talented young man in Cosme McMoon (Simon Helberg from "The Big Bang Theory").
The first time you hear Streep sing, the extremely high-pitched tone may make you laugh a bit in shock. Frears spends the next 10-15 minutes solely on Florence's singing lessons. The audience at the screening I attended couldn't stop laughing out loud as she kept belting-out out-of-tune notes.
But here's the thing, Florence believes she has a wonderful voice. To continue to laugh at her throughout these scenes, instead of trying to understand her delusion, completely misses the point. All those around her in the movie react that way (except her close circle of friends), realizing that she's a terrible singer. But it was a mistake for Frears to steer audiences to think like that, depicting this woman and her life the wrong way. This film is more of a tragedy, which becomes clearer as we learn bits and pieces of Florence's past.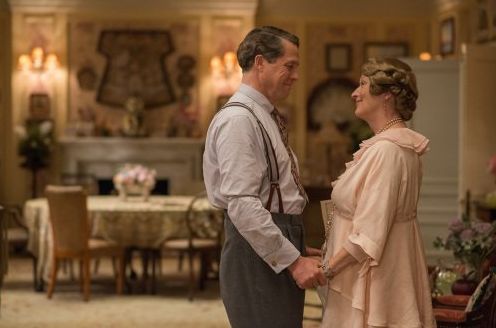 St. Clair, who calls Florence "Bunny", has a full-time job trying to hide all the negativity from her, whether it's paying for good reviews or preventing hecklers from attending her concerts. At times, the script, by Nicholas Martin, takes these elements to the extreme, entering into conventional territory by the climax.
The first hour of "Florence Foster Jenkins" is largely devoted to set-up and subplots involving a host of uninspiring supporting characters and, primarily, St. Clair. Grant may actually have more screen time than Streep. It's not until a scene involving Streep and Helberg at the halfway mark when we finally start to understand how Florence feels about who she is, why she sings and her love for life. Her optimism and perseverance are exuberant, but are put to the test, as shown in the final 10 minutes.
As for Ms. Meryl, she makes the most of a role in which she doesn't get a whole lot to do. Outside of the singing, which is impressive (Streep does it all - mimicking Florence's vocals perfectly), it's not as immersive, showy or fearless as some of her recent work. But she does captivate during a few quiet scenes, including a well-handled finale.
Though interesting to watch and discussion-worthy, with an off-key script and unfocused direction, "Florence Foster Jenkins" fails to hit the high notes.