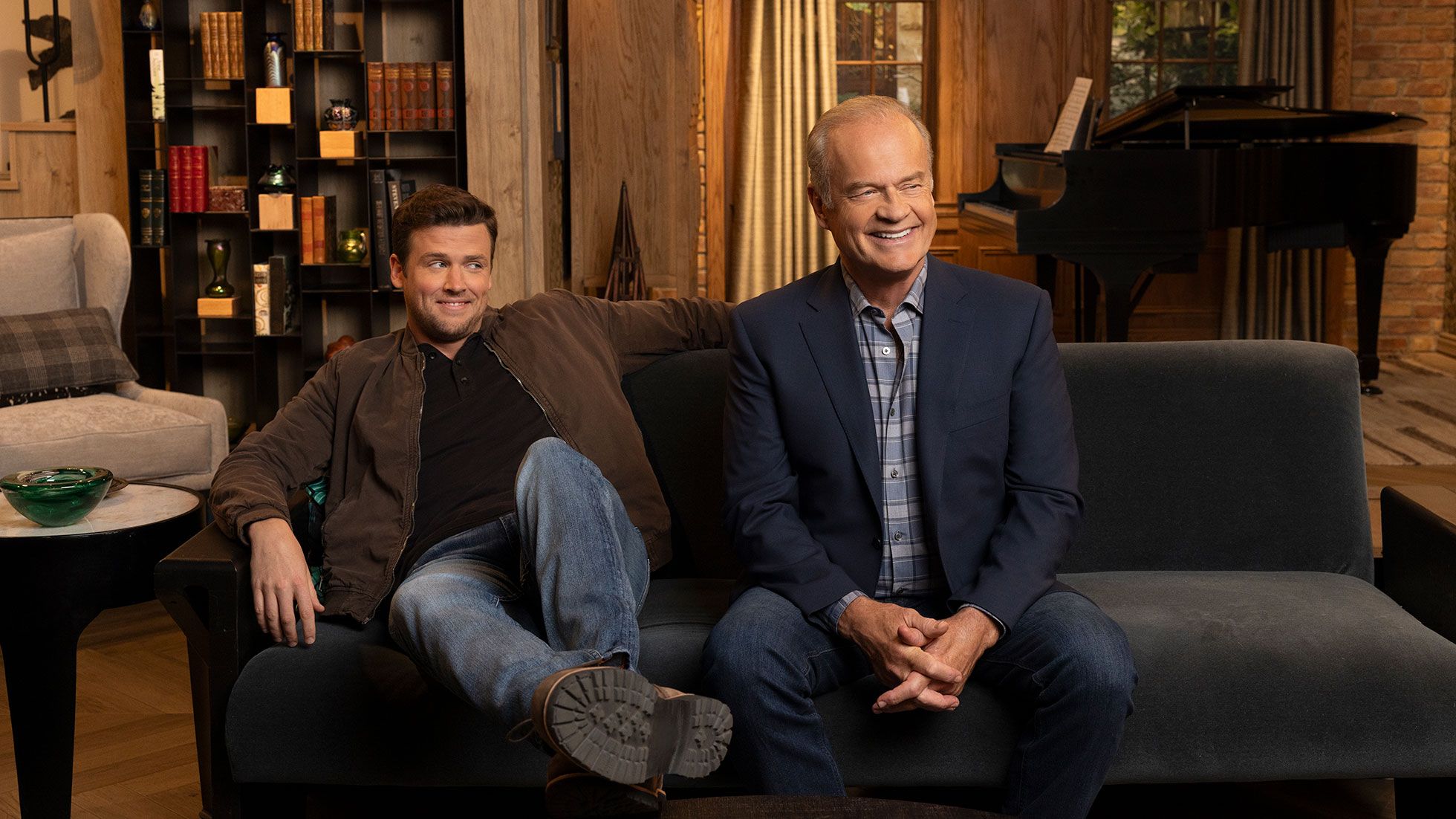 'Frasier' Review: The Doctor Is In, and We're In Good Hands

LightsCameraJackson Critic Hey baby, I hear reboots are calling!
It's been nearly two decades since Dr. Frasier Crane's KACL sign-off. Kelsey Grammer has finally revived his beloved character after several years of rumors and attempts to make it happen. Paramount+'s new "Frasier" series premieres with two episodes this Thursday October 12th on the streamer and. They'll also air next Tuesday October 17th at 9:15pm on CBS. It's one episode every Thursday from then on, only on PAR+. (Frankly, CBS would do really well if the episodes were also on the network, and depending on how long the actors' strike goes, that may eventually happen.)
The 1993 to 2004 "Frasier" is one of my favorite TV comedies of all-time — the writing, the characters, the performances, the situations. It won the Outstanding Comedy Series Emmy five years in a row, has more Emmys than any other comedy in TV history, and is one of the most successful television spinoffs ever produced.
I've screened the first five episodes of the 10-episode first season of this new "Frasier". What you quickly discover about this version are two things:
1) Even though all of the actors except for Grammer are new, much of the vibe is, thankfully, the same. The storylines rely on Frasier getting into silly shenanigans (some more clever and tolerable than others). Dr. Crane is now back in Boston looking to reconnect with his grown son, Freddy. Frasier's put in awkward spots, caught-up in comedic misunderstandings, and still yearns to make a true impact on the world and those closest to him. Grammer is as good as ever, still able to deliver sharp, funny one-liners. His one of a kind timing is part of what made the old show such a hit. The title cards are back too, and Grammer sings an updated, even jazzier version of the theme song during each episode's closing credits.
2) Grammer and his team have put a lot of care into making a (mostly) quality product that pays tribute, in great detail and with genuine warmth, to the 11 seasons and performers that came before. None of the references are necessarily subtle, but that's not the point. It's that Grammer basically felt, "While we have this opportunity, why not go all the way?" Some moments that mirror or reference the past will make you smile. Others might make you tear up. If you're a diehard fan of the original "Frasier", I don't see how you can't admire all the effort and care.
These "Frasier" episodes are a little longer than the 22 minutes NBC allowed in the '90s and 2000's. They range from 25 to 29 minutes, and you can feel it a little bit. The amount of information we get in the first episode is a little overwhelming. You'll find out what Frasier's been up to for the past two decades, where and with whom, plus what's going on with many other character. We do quickly understand where Frasier is coming from (literally and mentally) as he comes back to Beantown.
Two new characters will grow on you: Freddy (played by Jack Cutmore-Scott) and David, Niles and Daphne's son (played by Anders Keith, who does a pretty good job mimicking his parents' mannerisms). Grammer's longtime friend and collaborator James Burrows directs the first two episodes. All 10 were filmed in front of live studio audiences. The crowd goes a little overboard with cheers and applause in spots. There are enough funny moments, and lines worthy of chuckles from the at-home viewers, without the audience needing to overdo it.
Much more often than not, this new "Frasier" put a smile on my face. Its sweet, sincere tone makes this reboot justified.
By the way, if you know me well, you know how much I also love the sitcom Grammer starred in after "Frasier" ended — one-season "Back To You" on FOX. There are two elements of this new "Frasier" that borrow from "BTY". One is the concept of celebrity and the impact of being on a television screen. The other involves sharing an office… and a desk… which Grammer's Chuck Darling and Patricia Heaton's Kelly Carr did on "Back To You".
So, as someone who knows that we'll very likely never get a "Back To You" reboot, seeing Grammer on his A-game again, with some wonderful nods to the past, is more than satisfying.