'Genius: Picasso' Review

LightsCameraJackson Critic Season One of the National Geographic Channel's first-ever scripted series, "Genius", focused on the life of Albert Einstein, with Oscar winner Geoffrey Rush playing the scientific mastermind in his later years and newcomer Johnny Flynn giving a breakthrough performance as Einstein in his younger days.
The show averaged 2 million viewers per episode in Live + 7-Day DVR ratings and earned 10 Emmy Nominations, including one for Rush (who also picked-up Golden Globe and SAG Awards nominations), and a Critics Choice Nomination for Flynn.
Exactly a year later, NatGeo is back with Season Two, this time centering on iconic artist Pablo Picasso. It's Antonio Banderas like you've ever seen him before, in a role that should put him (and the show) back in the awards season circuit.
Unlike last time, when Rush appeared in the first episode and then not again until the seventh (of ten), Banderas is in all of the first four episodes I was able to screen in advance. It is not yet confirmed whether Banderas will be in all ten, but it seems highly likely.
"Genius: Picasso" is a cradle-to-grave, back-and-forth look at one of the most influential painters of all-time, with Banderas and Alex Rich, as the younger Picasso, receiving about equal screen time per episode. We see how Picasso came to be the legend, through his challenging youth in the late 1800s and early 1900s. From an early age, he was obsessed with painting… and women. Watching his romantic ups and downs is interesting, though the execution is fairly typical.
The storylines involving the older Picasso, set in the 1940s, are more captivating, particularly involving his art – creating works during a difficult time (WWII), and watching Hitler take it away from him.
"Picasso" features some of the regulars from the "Einstein" series. Flynn has a small role in episode two, while Samantha Colley, who played Mileva Maric last time (a major role) takes center stage once again as one of the older Picasso's lovers, Dora Maar. T.R. Knight, who took-on J. Edgar Hoover in "Einstein" appears here in episodes 3 & 4 as Picasso's friend, Max Jacob.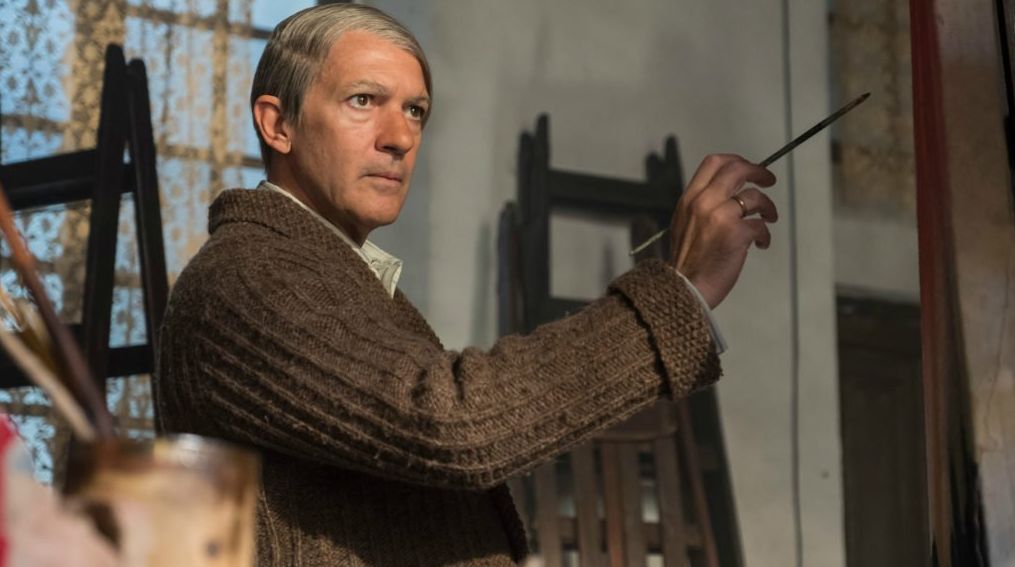 Banderas was the perfect choice to play Picasso. He's been seen as a suave ladies man (with that intense look in his eyes and sultry voice) for decades. With each chapter, Banderas seems to get more and more comfortable in the role (the second and third episodes are his highlights). Picasso is portrayed as not only a romantic, devoted to his art more than anything else, but quite insecure at all stages of his life.
Like in Season 1, there are plenty of visual tricks, as well as constant connections and flashbacks (sometimes within the same shot). There is clearly an artistic vision here, from "Picasso" developer and director Ken Biller, when it comes to the many storylines that weave in and out of each other.
"Picasso" doesn't feel like quite as much of a powerhouse as "Einstein", but there's enough here for you to keep coming back week after week, making "Genius", once again, a must-see summer miniseries.
"Genius: Picasso" premieres this Tuesday, April 24th, at 9pmET on NatGeo.