"Genius" Review

LightsCameraJackson Critic During this past Super Bowl broadcast, someone dressed as Albert Einstein, playing the violin, appeared in a commercial for the National Geographic Channel's upcoming miniseries "Genius". I said, out loud, "Was that Geoffrey Rush?" Sure enough, the Oscar winner is taking on the iconic figure in NatGeo's first-ever scripted series.
I've had the chance to screen the first two episodes of "Genius" ahead of its April 25 premiere. The show is based on Walter Isaacson's 2007 book, Einstein: His Life and Universe, and is produced by Ron Howard and Brian Grazer, through their Imagine Entertainment company.
Howard actually directed Episode One, which feels like a mini-movie, as we get to know to Rush's older Einstein, who's living (and teaching) in Germany with wife Elsa (Emily Watson) on the cusp of Hitler's reign (interestingly, Rush and Watson previously played husband and wife in 2013's "The Book Thief" - set during the height of WWII).
Rush looks JUST like Einstein, and he commands the screen. We see the famous physicist enjoy lecturing his students (aided by some unique visuals). But as the atmosphere of Germany quickly begins to change around him, we observe how uncomfortable Einstein becomes (both due to his fame and Jewish heritage). He vows not to allow the Nazi fear to force he and Elsa to leave their home - until a breaking point is reached.
Rush is convincing in every scene. However, he doesn't dominate Episode One of "Genius". Instead, the story cuts back and forth between the older and younger versions of Einstein. Young Albert (played by Johnny Flynn, in the most high-profile role of his young career), is shown struggling with the education system of the 1890s, yearning to make scientific breakthroughs on his own, all the while falling in and out of love.
The back-and-forth narrative style can be distracting, with one element usually noticeably weaker than the other. But the saga of Einstein's youth is actually very interesting, thanks mostly to Flynn, who gives an impressive performance. And you should get comfortable with him because Rush is not in a single scene of Episode Two, which is entirely devoted to the younger Einstein, and is still an appealing and satisfying episode.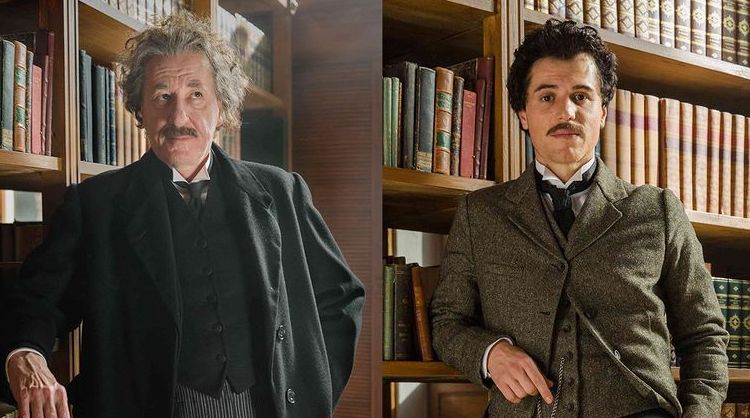 It's not clear how many of the latter eight episodes Rush will appear in. If NatGeo wants Emmy consideration (and I'm sure they do), an argument can be made to submit Rush's work in the first episode for the Supporting Actor in a Miniseries category - since the deadline for qualifying episodes is May 31, weeks before the miniseries ends on June 20. My hope is we get much more of Rush, but Flynn definitely holds his own. This combo, and the overall production, makes checking-out "Genius" a no-brainer.