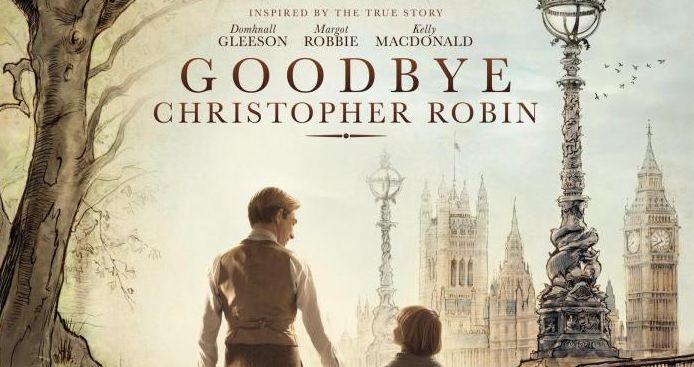 'Goodbye Christopher Robin' Review

LightsCameraJackson Critic The creation story of the inhabitants of the Hundred Acre Wood has been made into a movie that's pretty good. "Goodbye Christopher Robin" has a lot to say and will certainly surprise you along the way. But be aware: this Winnie the Pooh origin tale isn't joyous like a birthday party for Piglet or a tail-bouncing contest with Tigger.
Domhnall Gleeson stars as Pooh author Alan "A.A." Milne. Already a successful playwright, Milne returns home to Sussex, England after serving time as a soldier in WWI. Wife Daphne (played by Margot Robbie) and all of Britain are looking to Milne to write something new and uplifting for the country, which has suffered and lost so much during the war. Alan and Daphne have a son, who they name Christopher Robin Milne. The new parents hire a nanny, Olive (played by Kelly Macdonald). She and Christopher form a bond much stronger than the boy has with his somewhat aloof father and socialite mother.
Young Christopher (who everyone calls "Billy Moon") spends much of his days playing with the stuffed animals he's received as gifts from his parents - a bear, a tiger, a piglet, a donkey, and a kangaroo and joey. Alan, still struggling for an idea for a new book, takes notice. These scenes of father and son together in the woods - their imaginations running free - provide insight to just how the iconic Pooh characters and supporting elements, such as the red balloon and Pooh's love of honey, came to be. This section of the film is both fascinating and a bit emotional.
Milne soon realizes he's got his new book. He and illustrator collaborator Ernest "E.H." Shepard decide to create a story based on Christopher and his love of playing with his animal friends. Winnie-the-Pooh is published in 1926 and quickly becomes a global phenomenon.
Here's where "Goodbye Christopher Robin" makes a shift in tone. The success of the book turns the real Christopher Robin into a worldwide celebrity. And life as a "reality star" isn't much fun for the 8 year-old, who soon begins to resent his father for sharing their private adventures with the world. Director Simon Curtis tackled the concept of struggling with fame in his 2011 film "My Week with Marilyn", but he goes even deeper here.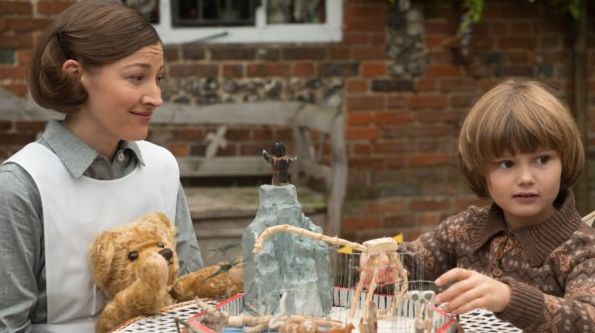 Macdonald gives the standout performance, though "Goodbye Christopher Robin" is ultimately a father-son story. We get two simultaneous perspectives: one of a man still tormented by his past - the other of an innocent, wide-eyed boy. Both are forced to do things they'd rather not do and make choices they'd rather not make. Will Tilston plays Christopher, in his first-ever acting role. He's in about 75% of the movie and does quite a nice job. Gleeson is appropriately reserved and somber most of the time. For a change Robbie's role is limited and unsubstantial.
"GCR" has crisp cinematography, a slightly too-upbeat score and some effective "fantasy" visuals, including a snow sequence in summer (provided by a company called "Snow Business" - great name!) As a genesis for how the world of Winnie-the-Pooh came to be, "Goodbye Christopher Robin" is successful. When it comes to story structure, pacing and dramatic flow, it is not.
But the film does accomplish what it set out to do: make fans of one of the most beloved children's characters of all-time aware that all was not sunny, nor gold like Hunny, in the real Hundred Acre Wood. If you'd rather not know, to this movie you should not go.