'In the Fade' Review

LightsCameraJackson Critic "In the Fade" is Germany's entry in this year's Academy Awards Foreign-Language category. But as we've seen recently, that isn't the only category in play for foreign-language submissions. Isabelle Huppert was nominated for Best Actress last year for "Elle", and "Amour" was a Best Picture nominee in 2013.
Diane Kruger ("National Treasure", "Inglourious Basterds") finally has a showcase starring role in "In the Fade". Her grueling performance in this investigative crime drama has her in strong contention for a Best Actress nomination. She won the category at Cannes.
Kruger plays Katja, a loving wife to former drug dealer Nuri and mother of their six-year-old son, Rocco. Katja's life is shattered when an explosion kills Nuri and Rocco (this isn't a spoiler – it happens in the first 10 minutes and is what sets the film in motion). "In the Fade" is divided into three distinct parts: "The Family" (which covers the bombing and the remainder of the worst day of Katja's life), "Justice" (which covers the investigation and trial of the suspects) and "The Sea".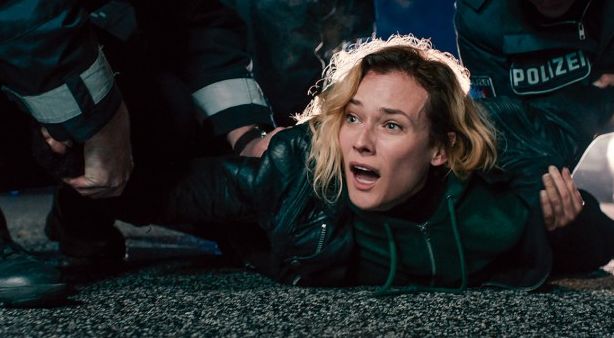 Collectively, "In The Fade" feels somewhat drawn-out, especially the middle section, which is the longest of the three acts. There are numerous courtroom shouting matches between Katja's attorney and the lawyer representing the defendants. While these scenes are necessary and (for the most part) compelling (along with being incredibly well lit), the trial feels overly simplified.
At its core, this is an examination of how one person deals with a horrific, life-altering event. And it forces us to question how we would act if put in the same situation. At times, "In the Fade" is appropriately uncomfortable. Katja struggles with suddenly and violently losing the two most important people in her world. And her efforts to cope are hampered by a support system that begins to crumble around her.
Kruger is the only "American" in the cast (she was born in Germany). She pours plenty of emotion into Katja from the opening scene to the dramatic conclusion. Much of her best work is done in silence. Credit director Fatih Akin for providing Kruger with the time and space, and for a stunning climax, which I genuinely did not see coming.