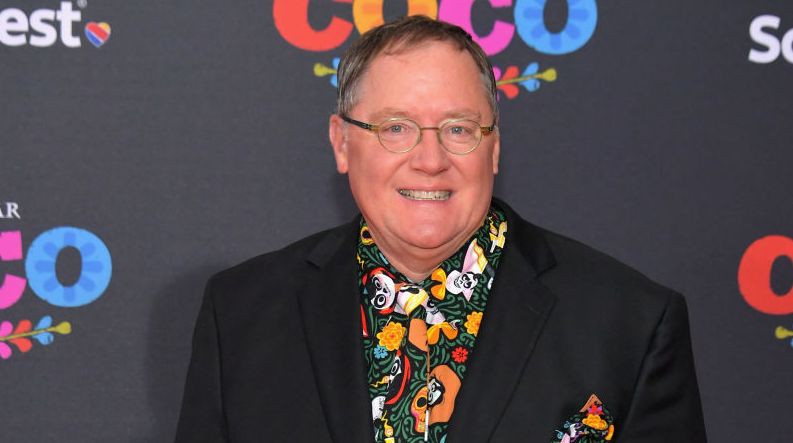 The former Disney and Pixar animation chief will now be the head of the animation division at Skydance Media. He will report to Skydance CEO David Ellison.
The controversial animation chief has a new gig. Skydance Media is a studio that has been known for their live-action films over the year. Their most recent fare includes the Netflix series Grace and Frankie and Amazon Prime show Jack Ryan. On the film side, they released Mission Impossible: Fallout and Annihilation in 2018. Their future slate includes Top Gun: Maverick and an untitled Terminator film.
Skydance recently got into animation. They have already announced four films with the first coming out in 2021. The films are Luck, Split, Powerless, and The Fourteenth Goldfish. John Lasseter surely will be involved. Disney originally announced that the Pixar co-founder would retire in 2018. Obviously, this was just a retirement from Disney.
Lasseter released a statement about joining Skydance Media. Also, if you remember when Lasseter wrote his letter about leaving Pixar and Disney he still hinted that he was going to create, but most thought it would be awhile before he came out of the shadows.
"I'm grateful to David and the Skydance team and know that I have been entrusted with an enormous responsibility. It is a distinct privilege that I will relish. I have spent the last year away from the industry in deep reflection, learning how my actions unintentionally made colleagues uncomfortable, which I deeply regret and apologize for. It has been humbling, but I believe it will make me a better leader."- John Lasseter, Head of Skydance Animation
Skydance Media CEO David Ellison sent an email to all his employees regarding the hiring of John Lasseter:
Dear Colleagues:
I wanted to share with you first some news that we are announcing today. Industry visionary John Lasseter is joining us to lead Skydance Animation. John will be based in Los Angeles and will report directly to me.
Bill Damaschke will be transitioning from his current role, and we are hopeful he will choose to remain within the Skydance family.
The attached press release outlines the news more fully, but I wanted to share a few things that have informed our decision to bring John on board.
First, no one can dispute John's legacy building Pixar and Walt Disney Animation into the leadership position they now enjoy. His creative vision and forward-looking approach to animation has transformed the entire industry. At his heart, John is a storyteller - with a unique ability to tell beautiful and emotionally-driven tales that resonate and inspire audiences around the globe.
Second, I know many of you are aware of John's admitted mistakes in his prior role helming those studios. John has been forthright in taking ownership of his behavior, apologized for his actions and has spent the past year on sabbatical analyzing and improving his workplace behavior.
Third, we employed outside counsel to thoroughly investigate the allegations, which we considered serious and have warranted our full attention as we made this important decision.The senior leadership team and I have all carefully evaluated the findings of this extensive investigation.
Let me be clear: we have not entered into this decision lightly.
While we would never minimize anyone's subjective views on behavior, we are confident after many substantive conversations with John, and as the investigation has affirmed, that his mistakes have been recognized. We are certain that John has learned valuable lessons and is ready to prove his capabilities as a leader and a colleague. And he has given his assurance that he will comport himself in a wholly professional manner that is the expectation of every Skydance colleague and partner.
We are very hopeful and excited about what the coming years will bring, as John's art transcends generations and cultures, while deeply resonating on a fundamental level with what makes us uniquely human.
The senior leadership team and I will be hosting a town hall for all Skydance Animation colleagues shortly to speak with you directly about this transition. Additional town halls at SDM and SDI will take place today and tomorrow.
Skydance Animation colleagues, please be on the lookout for a call-to-gather email. I look forward to speaking with you in person.
Thanks, David
Well, that sure is a doozy of a memo. One thing is for sure that Skydance Media will be receiving some vocal pushback on social media for the hiring. Yet, I don't think it really concerns them. Most people knew Lasseter would get hired somewhere eventually. It looks like Skydance sought him out, and got him first. This seems quick considering John Lasseter was still on Disney's payroll until the end of 2018.
Let's see what John Lasseter and Skydance Animation end up creating.
Cultjer will continue to follow this story.

ZachPerilstein in John LasseterFollow
Cultjer's one and only Disney Reporter. Expert in Disney and Pixar films. I cover all things related to the Walt Disney Company.