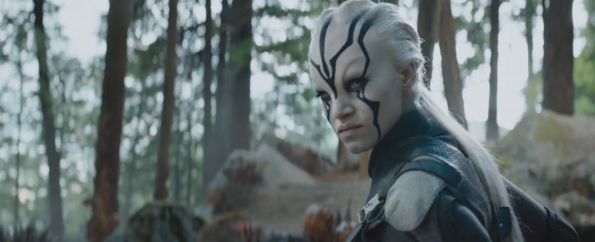 Justin Lin and Simon Pegg on the Star Trek Beyond Trailer

NadiaA71 After announcing that the Star Trek Beyond trailer will debut with Star Wars: The Force Awakens, Paramount Pictures released the trailer online earlier this week. While some are delighted by the trailer, some fans are not, and are quite vocal about it on social media.
The Star Trek Beyond trailer featured full-on action sequences, exploding ships and, curiously, a jumping motorbike. All with the Beastie Boys 'Sabotage' as the soundtrack. Many long-time trek fans felt that the trailer is for an action movie but not Star Trek.
To address these issues, Justin Lin sat down with some reporters, including /Film, and spoke about the trailer as well as the movie. The director is well aware of the strong reaction by long-time trek fans:
"..with trailers you're putting a two-hour movie into a minute and a half, and the one thing I wanted to make sure is that it hopefully represents that we are trying to be bold and take risks, whether we are successful or not, I don't know. That was something I was excited to do and with collaborators like Simon [Pegg] and Doug [Jung], passion for the franchise will be there regardless". He added: "I feel like we have the goods in a two-hour run and you really do get to know the characters and hopefully the journey is great."
Simon Pegg, who is a co-writer as well as cast of Star Trek Beyond also commented on the trailer. In an interview with HeyYouGuys.com Pegg said that he was surprised to see the action-packed trailer:
"There's a lot more to the movie than that. I didn't love [the trailer] because I know there's a lot more to the film. There's a lot more to the story, a lot more character stuff and a lot more of what I call 'Star Trek stuff'" said Pegg. "But, you know, they've got to bring the big audience in, they got to bang the drum. To the Star Trek fans, I'd say hang in there and be patient."
src: /Film and HeyYouGuys.