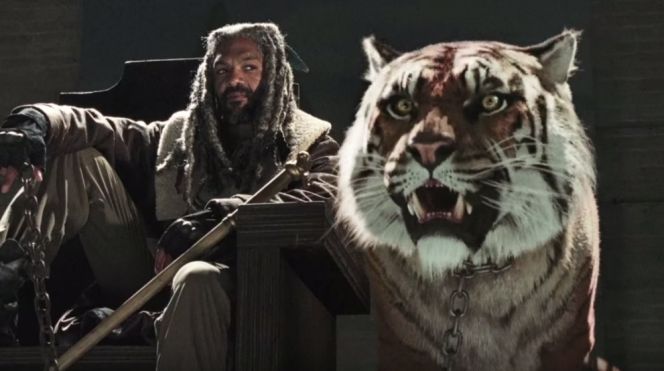 Khary Payton Discusses Ezekiel and Negan's First Meeting in 'The Walking Dead'

HaydnSpurrell Khary Payton made his debut in the most recent episode of The Walking Dead, and it was the kind of introduction the show desperately needed. The character is without a doubt set to become a genuine fan-favourite in quick time, in the same way Jesus did (before he dropped off the face of the show, until they need him again that is.)
Payton admits in an interview with Comicbook.com that the details behind the Saviors and the Kingdom's arrangement, specifically the conception of it, is not something he knows much of, but he does have theories of his own.
"I feel like Negan brought a bat, I brought a tiger, and we came to an understanding." He goes on to discuss the reality of the fake reality his built in the worn down school he calls The Kingdom. "The whole point of the Kingdom, in this alternate reality that Ezekiel has built up, is to keep his enemies off kilter. To have them feel like, 'You know what, I'm not exactly sure what to make of this guy.'
"Even the Saviors that we come in contact with in the episode, you could tell that they were like, 'You know what, let's try and keep this as civil as possible, even though we've got this idiot one of us that's trying to make trouble.' You can see that they were like, 'You know what, this guy treats us good. He provides.
Payton let his breath of relief out in the interview, stating that "I'm feeling no pain today." Given the storm that hit following the premiere, he would no doubt have been feeling a little warm under the collar regarding his own entrance into the series. So far, so good.
Source: Comicbook