'Last Christmas' Review

LightsCameraJackson Critic
Since its release in 2003, "Love Actually" has been regarded as the quintessential holiday movie for grown-ups. It also remains one of the most popular rom-coms of the past 20 years. It's a charming film (though I don't know how some people have two-and-a-half hours every December to devote to watching it again).
"Last Christmas" is a Britain-set holiday rom-com which also happens to co-star Emma Thompson. She's also one of the writers. And as the title suggests, the movie is inspired by the classic George Michael song. Many of the late singer's big hits (from "Faith" to "Forever '90") are sprinkled in throughout.
Kate (Emilia Clarke) is a 26-year-old Christmas store worker who drinks a lot of "egg nog" at the local pub. She'd rather pester her friends and live at their apartments then live on her own, or with her Yugoslavian mom (Thompson). Over the past year, Kate has grown rather grim — not quite Scrooge-level, but her sense of joy is clearly missing. Then she meets delivery man Tom (Henry Golding reunites with his "A Simple Favor" director Paul Feig). He's able to give Kate a new, positive perspective on life.
Michelle Yeoh plays Kate's boss (and simply goes by the name "Santa"). A few scenes in which sparks fly between her and a male customer are extremely awkward and out-of-place. Thompson also has a couple moments in the film that she'd probably like to forget by this Christmas.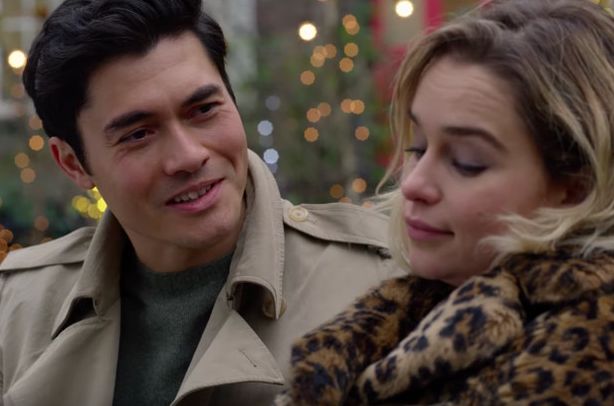 The only way "Last Christmas" succeeds is if you find the quirky, flawed Kate likable — and if you buy into her romance with Tom. And for the most part, you do. Their scenes together are sugar-coated and filled with the kind of flavors specifically cooked-up for sentimental holiday consumption.
However, from the beginning you get a sense that something's just a little "off" with their relationship. Just how literal Thompson and Feig get with the lyrics of the title song remains a mystery (and provides a semi-satisfying payoff). The stage is set, though what occurs isn't exactly what you might guess.
Will "Last Christmas" become this generation's "Love Actually" – annual, appointment holiday viewing? I'm not quite sure. It's certainly not a lump of coal, and is perfectly acceptable in its own little universe. But Thompson and co-writer Bryony Kimmings could've actually gone further with the concept, creating an emotional final act and Christmas statement worthy of the classics.
Instead, even with star power and best intentions, "Last Christmas" is only slightly better than the average Hallmark Channel holiday fare.