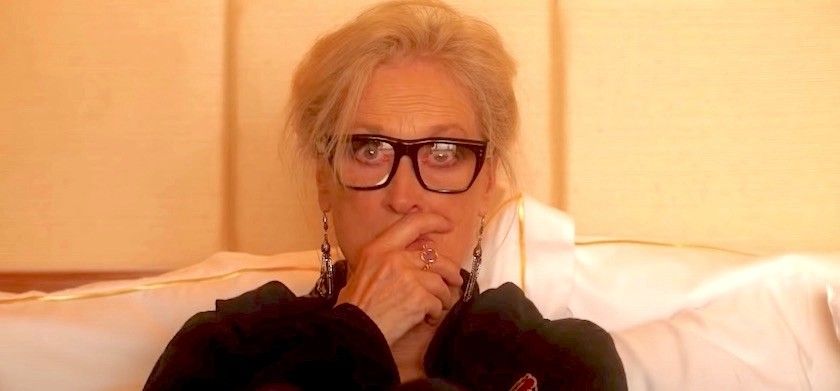 'Let Them All Talk' Review

LightsCameraJackson Critic Director Steven Soderbergh has been in a rough patch of late. His last four movies were all misfires (either with critics, at the box office, or both). And his 2011 drama "Contagion" has been quoted and viewed more than he ever intended. However, Soderbergh's latest, "Let Them All Talk" (available on HBO Max), is one of his best and one of the best films of the year.
Much of the credit goes to award-winning short story writer Deborah Eisenberg. At age 75, Eisenberg has penned her first screenplay. And it's a masterpiece.
Meryl Streep stars as Alice, a Pulitzer Prize winning author who's receiving a significant literary honor. But the ceremony is in England and Alice doesn't want to fly. So she invites nephew Tyler (Lucas Hedges) and two former college friends to join her on a cruise aboard the Queen Mary 2 from New York to London.
Alice hasn't seen Roberta (Candice Bergen) or Susan (Dianne Wiest) in quite some time. Alice's agent (Gemma Chan from "Crazy Rich Asians") is also on the cruise… I mean 'crossing'. She's hoping to learn some information on the book Alice is currently working on.
Most of "Let Them All Talk" was filmed during an actual trip aboard the QM2 in August 2019. The ship itself serves as a key character, exhibiting just as many layers and surprises as the human characters. Everyone has a desire and an ulterior motive. All are eventually revealed, some in stunning fashion.
Eisenberg's ability to craft a dialogue-driven narrative is evident on every level. Her screenplay overflows with bite, punch and keen observations. The majority of "Let Them All Talk" is a deliciously fun mystery, similar in impact to last year's "Knives Out". Like that Rian Johnson gem, this is an ensemble piece that gorgeously weaves together people and purpose, while always keeping us guessing. And there's a grand finale that's shocking to say the least.
Streep plays, quite possibly, the most grounded character of her career. Alice's philosophies on life are so real, yet refreshing and unconventional. Bergen delivers her best work since the "Murphy Brown" days, while Wiest is quietly outstanding. And the interplay between Hedges and Chan is reminiscent of the edgy, electric chemistry between Edward Norton and Emma Stone in "Birdman".
Soderbergh's visually and mentally compelling camera choices make it impossible to look away. And Thomas Newman's jazzy score in the cherry on top.
"Let Them All Talk" is a film that deserves to be talked about for a long, long time.