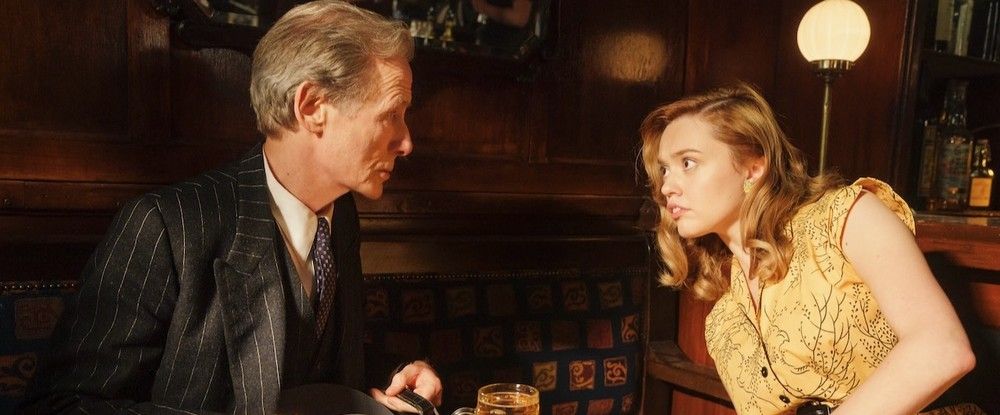 'Living' Review

LightsCameraJackson Critic Bill Nighy has charmed audiences on stage and screen for more than five decades, particularly in his native England. He became a household name to U.S. audiences with his role as singer Billy Mack in 2003 rom-com "Love Actually". Memorable characters in two "Pirates of the Caribbean" and "Best Exotic Marigold Hotel" installments followed, along with a terrific voice performance as Grandsanta in "Arthur Christmas".
But Nighy's work in "Living" is, without question, his career best. This drama (based on the 1952 Japanese film "Ikiru") screened at Sundance in January and was quickly picked-up by Sony Pictures Classics for North American distribution. (Lionsgate had already acquired the UK rights during pre-production.) At the time, when I read the brief synopsis, I thought "Living" had the potential to be an emotional powerhouse. Nine months later, I can finally say it absolutely is.
"Living" is set in London in 1953. The film is divided into distinct thirds. In Act I, we meet Nighy's Mr. Williams, the supervisor of the County Public Works department. Day to day existence is extremely dull, as he and his civil servant co-workers push papers around and accomplish very little. And his homelife isn't much better. Williams barely communicates with his son and daughter-in-law.
Then he receives some devastating medical news, which forces him to re-evaluate everything. He admits he doesn't "know how to live" and comes up with a plan to change that.
This opening section is theatrically stagy in the performances, dialogue and score. There's a reliance on obscure close-ups and attempts to connect us to various locations — the office, a commuter train and night spots. It's only after "Living" ends when you question whether this may have been intentional, director Oliver Hermanus carrying his stylized 50's look into the narrative. I wonder if I'll appreciate this first act more when I watch "Living" again, though, for the moment, I still think some scenes could've been handled a little better.
Williams goes from stoic and defeated to poised and dignified in Act II, as he becomes further acquainted with young co-worker Margaret Harris (played by Aimee Lou Wood). They spend a lot of time together, while townspeople gossip. Williams doesn't care. He's happy to be around someone so full of life.
The scene that ends the second act takes place in a pub. Williams reveals his secret to Harris (which he has kept from his son). It's one of the year's best scenes and Nighy's entryway into this awards season's Best Actor race. His quiet, complex, heartbreaking, gut-punching speech is exquisite. The way Wood looks at him (captured brilliantly in a mirror above Nighy's head) is perfection.
In the final act Hermanus takes an unconventional but highly effective approach. This new perspective and tone nicely parallels Williams' personal turnaround. Contemplation among four colleagues in a train car is a gem.
"Living" is simple, yet quite deep — gentle, yet powerful. Themes of purpose, determination and legacy abound. This is a well-told story, anchored by a role and performance every actor lives for.
"Living" opens in the United Kingdom on November 4th and in select U.S. theaters on December 23rd.