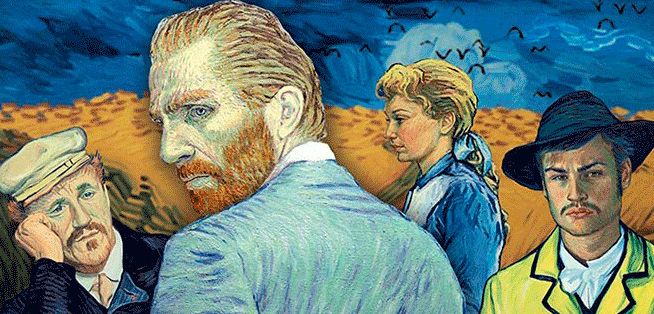 'Loving Vincent' Review

LightsCameraJackson Critic "Loving Vincent" is not only one of the best films of the year, it is one of the greatest cinematic achievements in the history of moviemaking. It's being promoted as the world's first fully painted feature film. 120 artists from around the globe painstakingly hand painted the over 64,000 individual portraits that make-up every second of the film. And they're all done in the style of iconic artist Vincent van Gogh, for this examination of his life and mysterious death at the age of 37.
Unlike with conventional animated films, the "Loving Vincent" actors didn't simply contribute their voices. Instead, each scene was acted and shot, like a traditional live-action movie. And those scenes were then painted, frame by frame. Cast members include Saorise Ronan, Chris O'Dowd and Robert Gulaczyk, who plays the troubled painter.
For everyone involved, including the husband and wife writer/director team of Hugh Welchman and Dorota Kabiela, "Loving Vincent" took a total of four years to make. That alone is a major accomplishment. From a technical standpoint, this is fascinating moviemaking. The non-stop motion of color and characters is sultry and smooth.
150 of van Gogh's actual paintings are represented in "Loving Vincent". You will find yourself picking them out throughout. We also get swirling, circular transitions, and numerous scenes that play with light and feature a distinct contrast: stars representing positive, hopeful emotions - crows symbolizing gloom and despair that was so much of van Gogh's final days.
But "Loving Vincent" is more than simply an exercise in style and homage to one of the most influential artists of the modern era. The story is nearly as compelling. Set in 1891, a year after van Gogh died, the narrative is centered on Armand, who is asked by his father (a postman) to travel to France and deliver the final letter Vincent had written to his brother six weeks before the painter committed suicide.
During this quest, Armand encounters a number of people - some who knew Vincent very little, some quite well. In the process, Armand begins to piece together who van Gogh really was, as he aggressively seeks to find the truth about just how and why Vincent died.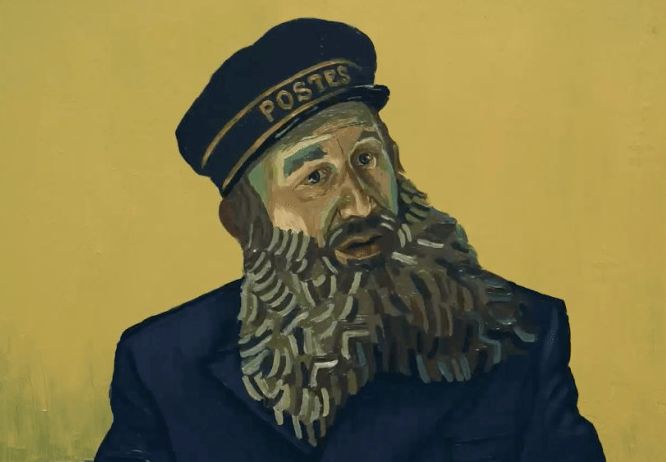 "Loving Vincent" is a serious, low-key drama dealing with the heavy subjects of suicide and mental illness. The present-day scenes of Armand interacting with townsfolk are in color, while all of their stories about Vincent are represented in black-and-white. Not only does this device help us to keep the timeline separate, but the symbolism can't be overlooked.
This is also a compelling and effective detective mystery. Armand asks the exact questions we would in his position. We learn practically everything about van Gogh through Armand's interviews, while the flashbacks present Vincent's pain. He struggled from depression, was socially awkward and financially destitute, relying on his brother for everything. Amazingly, van Gogh sold only one of his over 800 paintings while he was alive.
Some of the scenes, especially in the second half, are a little dry. However, as a whole, "Loving Vincent" moves along at a surprisingly fast pace. Over the course of an hour and a half, you'll not only be introduced to a visionary new style of feature-length animated filmmaking, but you'll also experience a bold biopic that holds nothing back.
A new rendition of Don McLean's "Vincent (Starry, Starry Night)", from singer Lianne La Havas, is performed during the closing credits. The song encapsulates everything that preceded it in a hauntingly spiritual way. For those familiar with the song, the lyrics will seem even more meaningful.