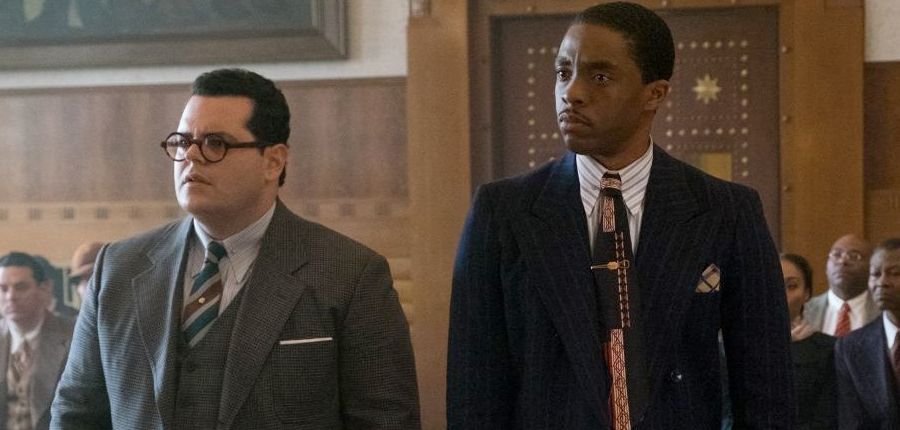 'Marshall' Review

LightsCameraJackson Critic Actor Chadwick Boseman has portrayed both Jackie Robinson and James Brown on screen (in fact, in back-to-back years - 2013 & 2014). On an awards show at the end of '14, Chris Rock told Boseman: "If they offer you Rosa Parks, say no." While he's followed that specific advice, Boseman continues to take-on roles of historical Black figures. This time it's famed civil rights attorney and groundbreaking African American Supreme Court Justice Thurgood Marshall.
Odd thing is - "Marshall" is not an in-depth biopic of Marshall. If you buy a ticket to this movie thinking it's The Thurgood Marshall Story (as the marketing - especially the film's poster - lead you to believe), you're in for a big surprise. Instead, "Marshall" focuses on one case, early in the attorney's career. And amazingly, Marshall is not even the central character.
In 2014's "Selma" director Ava DuVernay used a similar approach, highlighting a single moment in time in the life of Martin Luther King, Jr. However, DuVernay's film provided insights into King's public and personal life during that critical period of time. In "Marshall" (directed by "Django Unchained" Oscar-nominated producer Reginald Hudlin), we get very little of either. The case depicted is one in which Marshall himself is not even allowed to speak in the courtroom. It's actually an injustice to call this movie "Marshall".
In truth, this is fellow attorney Sam Friedman's story as much (or more) than it is Thurgood Marshall's. Josh Gad has as many scenes and more lines of dialogue. It's the early 1940s. Marshall is a high-profile member of the NAACP but is still relatively unknown outside of the black community (it's a dozen years before his landmark "Brown vs. Board of Education" success). Friedman is an obscure personal injury lawyer who's never tried a criminal case. This unlikely pair end-up representing Joseph Spell (played by "This is Us" Emmy winner Sterling K. Brown), a black caretaker accused of raping a Connecticut socialite (played by Kate Hudson). This trial - from jury selection to the final verdict - is "Marshall".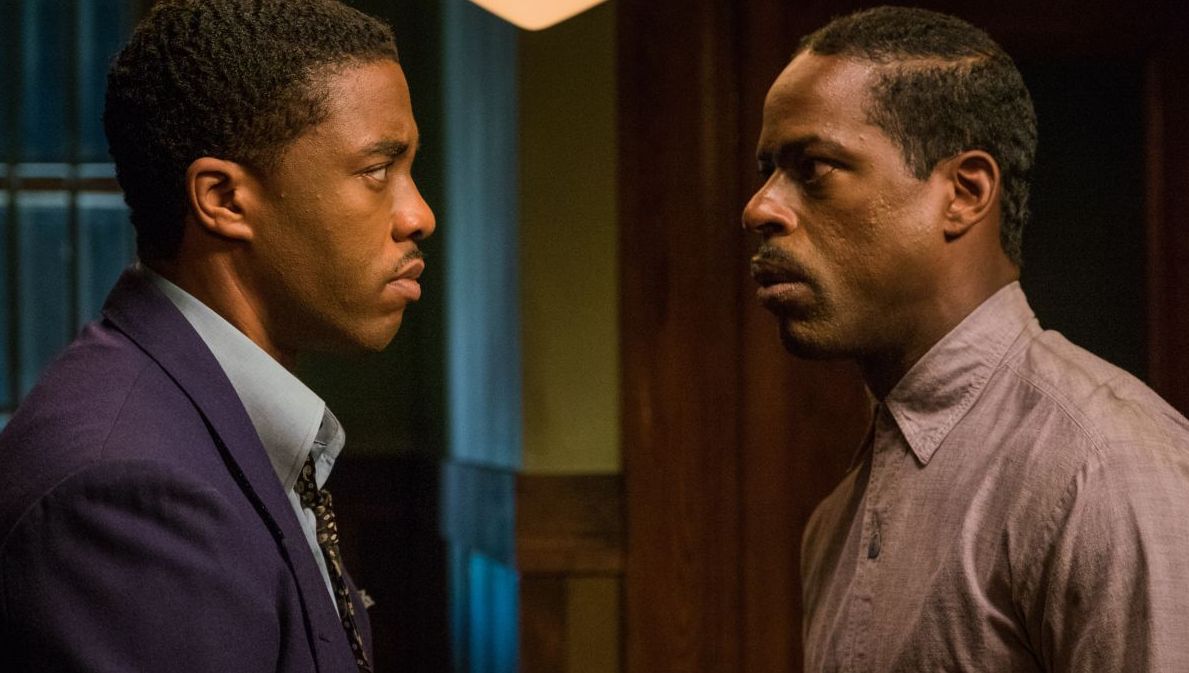 Considering the serious subject matter and historical significance, "Marshall" has a peculiar, light tone from beginning to end. Some scenes involving the rape case are accompanied by upbeat music. The script, from Jacob and Michael Koskoff, is shockingly basic - without a single surprise. The entire film seems like it's slightly off the tracks.
Boseman doesn't get a whole lot to do, and Gad doesn't feel right for the Friedman role. The pairing of Marshall and Friedman makes for an interesting story, but the execution is too typical. Though Brown is a little old for the part of Joseph, his is the only performance that seems legit. When Joseph takes the stand at the end of the trial, Brown is finally allowed to bring much-needed power to screen, though it's not nearly enough to save things.
Just as with the 2014 Martin Luther King, Jr. biopic "Selma", "Marshall" features a song co-written by rapper/actor Common. Don't be surprised if, like "Glory" (which earned Common and John Legend an Oscar), "Stand Up for Something" garners Award Season attention.
The incredible life of Thurgood Marshall deserves an insightful and comprehensive biopic. Hopefully someday we'll get one. As for the verdict on "Marshall": GUILTY of misrepresentation.