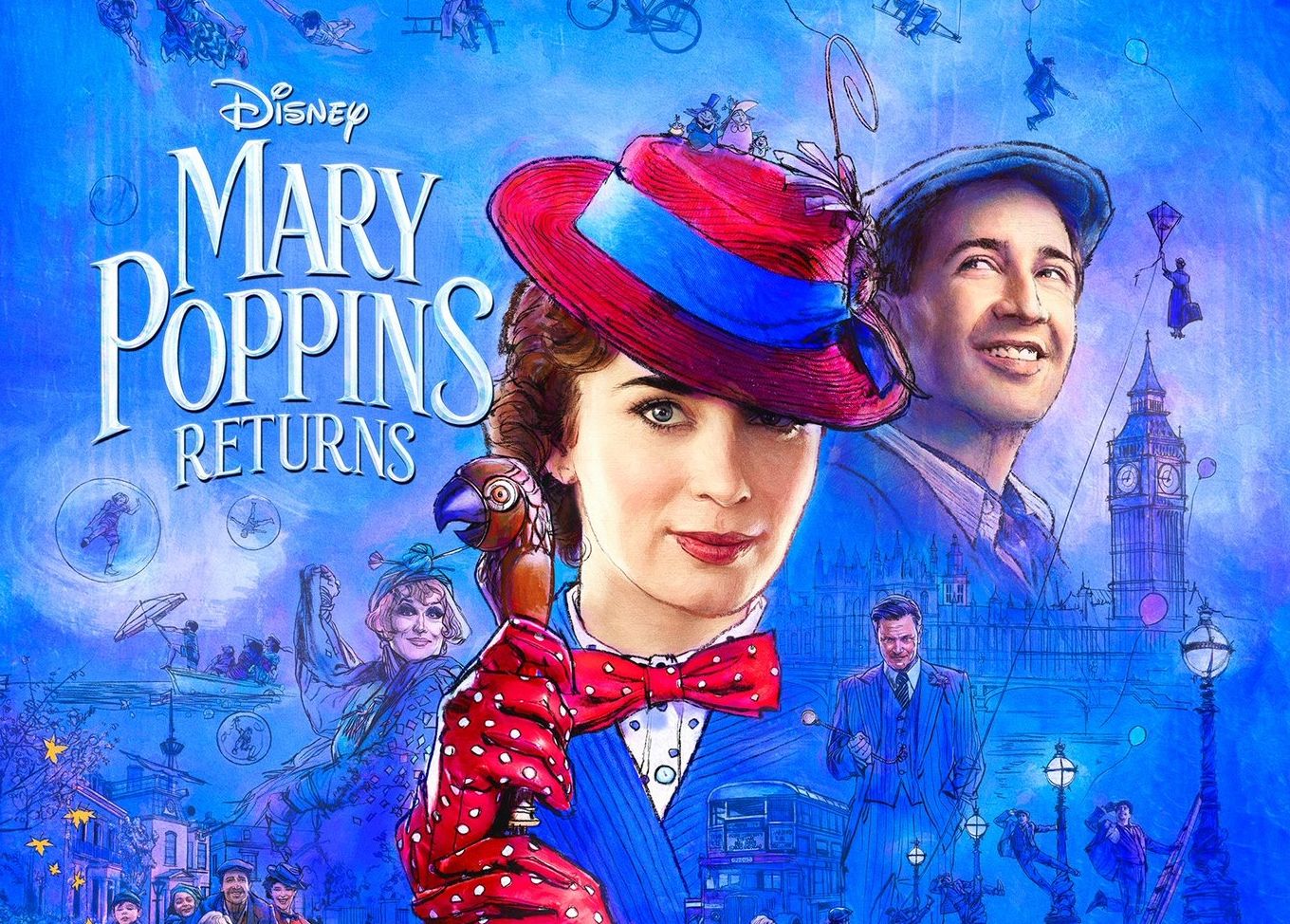 'Mary Poppins Returns' Review

LightsCameraJackson Critic After more than a half century, the magical flying nanny is returning to Cherry Tree Lane (and movie theaters). It was a major risk for Disney to make a sequel to 1964's Oscar-winning "Mary Poppins". Who would be trusted to direct? What would the storyline be? Who could play the iconic Ms. Poppins?
Disney chose to put this project in the hands of Rob Marshall. He directed 2002's Best Picture Oscar-winner "Chicago" and, more recently, the studio's 2014 adaptation of the Broadway musical "Into the Woods". "MP Returns" would take place 25 years after the original. And Marshall picked his "Woods" leading lady, Emily Blunt, to be his new Mary.
Taking-on the role that Julie Andrews embodied so brilliantly was a lot to ask of Blunt. But a variety of roles throughout her pre-Poppins career prepared her well. Blunt's ability to not only act, but sing, dance, and effortlessly exude charm made her the perfect choice. She is enchanting – as is this entire film.
Every aspect of "Mary Poppins Returns" comes together spectacularly. It's a wholehearted, show-stopping, powerhouse tribute to its all-time classic predecessor.
Depending on how well you may know, or how many times you may have seen "Mary Poppins", you will pick up on the similarities and references throughout "MP Returns" (some more obvious than others). "Mary Poppins" is one of my all-time favorite movies. I've seen it at least 10 times. So it was easy for me to appreciate just how much care Marshall, screenwriter David Magee and the entire cast and crew put into "Mary Poppins Returns". It mirrors the original, while also evolving from it, in the best possible ways.
This sequel, based on the P.L. Travers book series but a completely original story, takes us back to London during the "Great Slump" era of the 1930s. Jane and Michael Banks are now grown up. Jane (Emily Mortimer), like her mum, is an advocate for women's rights. Michael (Ben Whishaw) is the father of three small kids – but is a widower. Wife Kate died within the past year (yet another Disney movie with a dead parent). Michael is lost without his wife and the family is struggling financially. When lawyers from Fidelity Fiduciary Bank inform Michael that he has only 5 days to pay back a loan or he'll lose their house, the situation appears hopeless.
This set-up, which also includes introductions of lamplighter Jack ("Hamilton"'s Lin-Manuel Miranda) and housemaid Ellen (Julie Walters) takes-up the first 20 minutes or so. And then… from out of the sky…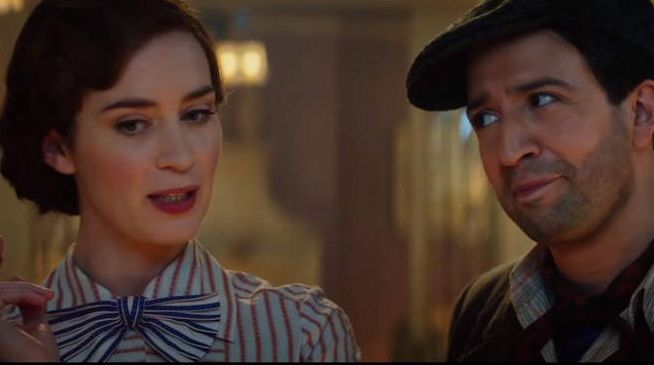 From the moment Blunt appears on screen as Poppins, it's obvious how dedicated and, yes, practically perfect she is for the role. It shouldn't come as a surprise that she's been nominated for every major Best Actress honor this awards season. For about 90% of "Mary Poppins Returns" – from one dazzling musical number to the next – Blunt has an infectious grin on her face. She's having the time of her life, and we're right there with her.
But, like Andrews' version in the original, this Mary Poppins is also quite reserved. She often stands off to the side, allowing various situations to play out, simply inserting subtle facial expressions that say so much. Blunt is simply stunning in these moments of "MP Returns".
Those who cherish the first "Mary Poppins" won't be disappointed in the slightest with this sequel's technical elements. There's an all-new collection of songs (though traces of many of the classic "Poppins" melodies can be detected). The musical numbers, from Marc Shaiman and Scott Wittman, are terrific. They'll be buzzing in your head for days. Even Miranda, who has nearly the same amount of screen time as Blunt, inserts some of his "Hamilton"-style lyric flows into a few of his songs.
In the tradition of the original, "MP Returns" features stylish costumes, imaginative sets, wondrous visuals and gorgeous hand-drawn animation. And, yes, there's a dynamic sequence involving a certain species of bird that cannot fly – but sure can dance. Silver screen icons Meryl Streep and Angela Lansbury have small, but memorable supporting roles. Each gets her own showcase song. And 91-year-old Dick Van Dyke practically steals the film with his highly-anticipated appearance as Mr. Dawes, Jr., son of the elderly banker he portrayed in the '64 original.
But for me, all that "Mary Poppins Returns" stands for comes through in the movie's key dramatic song. "The Place Where Lost Things Go" is this film's version of "Feed the Birds". The message? Those we love who exit our lives don't actually leave us for good. They're just somewhere else. When we're feeling sad, or miss them, we just need to go and find them. And they will always be there.
I'll admit I was more than skeptical when this film was announced over three years ago. Now, I can't imagine what this year in movies would have been like without it.