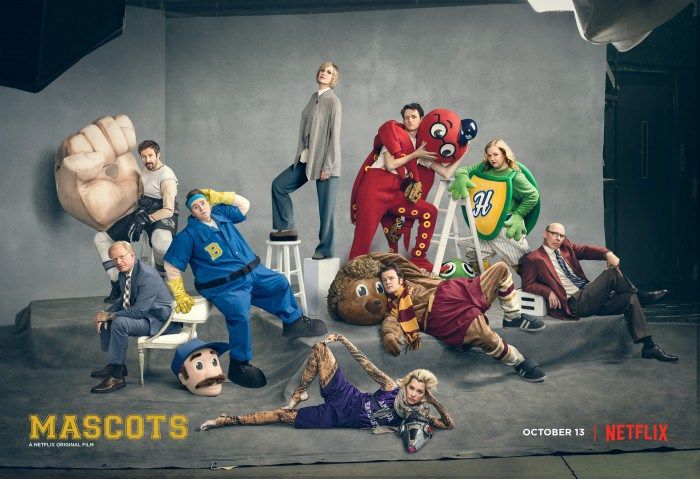 "Mascots" Review

LightsCameraJackson Critic Christopher Guest defined the mockumentary genre with cult hits "Waiting for Guffman", "A Mighty Wind", "For Your Consideration", and most notably, "Best in Show". That film, released in 2000, is a hysterical satire on the beloved canine spectacle: the dog show.
"Mascots" is Guest's latest mockumentary. It features most of his core team of talented comic actors (Eugene Levy and Catherine O'Hara are noticeably absent), and some new members. The cast is not the problem. My biggest issue with "Mascots" is that Guest tries to mesh two concepts together and they just don't gel. One one hand he's spoofing the world of mascots, specifically the people who devote their lives to wearing costumes and becoming characters to entertain people at sports and corporate events. Obviously there's a lot of potential here for laughs. But he also frames the film around a fictional mascot competition, attempting to make this the "Best in Show" for a new generation, but he falls way short.
The format of the two films is almost identical: Guest begins "Mascots" with on camera profiles of several of the performers as they prepare to travel to Anaheim, CA for The 8th Annual World Mascot Competition (aka "The Furries"). Most of the first hour of "Mascots" is simply these "interviews" - and, sadly, most of it is not very funny, as these dysfunctional characters, played by the likes of Parker Posey, Tom Bennett, Chris O'Dowd, Zach Woods and Sarah Baker, are annoying, dull or both. Many of the scenes feel like they may have been improved - which, if so, was a mistake.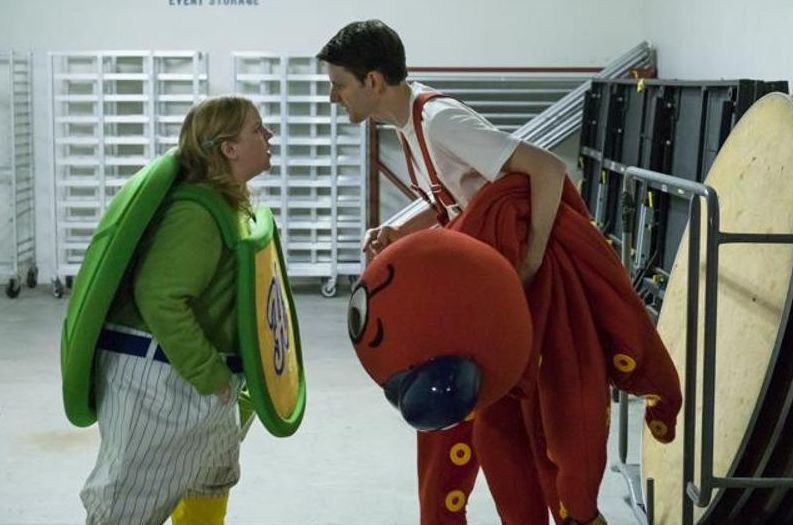 The non-mascot cast tries its best: Fred Willard, who defined "Best in Show" with his hilarious performance as the dog show commentator, here plays a mascot trainer, and while he has some of the most offensive lines in the movie, at least he generates some laughs and his comedic timing is as sharp as ever. (I wish Guest had chosen to have Willard's "Show" character, Buck Laughlin, return to host this mascot competition. Guest, himself, does reprise his Corky St. Clair role from "Waiting for Guffman").
So, instead of a host for the big event, there's simply an announcer (voiced by "The Simpsons" legend Harry Shearer). "The Furries" dominates the final half hour of "Mascots" and, like with "Best in Show", it's the best part of the film. Jane Lynch and Ed Begley, Jr. have fun as bickering judges, and a few of the routines are highly entertaining. But you have to wade through so much unfunny, and occasionally painful, material to get there.
There isn't much of an emotional arc to the story - we don't care enough about any of these people, ever after learning so much about them, to care who wins. The script (written by Guest and actor Jim Piddock, who also has a role as a retired mascot) fails to deliver the comedic commentary on the art of mascotry that this ridiculous activity provides. This subject should have been an easy target for the level of talent involved in this project.
For all its problems, the Andy Samberg mockumentary, "Popstar: Never Stop Never Stopping" at least had plenty of energy. Guest's slow, tamer approach is losing its charm and, in the case of "Mascots", his material isn't blue-ribbon worthy.